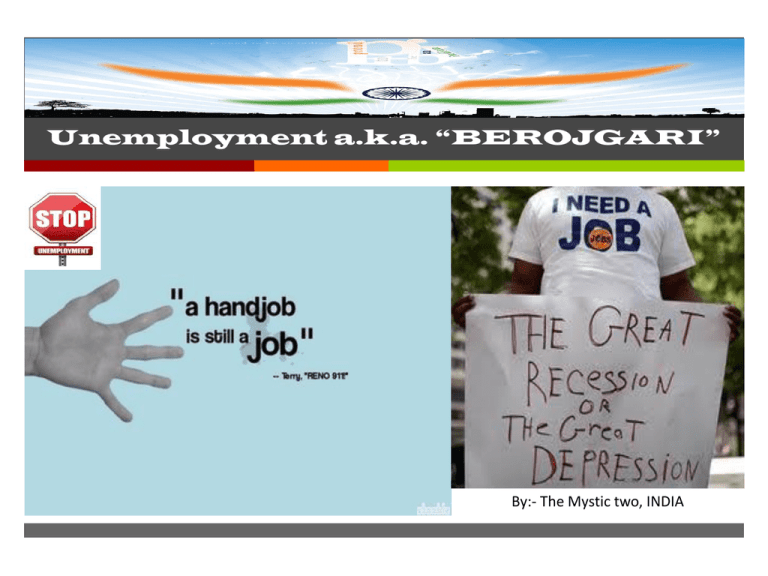 
Unemployment a.k.a. "BEROJGARI"
By: The Mystic two
India
By:- The Mystic two, INDIA
A BRIEF INTRODUCTION

Based on a poll by about 50 Indian Youth, the seriousness of unemployment, the factors
responsible for it and possible solutions are cited.

Though, unemployment percent in India (Labour) is about 3.5% (Labour bureau survey,
Ministry of Labour and employment, Government of India)

The total unemployment rate is about 8-9 percent in India accounting to more then 10 million
unemployed people. The stats for youth falling under 15-24 years of age is about 20% (CIA
World Factbook)

People are going abroad for higher studies, and many are just following others. Brain drain
can be seen easily. Many of those students are forced to come back to India when they dont
get a job abroad because of various reasons.

Many of my colleagues are also effected. Pursuing higher education on Loans and not getting
a job puts one in difficult situation.
THE CRITICAL REASONS FOR
UNEMPLOYMENT
The Major two branches of the "Unemployment" are:-
Education system

Commercialization of the Education:- Teach for money, costlier the education, better it is.
World Class Infrastructure can't take a lead over quality of education.

Result Oriented Studies:- Students from their early age are told to study and cram things to
score well. Because the score represents where they stand in their class. In future, shortlisting
are based on the marks attained by the students. This is not a Barometer to measure the
capability and knowledge of any student.

Teacher Student Ratio:- Number of folds, the number of students are increasing, on the other
hand, the number of teachers are decreasing relatively. This ratio promises that every student
is under proper observation and kept motivated.
Policies and Governance

Corruption:- Biggest bite. Making the world unstable.

Entrepreneurship demotivated:- Government of some states are not supporting new emerging
entrepreneurs. Lot of paper work, formality and policy issues keep the emerging
entrepreneurship biting their nails.

Vote bank politics:- The mother of all problems in Policies and Governance.
CHART ANALYSIS
LETS SOLVE IT.. BUDDY..!
The possible solutions include

To ask the government to change the existing policies or make new policies. Written requests
to be presented in the Parliament for discussion.

Support Agriculture to the fullest:- It will motivate the people who are living in rural areas that
they are connected to urban areas. It will also improve the financial conditions of farmers.

Open research institutes:- It is of great importance that new technological advanced research
centers to be opened to facilitate the new research.

Motivate the students to show interest towards research by providing them monetary support, a
government status symbol, and adequate research facilities at par. Also, MoU signed with other
nations will also play an important role where scientific helps are given and taken.

Alumni sponsored schools and colleges:- It will help in reducing the commercialization of
education.





Stop the commercialization of education:- Commercialization can not and should not be
removed in totality. The quality of education should be at par along with good
infrastructure. The government should provide funds and other benefits to the institutes.
Right to education is a fundamental right for every citizen.
Awareness towards various employment opportunities:- Every citizen should know about
the vacancies. It should be posted everywhere and ample amount of time should be
given so that the information circulates.
Private companies open recruitments:- Private companies should recruit in an open
manner instead of going to a particular university and hiring students from there.
Support the youth entrepreneurs:- Government should make provisions and
amendments to support the young entrepreneurs.
Administrative officers, IES officers and the knowledgeable persons (Government
servants) should be appointed as a secretory of a school or college to look out for the
educational development and to teach.
THE PLAN FOR THE 2nd PHASE

Starting from 10 schools to know their opinion about certain policies, proceeding to writing to
the parliament for some amendments.

Motivation of Unemployed youth (Target to reach 1000 of them). Making them aware of
various opportunities.

Supporting 10 unemployed youth to be an entrepreneur by every means ( Policy+ Funds+
Manpower)

Contacting 5 MNC's to work towards unemployment as a part of their Corporate Social
Responsibility and monitor their work.

Rural Team will choose one village and motivate people to involve in agriculture. Tutoring to
be provided in local language on Mixed farming and seasonal farming.

Contacting 10 Administrative officers to volunteer for teaching in Schools 1 hour a week.
(Higher secondary and colleges)
THE END

As per the proposal, we believe to employ at least 100 people in various employment
opportunities and.

Motivate the youth to choose research and administrative services.

To dream of something they want to be.

Realizing the MNC's their role towards education and employment in the nation.