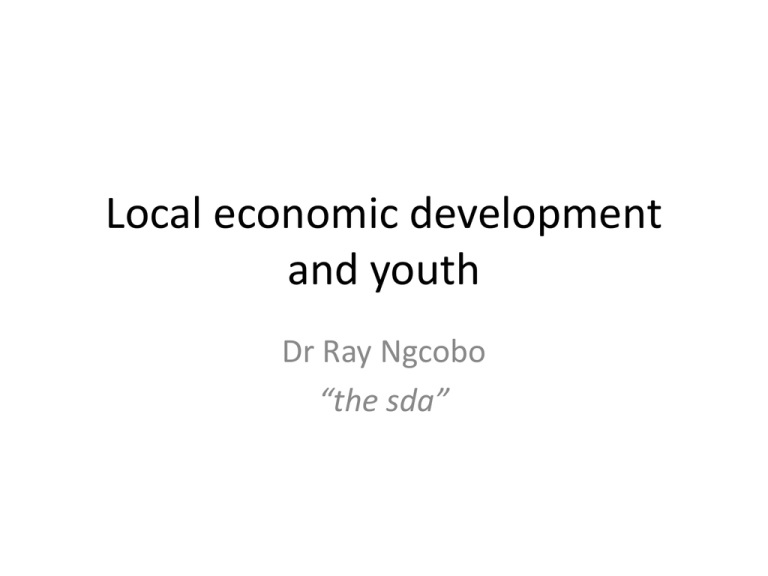 Local economic development
and youth
Dr Ray Ngcobo
"the sda"
THE ENVELOP WITHIN WHCH WE HAVE TO RESPOND
Prospects for global growth
are being seriously
compromised by the
sovereign, banking and
liquidity crises affecting the
Eurozone.
THE GLOBAL CRISIS
• Investors have been moving to assets perceived
to be safer, especially US treasuries and German
bonds, despite the miniscule returns.
• If effective steps towards a lasting solution are
not taken swiftly, a catastrophic chain of events
could be set off by one or more of the states in
crisis, possibly Greece, in the not too distant
future.
• The consequential economic costs could be
enormous and widespread.
The global challenge
• Serious structural adjustments are absolutely
necessary, so as to enhance the
competitiveness of these economies and
restore their financial stability.
• However, protracted economic contraction,
followed by stagnation, is likely to result in
escalating social unrest.
• Growth stimulation is thus essential to take
the weaker states out of crisis mode.
• The vulnerability of the global economy to
external shocks is being increasingly exposed
and global growth rate is becoming rather
anaemic.
• China, in turn, is again implementing growth
stimulating measures in order to counter the
possibility of a worse than anticipated
slowdown.
• Weak international demand as well as insufficient
local consumption, are compromising country's ability
to continue posting the growth rates required to
maintain socio-political stability.
• Countries are using monetary policy to ease global
economic challenges and infrastructure spending
again accelerated.
• However, the long-term recipe lies in a better balance
between investment activity and household spending,
as well as between external and domestic demand.
South Africa's very open economy makes it
particularly vulnerable to external shocks.
• The sluggish recovery in parts of the advanced
world and stagnation or recessionary
conditions in others, are among the strongest
inhibitors of economic activity at home.
• Europe accounted for approximately 26% of
South Africa's merchandise exports in 2011
and weakening demand in this regional
market does not bode well for export-oriented
sectors, particularly manufacturing.
Critical as it is to reduce unemployment levels, particularly amongst
South Africa's youth, it has proven extremely difficult to reverse the
large job losses incurred since the onset of the crisis.
• Comparing the opening quarter of 2012 with
the closing quarter of 2008,
– the government and
– community services sector,
– financial services,
have been the only significant net gainers of jobs,
– whilst manufacturing, which has shed the largest
number of jobs at the broad sector level, is still
facing difficult trading conditions and excess
production capacity in several of its sub-sectors.
IMPLICATIONS FOR THE RSA
• The very difficult situation in the Eurozone, if
prolonged in an unresolved manner, will
continue posing a drag on South Africa's
economic growth beyond the near-term, with
the adverse impact magnified if the crisis
intensifies or, in a worst case scenario, spirals
out of control.
In South Africa
• South Africa has largely failed to provide equal
opportunities to all citizens since the advent
of democracy in 1994.
STRUCTURAL UNEMPLOYMENT
• South Africa has an acute problem of youth
unemployment that requires a multi-pronged
strategy to raise employment and support inclusion
and social cohesion.
• High youth unemployment means young people are
not acquiring the skills or experience needed to drive
the economy forward.
• This inhibits the country's economic development
and imposes a larger burden on the state to provide
social assistance
Why are young people unemployed?
• There are a number of explanations why young people are
unemployed, these include
• Employers look for skills and experience; they regard
unskilled, inexperienced jobseekers as a risky investment.
• Education is not a substitute for skills. Schooling is not a
reliable signal of capabilities, and low school quality feeds
into poor workplace learning capacity.
• Given the uncertainty about the potential of school leavers,
employers consider entry-level wages to be too high
relative to the risk of hiring these inexperienced workers.
A multi-pronged strategy to reduce youth
unemployment
• The New Growth Path calls on the state to
provide bold, imaginative and effective strategies
to create the millions of new jobs that South
Africans need.
• This requires a combination of initiatives that
require direct state involvement, private sector
partnerships, as well as the mobilisation of civil
society to take a proactive interest in addressing
the problems presented by unemployment.
national strategy to tackle youth unemployment
•
Reviewing the legislative environment.
•
Identifying the desirable scope and budgetary requirements, of youth brigades and other
forms of public employment.
•
Conducting a trial of the youth employment subsidy.
•
Improving education performance and skills development in the schooling and further
education system.
•
Improving the public employment services available to the youth to aid matching of skills,
job search, career guidance and counselling, skills development and job placement.
•
Establishing a monitoring system with regular reports on progress.
•
Strengthening relationships with the NYDA and other youth services agencies.
National approach to youth employment
• Addressing youth unemployment requires
both short- and long-term measures that
encompass:
– increasing demand for labour,
– improving education and skills, and
– labour market interventions that improve the
employability of young people.