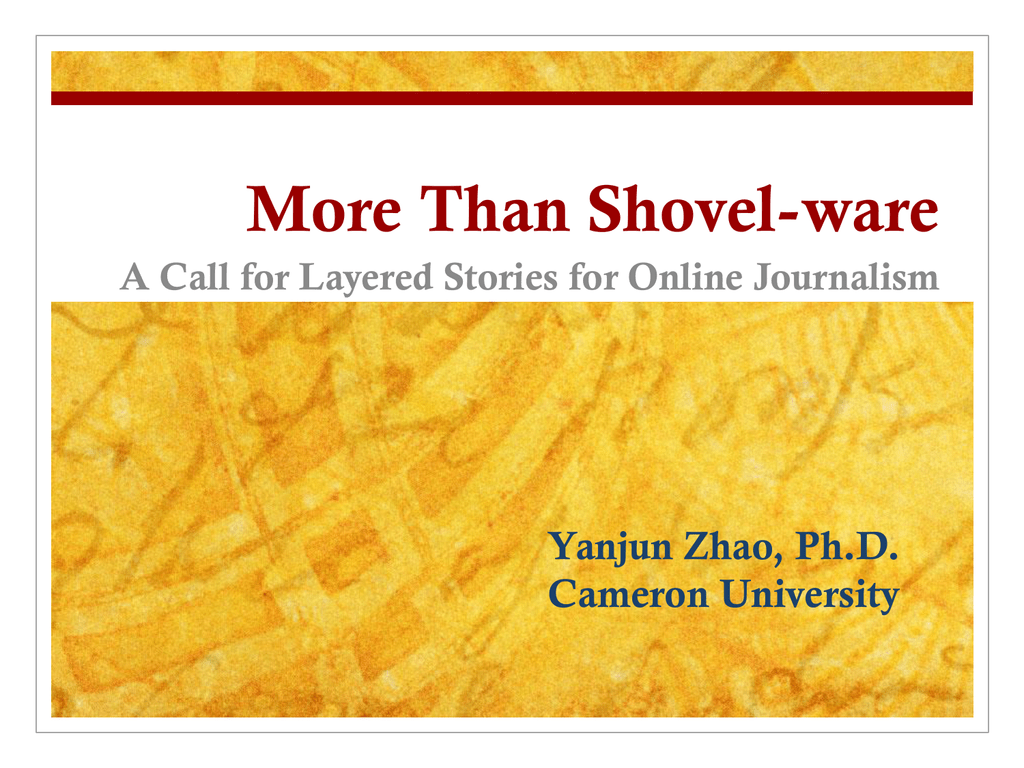 More Than Shovel-ware
A Call for Layered Stories for Online Journalism
Yanjun Zhao, Ph.D.
Cameron University
How users read on the web?
They
don't.

Instead of reading, they scan pages.

Reading something from a screen is
more tiring to the eyes than reading
the same information from a
hardcopy.
Web usability

Visual design of pages and the logical
presentation of information

Makes it easy for the user to find the desired info
quickly and efficiently

This paper addresses the story page design in
online journalism
The focus of this study:
Text information design

Visual design of online news text

Not the multimedia add on

This study studies the presentation of text body
of online news articles


the limits of shovel ware
The potential of benefits of layered stories
Literature review
Current


status: shovel ware
Transferring content from newspaper to the webpage
with little or no revision.
This approaches assumes that people would read an
article online the same way as they would read a
print version
Wrong assumption

The assumption under shovelware ignored some
crucial features of people's online reading style.

Scan v. read

Less patient reading long text from screen

Resolution
 72 ppi on screen
 300 ppi in print
Online Journalism's capacity
 Necessary
to present the info in a
"scanable" way.
 When
info presented well, users could
have easy and fast access to additional
info.
Layering
 Dividing
text-based stories into several
sections, and each section has a section
heading, which represent the whole section
 Advantage:


structure
Layering is like a map
Provide a quick idea about the gist of the article
RQ: How effective is layering?

Hypotheses: compared with shovelware, a layered story
will be rated as:






Better organized
Easier to understand
Faster to read
More visually attractive
Less fatigue
Less boring
Method: experiment
Three
groups read the same
articles in three versions.
Shovelware group
 Layer group
 Hard copy group (Control group)

stimuli
stimuli
stimuli
Results
6
5
4
layer
3
shovelwear
print
2
1
0
organization
easiness to
understand
visual attractiveness fatigue in reading
boring in reading
Discussion

The Internet, as a medium, offers huge potential
for journalism.

Layering offers





Better organization of info
Less time to read
Visual attractiveness
Less fatigue
Less boring reading experience
Discussion

Online journalism is still in its infancy.

It is important for online journalists to understand
the visual principles that underlie online writing,
even though these principles don't jump into our
eyes.

The layering approach, with its clean and efficient
design, has strong potential to change the landscape
of online journalism.