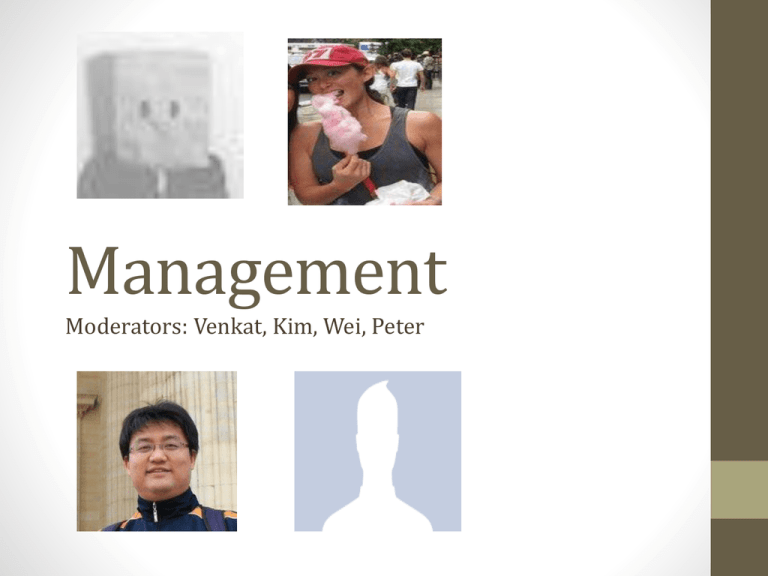 Management
Moderators: Venkat, Kim, Wei, Peter
Agenda
• Warm-up: Jeopardy
• Topic 1: "I" vs. "We"
• Topic 2: Human Capital vs. Profits
Example Jeopardy Question
This famous businessperson answered a question with a
question.
Who was Peter
Drucker?
This U.S. president recognized the importance of creating an
environment conducive to worldwide economic growth, and as such
dedicated his term to cultivating foreign affairs.
Who was President
Truman?
This person was interested in European history and Japanese art, and
retained a lifelong distrust of charismatic leaders.
Who was Peter
Drucker?
This head of General Motors was famous for his unconventional
meeting style and widely regarded as "the master of follow-up."
Who was Alfred
Sloan?
This person described himself as close to his fellows, but commented
that he was a difficult person to get along with.
Who was Red
Auerbach?
This 79-year-old newspaper magnate has been divorced twice, and
has a seven-year-old daughter.
Who is Rupert
Murdoch?
Case: News Corp
The Company:
• Diversified global media company
• Powerful Control of filmed entertainment, newspapers,
information services, cable network programming, television,
direct broadcast satellite television, magazines and inserts,
book publishing, and other.
• Fiscal 2009 Sales: $30,423m; Loss in 2009: $3,378m; Profit
in 2008: $5,387m
• 76th in Fortune 500 2010, 2nd largest in Entertainment Sector
(But Walt Disney)
Partial Executive Employees:
•
Rupert Murdoch
Chairman and CEO
•
Chase Carey
Deputy Chairman, President and COO
•
James R. Murdoch
Chairman and Chief Executive, Europe and Asia
Rupert Murdoch Quotes
On Decisions and Management
"You can't build a strong corporation with a lot of committees
and a board that has to be consulted every turn. You have to be
able to make decisions on your own"
On Changes and Success
"I'm a catalyst for change. You can't be an outsider and be
successful over 30 years without leaving a certain amount of
scar tissue around the place"
On News Corp
"For better or for worse, our company (The News Corporation
Ltd.) is a reflection of my thinking, my character, my values."
Murdoch's Management Style
Murdoch's management philosophy directly contradicts
Drucker's mantra of "Think and say 'we'".
Given Murdoch's success as the founder of News Corp, is
Drucker wrong? Or is Murdoch an exception to the rule?
Quick Facts about Peter Drucker
• Writer (of 39 books), management consultant, and selfdescribed "social ecologist"
• Foresaw the arrival of "knowledge workers" motivated
by personal pride long before Internet era
• Awarded 7 McKinsey Awards, Presidential Medal of
Freedom, and 25 honorary doctorates
• Criticism includes "losing the facts", concept
"Management by objectives" is flawed.
Management is About Human
Beings
A few lessons from Peter Drucker regarding management
include:
• Companies should treat employees like their most
valuable resource
• Managers should never promote an employee on the
basis of his or her potential but based only on
performance
• Successful enterprises create the conditions to allow
their employees to do their best work
Management Challenge
Your Teams Role:
• Your team makes up the Board of Directors of Swift
Transportation, a large publicly-traded trucking company
The Situation
• Jerry, the CEO, is the well-loved leader of 22,000 employees in
this service-based business
• Due to continued poor stock performance, there is growing
pressure from shareholders to replace Jerry
The Challenge
• As the executive board, you must take a firm position on
whether or not to replace him with someone who will be more
profit-focused. Will you risk employee morale in an effort to
improve investor returns?