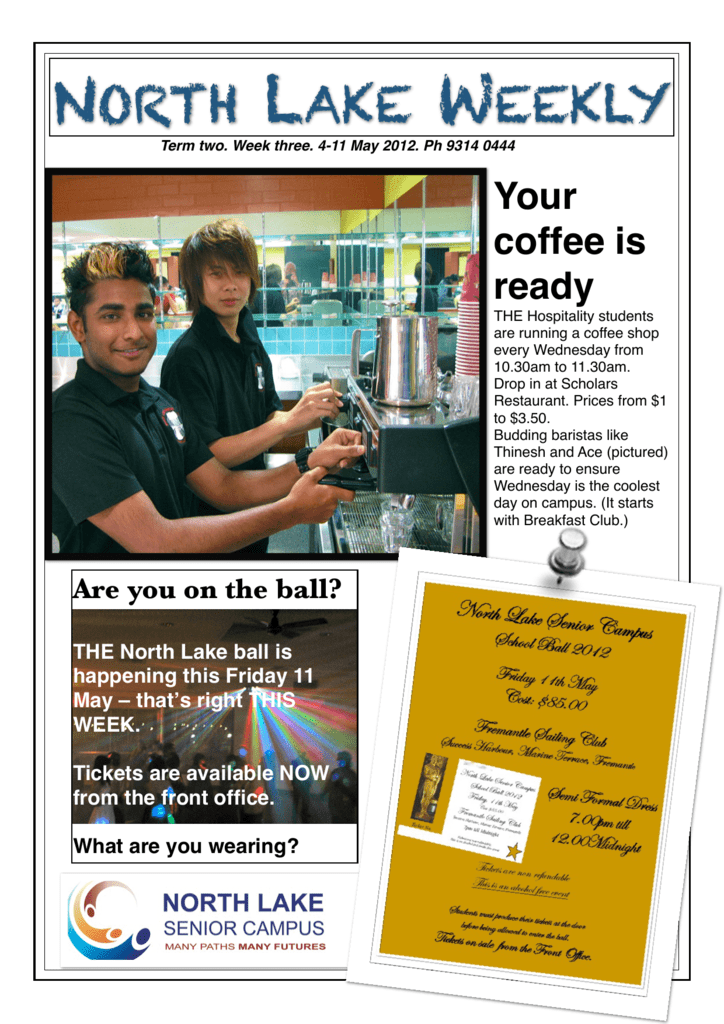 NORTH LAKE WEEKLY
Term two. Week three. 4-11 May 2012. Ph 9314 0444
Your
coffee is
ready
THE Hospitality students
are running a coffee shop
every Wednesday from
10.30am to 11.30am.
Drop in at Scholars
Restaurant. Prices from $1
to $3.50.
Budding baristas like
Thinesh and Ace (pictured)
are ready to ensure
Wednesday is the coolest
day on campus. (It starts
with Breakfast Club.)
Are you on the ball?
THE North Lake ball is
happening this Friday 11
May – that's right THIS
WEEK.
Tickets are available NOW
from the front office.
What are you wearing?
Before you dream,
experience a Murdoch
Open Night.
CRICOS Provider Code 00125 J
There's no better feeling than knowing you've done something
great; especially if it involves getting clarity on your future. This
year, Murdoch University will be opening its doors for another
big Open Night. All our courses will be on show, and our
academic staff will be available to answer any queries you may
have about how, what and why you should study at Murdoch.
MK_MUR2812
We look forward to meeting you.
Murdoch Open Night:
When: Wednesday 23 May
Where: Kim Beazley Lecture Theatre, 90 South Street Murdoch
Time: 6.00pm - 8.00pm
For more information and to register, head to
murdoch.edu.au/Experience or call 1300 MURDOCH
Hello students
Have you ever wanted to play in a drum circle?
Would you like to meet other students through a drumming program at
school?
DRUMBEAT is a program that brings a small group together each week
for 10 weeks for an hour.
In this program you will:
•
Learn simple hand percussion rhythms
•
Talk about different things like peer pressure, identity,
dealing with emotions, building self confidence through music
and teamwork
•
Have
Linda Kwok (campus psychologist) and Feonagh Cooke (campus chaplain)
hope to run this program on a Thursday at school if YOU are interested.
If you'd like to be a part of this group, please let the front office know
your name and contact details before Friday 1 June.
We look forward to drumming with you.
•North Lake's stand at the Careers Expo on the weekend was a popular place. Lots of
ex-students and future students dropped in to say hello.
Semester one exam
preparation
by Peter Hamilton
THE exams start in week seven and continue into week eight.
That means you have four weeks left to prepare for the exams.
What should you do?
That depends on what you have already done.
But, first of all you need to allocate some timeslots for the next 4
weeks to exam preparation.
Maybe one night, afternoon or morning just for exam
preparation. Select a time and keep it free from all interruptions.
How to prepare yourself
1. Review the WHOLE course as the exam will cover the WHOLE course
2. Identify the important topics where you spent a lot of time. You will get questions on these topics
3. Get past papers and get familiar with the structure of the exam
4. Practise under exam conditions – write answers in the allocated time. Get used to working fast!
5. Practise interpreting essay questions and doing essay plans in 5 -10 minutes
6. Never just be reading notes/texts, you must be testing yourself
Good luck and don't forget to see me if you want some individual help
There's action in the library
Looking for assistance? Grab a book bargain
HELP is now available for
mainstream students in the library
during recess and lunchtime on
the following days:
• Monday: OT Lee (recess) &
Lilianna Leonte (lunch)
• Tuesday: Nadia Lekias
(recess)
• Wednesday: Jenny Hart
(recess) & Charlie Brett
(lunch)
• Thursday: Sylvia
Watson (lunch)
IEC student help:
• Thursday: Jane Beatty (recess)
• Friday: Esther Jeverajah (lunch)
MAKE sure you head to the library on Tuesday
for the book sale.
This is a great opportunity to enhance
your reading pleasure and
expand your personal
library without breaking
the bank.
Also get ready for the
annual fashion sale
starting in week four.
Kerry and Tine would love to
receive donations of preloved clothing and pre-loved
books for these events.