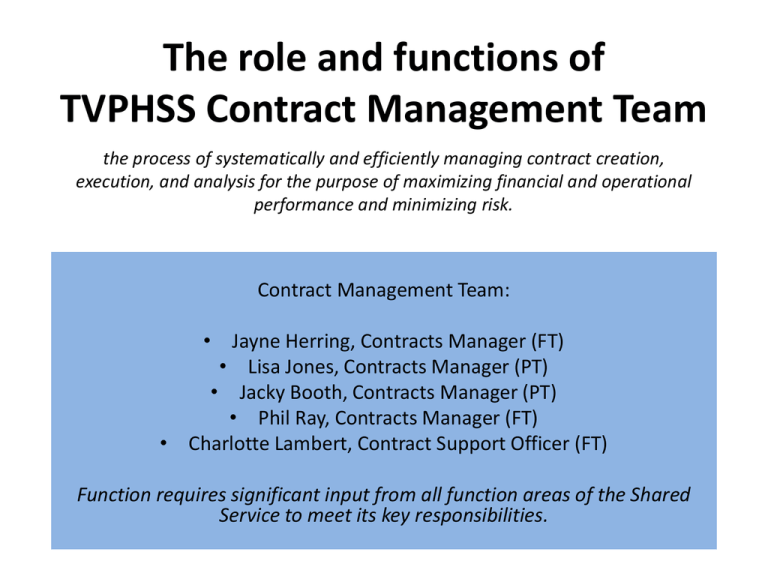 The role and functions of
TVPHSS Contract Management Team
the process of systematically and efficiently managing contract creation,
execution, and analysis for the purpose of maximizing financial and operational
performance and minimizing risk.
Contract Management Team:
• Jayne Herring, Contracts Manager (FT)
• Lisa Jones, Contracts Manager (PT)
• Jacky Booth, Contracts Manager (PT)
• Phil Ray, Contracts Manager (FT)
• Charlotte Lambert, Contract Support Officer (FT)
Function requires significant input from all function areas of the Shared
Service to meet its key responsibilities.
Public Health Commissioning Cycle
Assess Need
Manage Provider
Performance
Review services and
gap analysis
Quality and outcomes
Decide and agree
priorities
Provider
Development
Contract
Implementation
Specify and agree
quality outcomes
Design services and
pathways
Key Activities of Contract Management
Performance Management
Risk Management
Contract
Administration
Service Improvement
Quality Management
Financial Management
Existing Contract Portfolio
General Practices
Pharmacies
Former Enhanced
Services:
• Stop Smoking
• Lung Health Check
• NHS Health Check
• NAEDI
• Audit C
• Needle Exchange
• Supervised
Consumption
North Tees &
Hartlepool and
South Tees
NHS Foundation
Trusts
Services:
• School Nursing
• Stop Smoking
• Weight Management
• Specialist Weight
Management
• Community NHS
Health Checks
• Health Trainers
• Breastfeeding
• NCMP
• Falls
• Workplace Health
• Alcohol
Virgincare
Teeswide Integrated
Sexual Health Service
Level 1,2,3:
• CASH
• GUM
• Outreach Services
• Chlamydia Screening
Non Contracted
Activity
Services:
• GUM
How do we add value to LA commissioning?
 Enable economies of scale (do it once)
 Provide expert advice on commissioning of healthcare services
 Offer expert knowledge of NHS contracting processes
 Ensure value for money via robust contract management
processes
 Managing risk on behalf of the Local Authorities to ensure safe,
effective and efficient patient centred services.
Key Priorities
 Managing transition of contractual responsibilities from PCT to LA
 Facilitating service reviews to inform Local Authority
commissioning intentions for 2014/15
 Development of a new GP commissioning model
 Negotiation of GP and Pharmacy Public Health Contracts
 Review of Sexual Health Contracting Arrangements
 Validation of provider claims
 Management of incidents
Key Challenges
 Working with 4/5 Local Authorities with individual policies,
systems and processes in relation to decision making,
contracting and procurement
 Negotiation with other stakeholders CCG, Area Team, LMC, LPC
all with their own priorities
 Our freedom to act – not Council Officers – must work through
LA decision making processes
 Impact of LA commissioning decisions uncertainty about how
this will impact on workload of team potential to increase or
reduce.