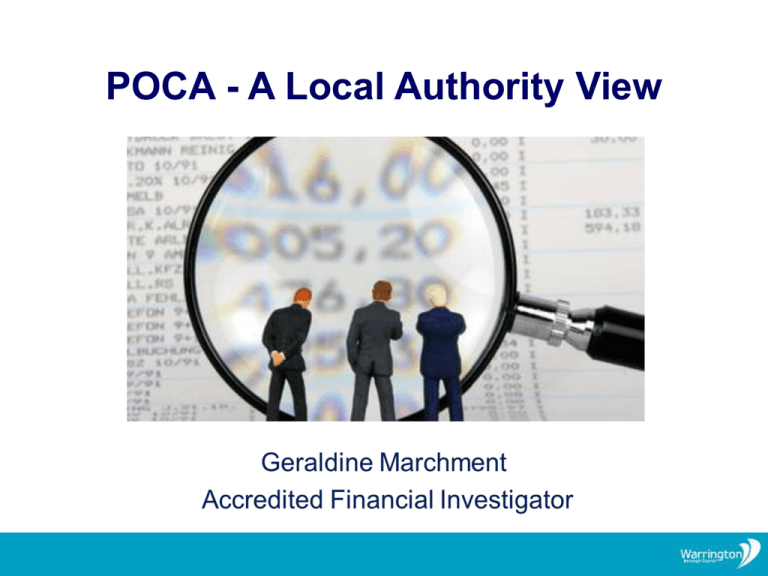 POCA - A Local Authority View
What asset recovery offers
• Contributes to your Councils Strategic Priorities
To protect the most vulnerable
To support the local economy
To help build strong and active communities for all (WBC)
• Strengthens Crime & Disorder Partnerships
• Effective investigation & enforcement tool
• Holistic approach to enforcement
• Positive media messaging opportunities
Local Authorities & POCA
The Financial Investigation Service
The aim of the Financial Investigation Team is to
ensure that;
• financial investigation & financial intelligence,
• money laundering investigation capacity,
• assets restraining opportunities,
• post conviction confiscation and compensation,
• cash seizure,
is available to Northwest regulatory services who do
not have internal financial investigators, on a low
cost basis.
Financial Investigation Services
Completion of Case Referral
Form by the referring agency
Establish desired outcomes for
the 10hs of free FI investigation
time.
Financial intelligence report
prepared by the AFI for the
referring LA.
Discussion on the way forward
using POCA.
MOU signed, in depth financial
investigation commenced.
Case Referral Process
Intelligence checks on targets
Advice on investigation strategies
Establish available assets value for
POCA post conviction confiscation
Provide valuable financial evidence for
criminal prosecutions
Advice on offences and support for
prosecutors
Preparation of all court papers for restraint,
cash seizure & confiscation proceedings
The AFI's Role
Training: offer low cost courses for local authority
investigators, managers and prosecutors on;
Financial Intelligence & Financial
Investigation Awareness
Investigating & Prosecuting Money
Laundering Offences
POCA Confiscation – from complaint to
asset recovery
Cash Seizure Awareness
In development – criminal investigation skills
including interviewing, file prep, statements
Training Service
Case Opportunities
The Private Landlord Fraud
The Counterfeiter
Housing & Council Tax Benefit Fraudster
No Planning Permission
Illegal Waste Disposal
Case Examples
Asset Recovery works
£3,845,450.38 in criminal benefit identified for
confiscation in local authority cases
£1,723,185.60 Confiscated to date
£367,124.97 Compensation paid to Local
Councils & victims
£10,745 Cash Seizure – this service only
commenced in December 2012
151 investigations
Results
Improve criminal investigators knowledge of
the Proceeds of Crime Act.
Maximise your Council's identification of
asset recovery opportunities.
Identify how your Council accesses the
skills of a financial investigator.
Crime Shouldn't Pay – don't let it!
The Way Forward
Investigation
Has the
investigator
contacted an
AFI ?
Has the
criminal law
been broken?
POCA
Does the
defendant have
assets?
Case Identification
Has the
defendant
benefited from
the crime?
For more information…..
On financial investigation services or training
contact Warrington's Financial Investigation
Team via:
Geraldine Marchment on 01925 442445
Email: gmarchment@warrington.gov.uk
Crime Shouldn't Pay – don't let it!