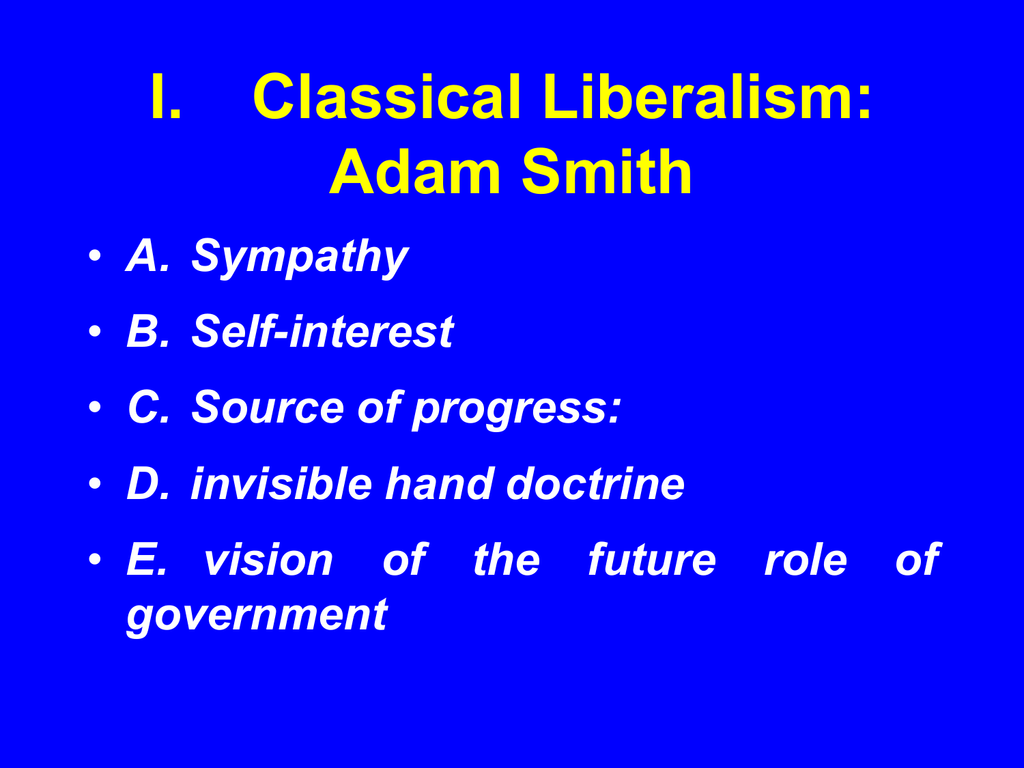 I.
Classical Liberalism:
Adam Smith
• A. Sympathy
• B. Self-interest
• C. Source of progress:
• D. invisible hand doctrine
• E. vision of
government
the
future
role
of
II. Classical Liberalism:
Malthus and Ricardo
• A. Malthus' Theory of population
• B. Ricardo's theory of distribution
and growth
• C. Malthus theory of Gluts
III. The Socialist Critique:
The Utopian Socialists
• A. Utopia--nowhere place
• B. Term coined by Marx
IV. Historical Backdrop:
• A. French Rev was the source of
modern socialist movement.
– The problem raised by the French
Revolution: the rational reorganization of
society.
– There was nothing in the history of either
England or Germany to suggest such an
approach. As late as 1848, there was no
real socialist movement outside of France
• B. Industrial Revolution
creation of a free market
and
the
– Sense of cultural dissolution of society
resulting from appalling social conditions
– These conditions were either denied or
dismissed by Classical Liberalism as the
inevitable price of progress
• C. Both socialism and conservatism
shared something in common:
events were atomizing society,
traditions and traditional morality
were being shattered.
V. Characteristics of
utopian socialists
• A. Effort to construct a new theory of
human nature
• B. Focus on the moral-ideological
sphere as determining all other
aspects of human behavior
• Mostly reformers
Robert Owen-• A. theory
was
based
on
a
continuation of themes beginning
with the enlightenment.
– 1.
Established New Lenark
– 2.
Solution to poverty: make the poor
productive through benevolence
– 3.
Education for children
– 4.
The perfectibility of human nature
through the application of reason.
• B. Man is the product of his
circumstances;
change
his
circumstances and you change the
man.
• C. Existing moral, political, and
religious theories (not class or state
policies) are the principal obstacles
to social reorganization.
VI. Henri St. Simon
• A. Society could do without its upper
crust: its politicians, judges, and so
on and be no worse off
• B. Lose the artisans, craftsmen, and
workers and society would come to a
halt
VII. Charles Fourier-• Everyone should work, but only for a
few hours each day
• Let children do the dirty work
VIII.
J.S. Mill (1806-1873)
• A. Sought to synthesize classical
economics and the socialist critique
into a coherent concept of society.
• B. Early education
IX. Two major influences:
• A. Utilitarianism of Jeremy Bentham
– 1.
Mankind is guided by 2 sovereign
masters
– 2.
Greatest good for the greatest
number
• B. Romantic
movement
(which
inspired the Utopian Socialists):
– 1.
Harriet Taylor
– 2.
Mill's sympathies for the poor, and
for women
X. Reconciling utilitarian
and romantic influences
• A. Laws of production--natural laws
• B. Laws of distribution--social laws
• C. Independence of production from
distribution
XI. Vision of the future:
• A. Stationary state and Socialism
• B. Anticipates the mixed economy
(Corporate-welfare
state)
where
government is a major player in the
market system
XII. Marx's critique of the
early socialists:
• A. Their endeavors were essentially
Utopian.
• B. They had views of what the good
society would entail, but they did not
have a plan for achieving it.
• C. They sought to totally transform
society, abolish private property,
competition,
and
individualism
without recognizing the necessity of
class struggle and the revolutionary
role of the proletariat.