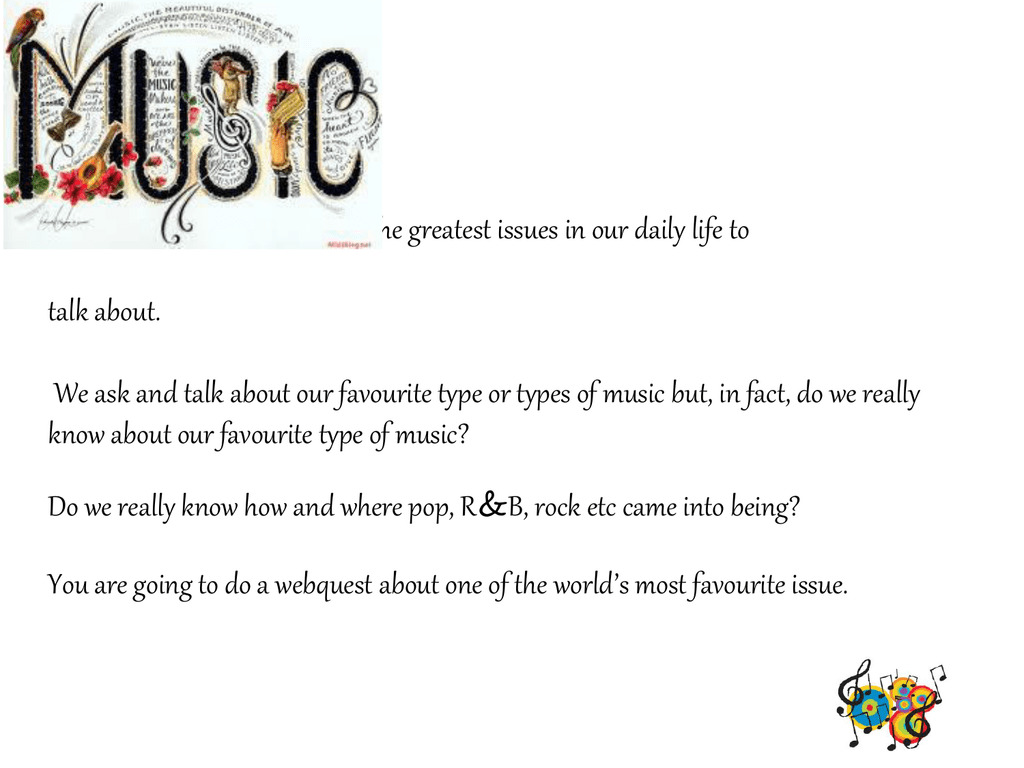 is one of the greatest issues in our daily life to
talk about.
We ask and talk about our favourite type or types of music but, in fact, do we really
know about our favourite type of music?
Do we really know how and where pop, R&B, rock etc came into being?
You are going to do a webquest about one of the world's most favourite issue.
Music has been one of the most common issues in the world
since human came into being.
Within thousand of years, it has changed and varied
according to musical appetite of different cultures, so there
have been many types of music throughout the world.
Firstly each group will be assigned one of the types of music listed below:
1.
2.
3.
4.
5.
6.
7.
8.
Classical Music
Jazz Music
Pop Music
R&B
Rock Music
Country Music
Blues
Hiphop
9.
Nu metal
10. Heavy metal
11. Reggae
12. Folk
13. Dance
14. Indie
Secondly, you will find out as much information as you can about the
type you have chosen and prepare a handout for your classmates and a
PPT in which you will answer these questions:
1.
What is the history of the type of music you have chosen? /
Historical facts related to this style?
2.
Where did it first emerge?
3.
How did it emerge?
4.
What are the characteristics of the type of music you have
chosen?
5.
Who are the pioneers of the type of music you have chosen?
6.
Famous composers. Examples of famous songs
7.
Which styles of music evolved as a result of this style?
To carry out your task you can use the following resources
Resources
http://www.theydeserveit.com/music/types-of-music.html
http://en.wikipedia.org/wiki/List_of_music_styles
http://www.clearleadinc.com/site/music_types.html
http://library.thinkquest.org/trio/TTQ03029/types_of_music.htm
http://www.buzzle.com/articles/different-types-of-music.html
Blues
http://www.island.net/~blues/history.html
http://www.blues.org/history/
http://thebluehighway.com/history.html
http://www.worldbook.com/fun/aamusic/html/blues.htm
http://library.thinkquest.org/15413/styles/rb.htm
http://www.nhmccd.edu/contracts/lrc/kc/music-2.html
ROCK
http://www.rockhall.com/hof/currinductees.asp
http://www.history-of-rock.com/indx.html
http://www.worldbook.com/fun/aamusic/html/rock.htm
http://library.thinkquest.org/15413/styles/rocknroll.htm
RAP
http://www.worldbook.com/fun/aamusic/html/rap.htm
COUNTRY
Click here and then click on Country
http://www.roughstock.com/history/begin.html
http://www.country.com/hof/history/music-genres-f.html
JAZZ
http://165.29.91.7/classes/humanities/amstud/97-98/jazz/YOURPA2.HTM
http://www.pbs.org/jazz/
http://www.worldbook.com/fun/aamusic/html/jazz.htm
http://www.pbs.org/jazz/kids/time/
http://www.jazzhistory.f2s.com/
http://www.nhmccd.edu/contracts/lrc/kc/music-2.html
FOLK
http://library.thinkquest.org/15413/styles/folk.htm
Click here and then enter Folk Songs
http://www.edgate.com/musichall/educator/education_center/music_styles/cou
ntry_folk/folk.html
OPERA
http://encarta.msn.com/find/concise.asp?ti=761570299&sid=1#s1
Click here, then choose Lecture Topics and then The Birth of Opera
Now, as a warming up exercise, you are going to listen to a song.
And try to answer these questions:
1.Have you ever listened to it? Title of the song? Composer/singer/group?
2.Style of music
3.Write the chorus
4.What is it about? What do you think is the theme it deals with?
5.When was it composed?
The Wall is the eleventh album by the English progressive rock group
Pink Floyd.
Released on 30 November 1979, it was performed live with elaborate
theatrical effects, and adapted into a film, Pink Floyd-The Wall.
The Wall is a concept album and deals largely with themes of abandonment
and personal isolation.
The genre of the album is rock opera that centres on Pink, (Alter ego of
Waters) (bassist, vocalist, lyricist and leader of the group)
Pink´s life experiences begin with the loss of his father during the
Second World War, and continue with abuse from his school teachers,
an overprotective mother, the breakdown of his marriage and finally his
controversial use of drugs.
All contribute to his eventual self-imposed isolation from society,
represented by a metaphorical wall.
"Another Brick in the Wall" is the title of three songs set to
variations of the same basic theme. Part 1 "Reminiscing", Part 2
"Education" and Part 3 "Drugs".
All parts were written by Roger Waters.
We´ve listened to Part 2 which was the most famous.
It is a protest song against rigid schooling in general and boarding
schools in the UK in particular. It deals with the rigid rules that
used to be in the 50´s schools.
It was released as a single and provided the band a number-one
hit in the UK, West Germany and many other countries. The group
received a Grammy
The single sold over 4 million copies worldwide
http://www.youtube.com/watch?v=fvPpAPIIZyo
The song also features a group of school children for lead vocals in the second verse:
as the song ends, the sounds of a school yard are heard, along with the teacher
(portrayed as a Scotsman) who tries to prevail and dominate the children's lives by
shouting such things as "Wrong! Do it again!", and "If you don't eat yer meat, you
can't have any pudding! How can you have any pudding if you don't eat yer meat?!",
and "You! Yes! You behind the bikesheds! Stand still, laddie!", all of it dissolving into
the dull drone of a phone ringing and ending with a deep sigh.
PLOT: After being insulted by the teacher, Pink dreams that the kids in his
school begin to protest against their abusive teachers. The song talks
about how he had a personal wall around him from the rest of the world,
the teachers were just another brick in the wall.