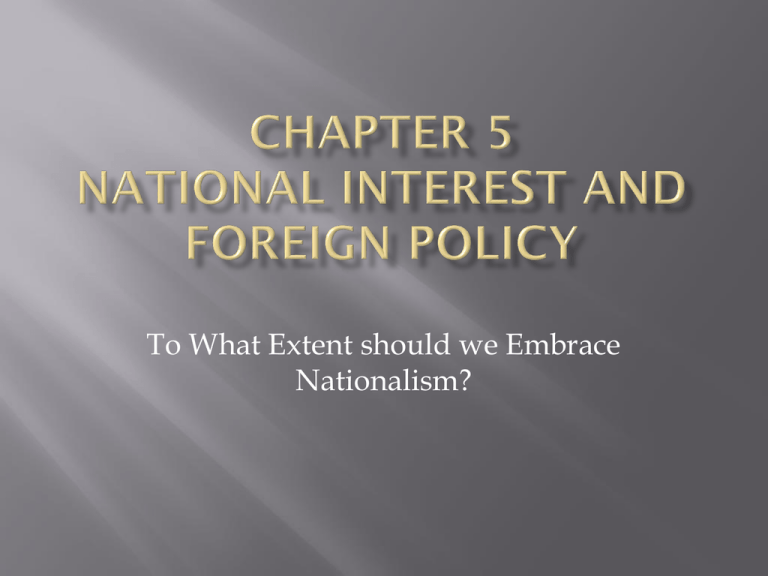 To What Extent should we Embrace
Nationalism?


Pursuit of national interests shapes foreign
policy and vice versa. Yes? No?
Effects on Austro-Hungry people after
declaring war on Serbia in 1914?



Personal security
Economic prosperity
Their culture


Read p. 130, Fig 5-17, FYI
Foreign Policy may have positive and negative
effects.

Example, in Peru …
 Government auctions land to foreign oil companies
 Good for jobs for Peruvians
 Some land belong to Mashco Piro and Nahua,
indigenous peoples who shun outsiders
 Diseases brought by outside workers killed ½ of Nahua
pop.

Peruvian law allows government to overrule
laws of indigenous people, if in best interest of
all Peruvian people.


Land was auctioned to Spanish and American oil
companies
2007, UN Declaration on the Rights of Indigenous
Peoples ensured …
 Such peoples have rights to territories and resources
 Such peoples to own, use, develop by reason of traditional
ownership.

What were the contending national interests in Peru?


Read p. 131, fig. 5-18, 5-19, Voices
Response of the UN re; 9/11 attacks


Gave support to NATO
NATO – North Atlantic Treaty Organization
Attack on one member means an attack on all
 Invades Afghanistan and Taliban fall
 US leaves Afghanistan and invades Iraq
 Is Canada forced into peacemaking?
 Canadian reaction to this change in foreign policy?



Read p. 132, fig. 5-20, 5-21
NATO focus …


To help keep a democratic, self-sufficient society
Rebuild …
 Afghanistan economy
 Political process
 Medical facilities
 Armed forces
 Police


Taliban and Al-Qaeda interferes with NATO
Canadian Women for Women in Afghanistan
debated …
 Validity of Canada's mission
 Financial cost of mission
 Combat role of Canadian forces
 Threat to lives of Canadian forces
 Relationship with other NATO forces
 Length of the mission

Canadian politicians disagreed in debate …




Jack Layton, NDP stated …
Michael Ignatieff, Liberal stated …
Stephen Harper, PM stated …
Figure 5-21 Opinion Poll



Do Canadians support or oppose sending troops to
Afghanistan?
Main reason for involvement?
Casualities … is it OK or is price too high?

Taliban position …



Girls not allowed to attend school
Women not allowed to have careers
NATO establishes Women's Ministry


Taliban resistance
Sima Simar, first minister of women's ministry
 Afghanistan Independent Human Rights Commission
 Her position ' we started … '



Text page 135, # 4. Complete all five parts and use the
cartoon and textbook to support your responses.
Text page 129, # 1, 2, and 3. Complete all parts to each
question.
Text page 133, Taking Turns … give your opinion to
the following questions,
1.
Has Canadian foreign policy in Afghanistan supported the
national interests of the Afghan people?
2. What does the discussion (read three opinions) show about
the complications involved in balancing foreign policy decisions
with the pursuit of national interest?