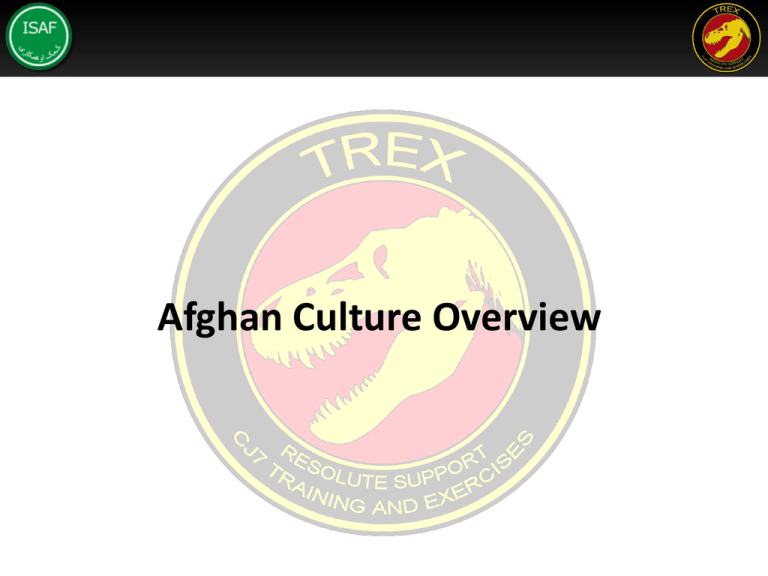 Afghan Culture Overview
Why?
Why worry about Afghan culture as an advisor?
Because the more you know, the more you can incorporate into
your engagements.
The more you can incorporate, the more credibility you gain.
The more credibility you have, the more influence you will have as
their advisor.
Cultural Summary
• Historical crossroads for Central Asia, Chinese and Middle Eastern cultures with
32 languages and dialects
• Ethnic and tribal affiliation more pronounced than nationality
• Close to 40 years of war have had a devastating effect on society and the people
• Islam provides overall social structure; extended family is focal point of social
life
• Villages have a strict authority structure
• Highly conservative yet hospitable people
• Honor, loyalty, courage, and education are prized
• Relationship building and trust are critical to success in any endeavor
Cultural Differences
US: Individual Society
THEM: Collective Society
•
Earned Status
•
Ascribed Status
•
Individual Achievement
•
Affiliation
•
Individual Action
•
Stability
•
Pronounced Equality
•
Inequality
•
Immediate Family
•
Extended Family
•
Self Reliance
•
Reliance on Others
•
Independence
•
Interdependence
•
Individual Competition
•
Cooperation
•
Individualism
•
Collectivism
•
Guilt
•
Honor – Shame
•
Future
•
Past or Heritage
•
Class Mobility
•
Depends on Family/Others
Overarching
"When religion is a way of life, it permeates all aspects of
everyday social relations, and nothing is separate from it.
This is the state of Islam in Afghanistan."
"Such a pervasive role for religion was also characteristic
of Christianity in medieval Europe…since the rise of the
Modern West was also characterized by the retreat of
religion as the dominant influence in society, it now takes
a leap of imagination to appreciate a society in which
religion still plays that culturally dominating role."
Dr. Thomas Barfield, "Afghanistan: a Political and Cultural
History"
Islam
1. Your religion?
2. Baseline understanding
• Quran
• Bukhari's Hadith
3. Respect the status of Islam in Afghan society
4. No need to share in prayers, but always
"factor it in the plan"
5. Entering Mosques and Madrassas
• Quiet and respectful
Language
"Studying Pashto or Dari for an hour each
day is more important than reading another
hour of intelligence or threat reports."
Dr. Carter Malkasian, COMISAF POLAD, in the FB-SFA
Video
Main Languages – Dari and Pashto (Uzbek, Pashai,
Nooristani, etc.); complementary to discussion on
interpreters
• Learn basic greetings
• Classes offered in both Dari and Pashto (flyers in
the Milano)
• Pimsleur and Rosetta Stone
Things To Be Aware Of
1.
Be Intellectually Curious
•
•
2.
Show interest in the Afghans
Engage, engage, engage! Counter "Evil Eye"
Be aware of religious and cultural holidays, and appropriate greetings
•
•
•
Ramazan
Eid Al-Fitr, Eid Al-Adha, The Hajj
New Roz
3.
Get to know Afghan history
4.
Read the Afghan Constitution – understand their governmental
architecture
5.
Solar, Lunar (Islamic), and Gregorian calendars –
http://www.calendarhome.com/calculate/convert-a-date/
6.
Interests – soccer/football, body-building, cricket, buzkashi, kite-flying,
skiing, etc.
7.
Bachi Bazi – be aware, but avoid
8.
Pashtunwali – integrated into almost all Afghans despite ethnicity,
understand the code
Personal Relations
1.
Takes time to build relations
2.
Photos – yes, but minimize (unless they offer)
3.
4.
Talking about families – yes, but do it slowly & do not pry
Getting to know your Afghan counterpart
•
•
•
•
Family
Religiosity
Mujahed/Communist background
Tribe/Ethnicity
5.
Gifts – flowers, pictures, picture books
6.
Jokes & harsh language – generally avoid; things don't often translate,
easy to offend
7.
Promises – avoid at all costs; better to say "I will look into it"
References
1.
Afghanistan: a Political and Cultural History by Dr. Thomas Barfield
2.
Before Taliban: Genealogies of the Afghan Jihad by David Edwards
3.
The Fragmentation of Afghanistan by Barnett Rubin
4.
War Comes to Garmser by Dr. Carter Malkasian
5.
Ghost Wars by Stephen Coll
6.
Pakistan by Lawrence Ziring
7.
The Pathans 550 B.C. – 1957 A.D. by Olaf Caroe
8.
The Quran
9.
The Hadith collected by Bukhari
10. Tribal Hierarchies and Dictionary of Afghanistan – a Reference Aid for
Analysts by Courage Services, Inc., Feb 2007
11. Pashtun Handbook by Predictive Analysis Center SRA International, Inc.
Questions?