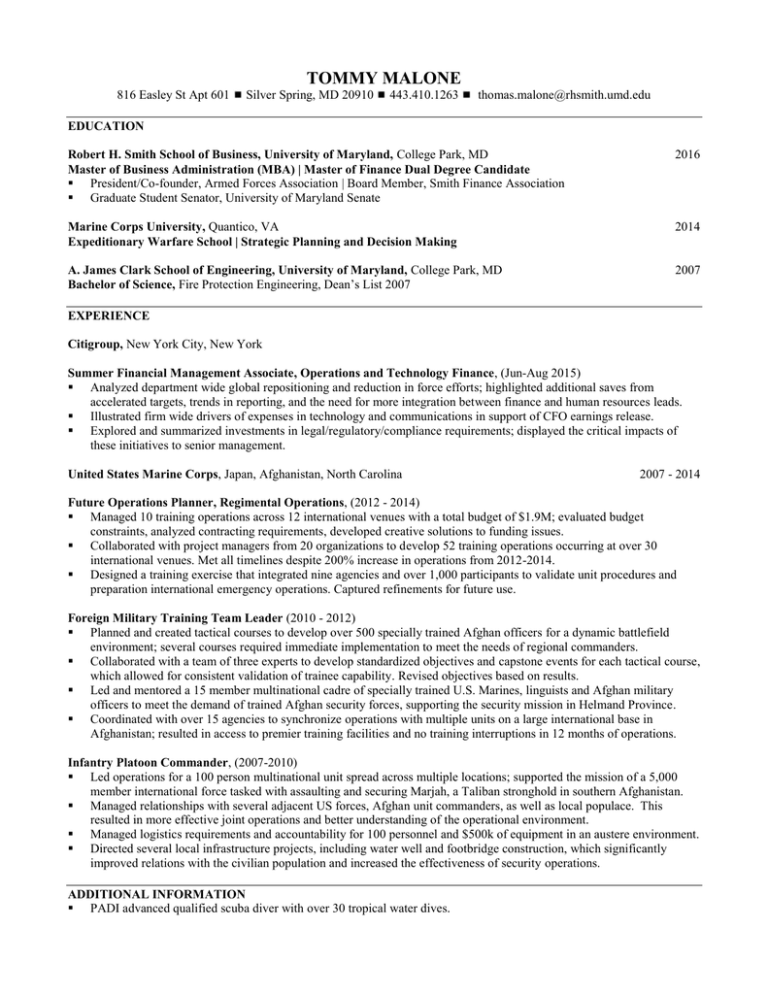 TOMMY MALONE
816 Easley St Apt 601
Silver Spring, MD 20910
443.410.1263
thomas.malone@rhsmith.umd.edu
EDUCATION
Robert H. Smith School of Business, University of Maryland, College Park, MD
Master of Business Administration (MBA) | Master of Finance Dual Degree Candidate
 President/Co-founder, Armed Forces Association | Board Member, Smith Finance Association
 Graduate Student Senator, University of Maryland Senate
2016
Marine Corps University, Quantico, VA
Expeditionary Warfare School | Strategic Planning and Decision Making
2014
A. James Clark School of Engineering, University of Maryland, College Park, MD
Bachelor of Science, Fire Protection Engineering, Dean's List 2007
2007
EXPERIENCE
Citigroup, New York City, New York
Summer Financial Management Associate, Operations and Technology Finance, (Jun-Aug 2015)
 Analyzed department wide global repositioning and reduction in force efforts; highlighted additional saves from
accelerated targets, trends in reporting, and the need for more integration between finance and human resources leads.
 Illustrated firm wide drivers of expenses in technology and communications in support of CFO earnings release.
 Explored and summarized investments in legal/regulatory/compliance requirements; displayed the critical impacts of
these initiatives to senior management.
United States Marine Corps, Japan, Afghanistan, North Carolina
2007 - 2014
Future Operations Planner, Regimental Operations, (2012 - 2014)
 Managed 10 training operations across 12 international venues with a total budget of $1.9M; evaluated budget
constraints, analyzed contracting requirements, developed creative solutions to funding issues.
 Collaborated with project managers from 20 organizations to develop 52 training operations occurring at over 30
international venues. Met all timelines despite 200% increase in operations from 2012-2014.
 Designed a training exercise that integrated nine agencies and over 1,000 participants to validate unit procedures and
preparation international emergency operations. Captured refinements for future use.
Foreign Military Training Team Leader (2010 - 2012)
 Planned and created tactical courses to develop over 500 specially trained Afghan officers for a dynamic battlefield
environment; several courses required immediate implementation to meet the needs of regional commanders.
 Collaborated with a team of three experts to develop standardized objectives and capstone events for each tactical course,
which allowed for consistent validation of trainee capability. Revised objectives based on results.
 Led and mentored a 15 member multinational cadre of specially trained U.S. Marines, linguists and Afghan military
officers to meet the demand of trained Afghan security forces, supporting the security mission in Helmand Province.
 Coordinated with over 15 agencies to synchronize operations with multiple units on a large international base in
Afghanistan; resulted in access to premier training facilities and no training interruptions in 12 months of operations.
Infantry Platoon Commander, (2007-2010)
 Led operations for a 100 person multinational unit spread across multiple locations; supported the mission of a 5,000
member international force tasked with assaulting and securing Marjah, a Taliban stronghold in southern Afghanistan.
 Managed relationships with several adjacent US forces, Afghan unit commanders, as well as local populace. This
resulted in more effective joint operations and better understanding of the operational environment.
 Managed logistics requirements and accountability for 100 personnel and $500k of equipment in an austere environment.
 Directed several local infrastructure projects, including water well and footbridge construction, which significantly
improved relations with the civilian population and increased the effectiveness of security operations.
ADDITIONAL INFORMATION
 PADI advanced qualified scuba diver with over 30 tropical water dives.