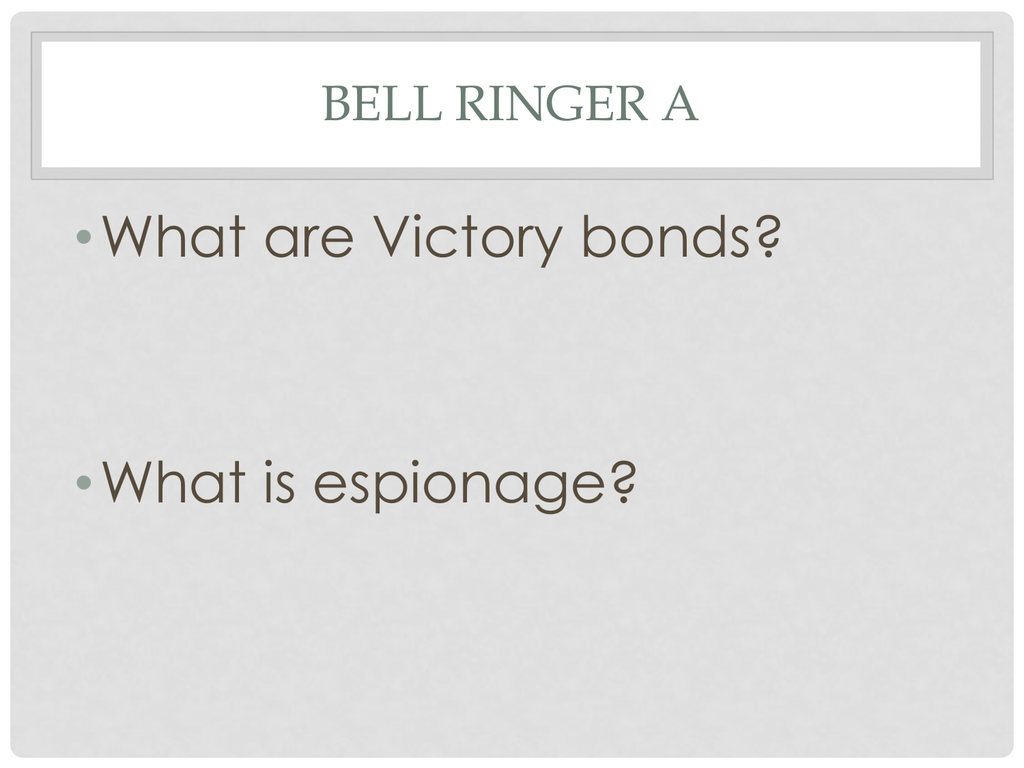 BELL RINGER A
• What are Victory bonds?
• What is espionage?
A BLOODY CONFLICT
WWI ON THE FRONT LINES
NEW TECHNOLOGICAL DEATH
Poisonous Gas
Tank
Planes in combat
DOUHBOYS AND CONVOYS
• Doughboys =
American
soldiers
• Convoys:
warships sent
with cargo
ships to protect
cargo ships
HELLO SOVIET UNION
• Tsar Nicholas II
abdicates
• Vladimir Lenin takes
control of Russia
aka Soviet Union
• Pulls Russia out of
WWI
• Freed up German
forces
11.11.11
• American troops
defeat German
troops everywhere
• Autria-Hungary and
Ottoman Empire
surrender
• German regime is
overthrown
• 11th month, 11th day,
11th hour – the war
ends
PARIS PEACE CONFERENCE
• Big Four of Britain,
US, France, and
Italy
• Germany wasn't
invited
• Wilson's Fourteen
Points-his plan for
after the war
• Too lenient on
Germany
• League of Nations
• US didn't join
TREATY OF VERSAILLES
• Germany
• Stripped of
military
• Pay reparations
• Had to
acknowledge
guilt for
beginning of
war
STRIKES
• Boston Police Strike
• 75% of police strike
• Calvin Coolidge
gains national
attention for not
letting them back
• Steel Strike
• Higher wages, shorter
hours, union
recognition
• Failed
CHICAGO RACE RIOT
• Black teenagers
go to an all white
beach
• Rocks were
thrown and a
black teen
drowned
• 38 deaths
• 500+ injured
THE RED SCARE
• Fear of
communism
• When Russia
pulled out of WWI
they were seen
as helping
Germany
• Unpatriotic and
disloyal
PALMER RAIDS
• Series of bombings
led to Attorney
General Mitchell
Palmer organizing
raids on radical
groups
• Raids were led by
the early FBI
headed by J Edgar
Hoover
BELL RINGER B
•Do you think the Allies
should have been nicer to
Germany, or did they get
what they deserved? Why?