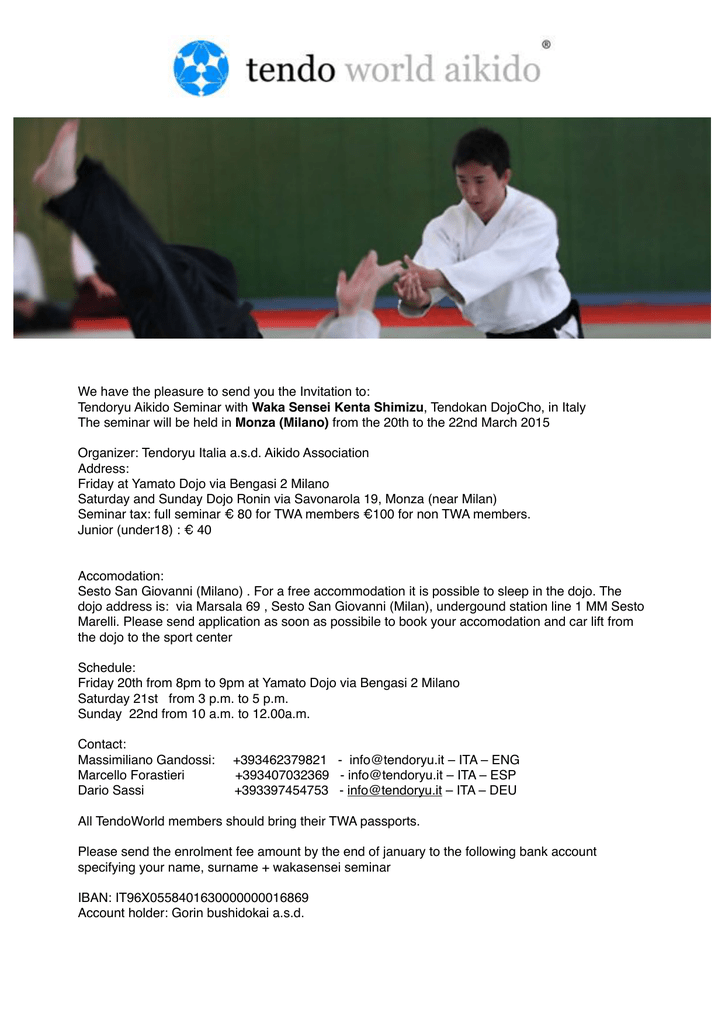 We have the pleasure to send you the Invitation to:
Tendoryu Aikido Seminar with Waka Sensei Kenta Shimizu, Tendokan DojoCho, in Italy
The seminar will be held in Monza (Milano) from the 20th to the 22nd March 2015
Organizer: Tendoryu Italia a.s.d. Aikido Association
Address:
Friday at Yamato Dojo via Bengasi 2 Milano
Saturday and Sunday Dojo Ronin via Savonarola 19, Monza (near Milan)
Seminar tax: full seminar € 80 for TWA members €100 for non TWA members.
Junior (under18) : € 40
Accomodation:
Sesto San Giovanni (Milano) . For a free accommodation it is possible to sleep in the dojo. The
dojo address is: via Marsala 69 , Sesto San Giovanni (Milan), undergound station line 1 MM Sesto
Marelli. Please send application as soon as possibile to book your accomodation and car lift from
the dojo to the sport center
Schedule: Friday 20th from 8pm to 9pm at Yamato Dojo via Bengasi 2 Milano
Saturday 21st from 3 p.m. to 5 p.m.
Sunday 22nd from 10 a.m. to 12.00a.m.
Contact:
Massimiliano Gandossi: +393462379821 - [email protected] – ITA – ENG
Marcello Forastieri
+393407032369 - [email protected] – ITA – ESP
Dario Sassi
+393397454753 - [email protected] – ITA – DEU
All TendoWorld members should bring their TWA passports.
Please send the enrolment fee amount by the end of january to the following bank account
specifying your name, surname + wakasensei seminar
IBAN: IT96X0558401630000000016869
Account holder: Gorin bushidokai a.s.d.