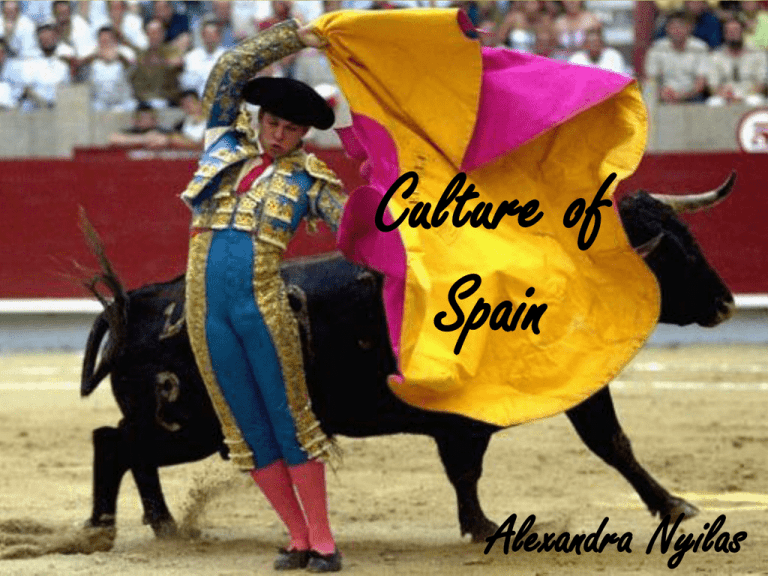 Culture of
Spain
Alexandra Nyilas
SPAIN spectacular and diverse country
Spain is a country with a varied and exciting culture
Art
Spanish painters are among the best of painters in the World
Salvadore Dali
The Circus
Galatée aux Sphères
cubist-style
self portrait
Music and Dance
• Paco de Lucia
Spanish music is
associated with
traditions
like flamenco and
the guitar
-Flamenco is a truly Spanish art
Flamenco
Flamenco is a style of music
which is considered part of
the Spainish culture
Flamenco is the music of
the Andalusian gypsies
-It exists in three forms: song, dance, and
guitar playing.
It seems like every day is a FESTIVAL
La Tomatina
Tomato Fight is
probably the
world's biggest
food fight.
Las Fallas
One of the most unique and crazy festivals
The Fallas takes place every
March in Valencia to celebrate
the feast of San José
The bullrunning of Pamplona
Held in various places such as
Pamplona and all over Andalucía
Bullfighting
This is the most traditional of Spanish Fiestas
This Fiesta could not exist without the "toro
bravo", a of bull of an ancient race that is
found only in Spain.
Pulpo a la Gallega
Spanish Dishes
Cochinillo Asado
(Galician Octopus)
(roast baby pig)
Gambas Ajillo
Paella
(Garlic Prawns)
(Spanish Rice Dish)
SPAIN IS A WONDERFUL COUNTRY
Thank you for your attention!