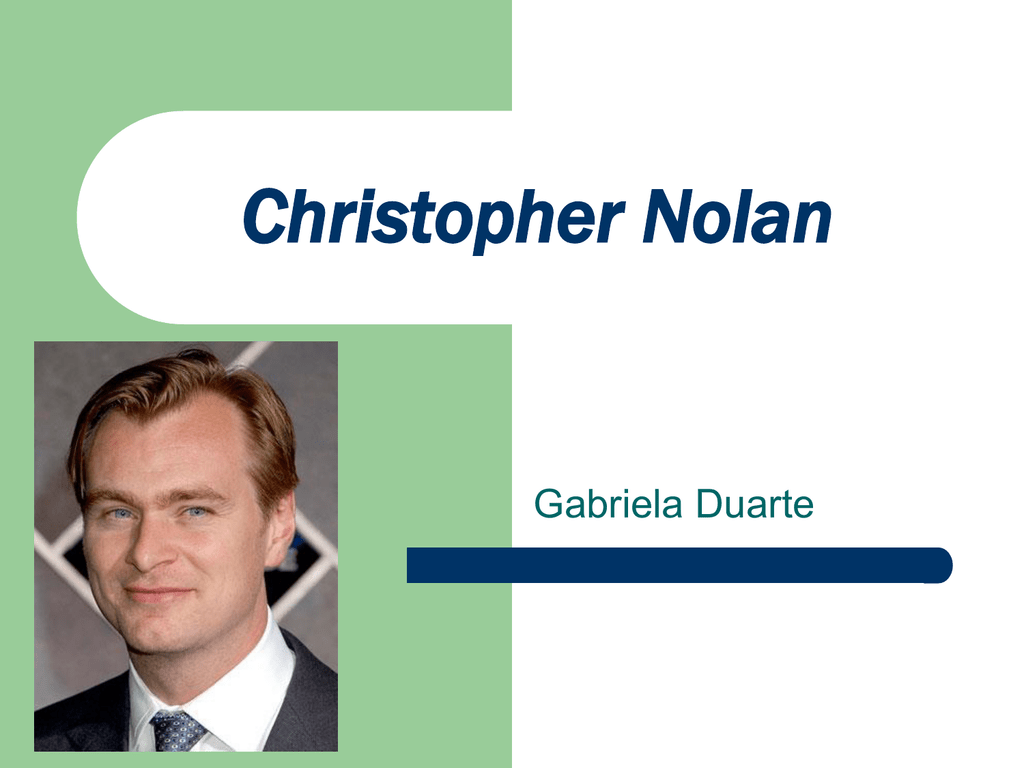 Christopher Nolan
Gabriela Duarte
Background information:









Was born on July 30,1970 in London, England, UK.
His full birth name is Christopher Jonathan James Nolan.
Nick name is Chris.
His spouse name is Emma Thomas and was born in 1997present.
Also has four kids.
Started making films at age 7 using his fathers 8mm camera and
male action figures.
In London he studied English Literature at the University College
London and also made 16mm films in the college film college.
He made a short film named 'larceny' and it was shown in the
Cambridge Film Festival in 1996.
He also made 16mm shots that were three minutes surreal film
that was called 'doodlebug'
Trivia:







The way he gained money was in 1999 he entered
Hong Kong Film Festival and showed "Following" and
asked the audience to donate money for his next film
"Memento"(2000).
He's the older brother of Jonathan Nolan.
He's the nephew of John Nolan and Kim Hartman.
Is colorblind to red and green.
Is a big fan to James Bond and his favorite James
bond movie is " On Her Majesty's Service" which came
out in 1969.
His is a big fan or the band named Radiohead
Is of Irish decent.
Beginning of career:




In UCL he learned the guerrilla techniques that he used
later on in his first feature "Following" which came out in
1998.
In the making of "Following" he was in the budget of
around 6,000 dollars.
The movie was recognized at international film festivals
and was given an theatrical release; this gave Nolan
credibility and financing for his next film(Memento).
He became known for his cerebral and often non-linear
storytelling.
Style:






He usually starts the film with a flashback or a scene that
appears at the end of the movie.
When a dialogue scene is shot the actors are frames in wide
close up with shallow depth of the field to bur out the
background.
The films conclude with two characters discussing the events
and the results which have stemmed from said events.
Usually involved a character seeking vengeance over the death
of a loved one.
Characters usually are given physical or psychological
handicap.
Sci-fi thriller
Frequent Actors:

Michael Caine
Christian Bale
Gary Oldman
http://www.youtube.com/watch?v=-WhKt_CkXD0
Must See Film #1
Doodlebug(1997)
 Staring Jeremy Theobald
 In a ratty flat, a man
is on his hands and knees,
holding a shoe by its toe,
trying to kill a bug of some
sort that so far has managed
to evade him.

http://www.youtube.com/watch?v=5q8bBAKNSA8
Must See Film #2
Following (1998)
 Starring: Jeremy
Theobald, Alex
Haw, John Nolan
 A young writer who
follows strangers for
material meets a
thief who takes him
under his wing.

http://www.youtube.com/watch?v=RKkGch0shuQ
Must See Film #3



Memento(2000)
Starring: Guy Pearce,
Carrie-Anne Moss, Joe
Pantoliano, Mark
Boone Junior
A man, suffering from
short-term memory
loss, uses notes and
tattoos to hunt for the
man he thinks killed his
wife
http://www.youtube.com/watch?v=pO2zTxWayE0
Must See Film #4



Insomnia(2002)
Starring: Al
Pacino,Robon Williams,
Hilary Swank, Oliver
'Ole' Zemen
Two Los Angeles
homicide detectives are
dispatched to a northern
town where the sun
doesn't set to investigate
the methodical murder
of a local teen.
http://www.youtube.com/watch?v=kmyiVXIATAg
Must See Film #5



Batman Begins(2005)
Starring: Christian Bale,
Michael Caine, Ken
Watanabe, Liam
Neeson.
After training with his
mentor, Batman begins
his war on crime to free
the crime-ridden Gotham
City from corruption that
the Scarecrow and the
League of Shadows
have cast upon it.
Awards and Nominations:




Nominated for Directors Guild of America(DGA)
Award
Nominated for Writers Guild of America(WGA)
Nominated for Producers Guild of
America(PGA)
Inception received four Academy Awards and
eight nominations that includes Best Picture and
Screenplay
Quotes:



"I think there's a vague sense out there that movies are
becoming more and more unreal. I know I've felt it."
"As soon as television became the only secondary way in
which films were watched, films had to adhere to a pretty
linear system, whereby you can drift off for ten minutes
and go and answer the phone and not really lose your
place."
I think I'm not so much a fan of science fiction as I am a
fan of cinema that creates worlds, that creates an entire
alternate universe that you could escape into for a couple
of hours.