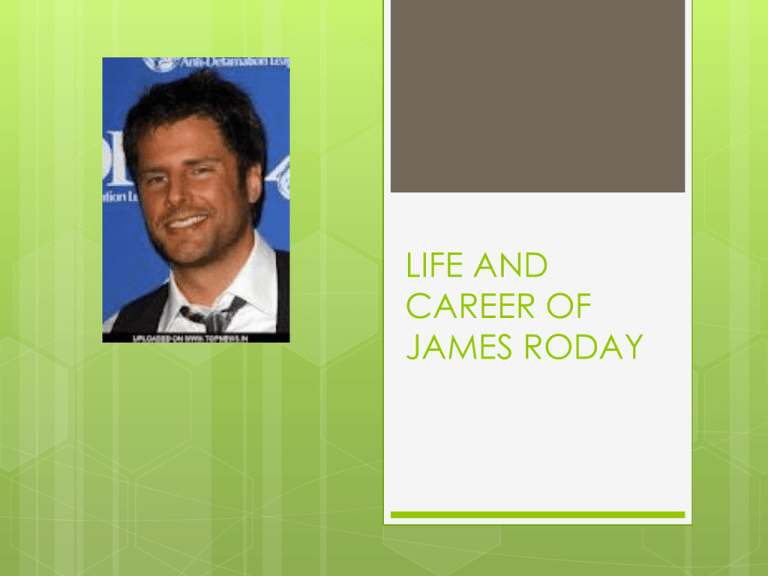 LIFE AND
CAREER OF
JAMES RODAY
BIOGRAPHY






James Roday was born James David
Rodriguez on April 4, 1976 in San Antonio, TX.
He changed his name to a combination of his
middle and last name in 1998 when he joined
the Screen Actors Guild
He has a bachelor's degree in Fine Arts
He co-owns the Red Dog Squadron theatre
company in Los Angeles.
Señor Roday tiene treinte y cinco años.
Él es talentoso.
ACCOMPLISHMENTS






Roday starred as Billy Prickett in the 2005 making of
The Dukes of Hazzard.
He also has acted in Rolling Kansas and Get Real.
He landed the role of Shawn Spencer, a fake
psychic detective in Psych in 2006
He won a Satellite Award in 2006 for Best Actor in a
comedy series, and an ALMA in 2008 for
Outstanding Actor in a Comedy Series
Él tiene dos premios.
Señor Roday
James Roday at the 2008 ALMA awards.
ACCOMPLISHMENTS






Roday's show, Psych was recently picked up by USA
Network for a seventh season.
Psych is famous for its numerous pop culture references and
guest stars.
The show has done parodies to several movies and TV
shows including Friday the 13th, Twin Peaks, Psycho, and The
Shining.
The show's cast has done fan days at Comic Con every
year since 2008
Señor Roday es muy gracioso.
Roday pasa tiempo con William Shatner, John Cena, Judd
Nelson, Joey McIntyre, and Jaleel White para la programa.
Roday with William
Shatner and Judd
Nelson as guest stars in
Psych.
LEGACY






At the age of only 22, James Roday
underwent open-heart surgery. He recovered
well, but still has a large scar down his chest.
His show opened relations between many
guest stars and the network USA.
Psych has been the successor to USA's other
comedic success, Monk.
It is the longest running show ever on that
network.
Roday es muy resistente.
Él es famoso.