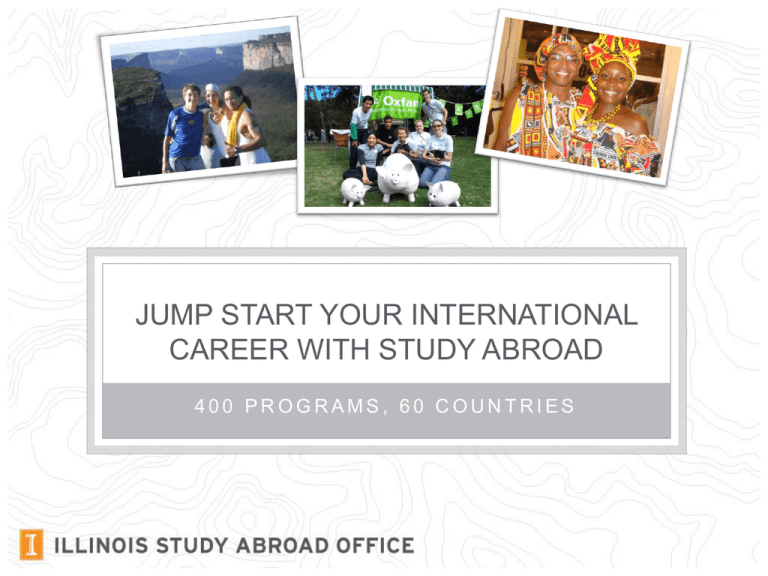 JUMP START YOUR INTERNATIONAL
CAREER WITH STUDY ABROAD
400 PROGRAMS, 60 COUNTRIES
LEARNING ENVIRONMENTS
Faculty-led Courses
(most popular winter option, also available
in the summer)
Language Institutes
Granada, Spain
Foreign Universities
Stirling, UK
Internships
MSID
VolunteeringSan Joaquin, Costa Rica
MANY AFFORDABLE PROGRAMS
Total Cost of Attendance at Illinois—Semester
Includes tuition and fees (Base Rate for Spring 2012 enrollment), room
and board, books, and other expenses
Illinois Resident/Non-Illinois Resident
$13,743/$21,173
Total Cost of Attendance Abroad—Semester
Includes airfare, all tuition, room and board, books, insurance, and
personal expenses for Spring 2012 programs
National University of Singapore
$9,457
Universidad San Francisco de Quito, Ecuador
$10,899
Instituto San Joaquin de Flores
$12,710
KULeuven-Illinois Experience
$14,250
Spanish Studies in Granada, Spain
$14,462
British Exchange Program in Nottingham, United Kingdom
$14,785
Verona Studies Program, Italy
$15,298
SCHOLARSHIPS!
• Begin your search early! Many scholarship
deadlines are before the program deadlines
• Scholarship deadlines do not impact your
nomination/acceptance to your study abroad
program
• Utilize the university's additional resources and
conduct your own search for more
• I4I Scholarship
GAIN EXPERIENCE IN THE REGION
•
Employers want to see that you've lived in and understand
the culture you may be working in.
•
Remember: what depicts success in one country or region
of the world, doesn't necessarily depict success in another.
Address this in the cover letter
•
Gain as much experience on site as possible; create and
maintain local contacts
•
•
•
•
•
Host families
Volunteer experience
Improve language skills
Internships
Know what employers value…
RESEARCH STUDIES
A 2008 study conducted by Stevan Trooboff, Michael Vande
Berg, and Jack Rayman entitled "Employer Attitudes toward
Study Abroad" showed evidence that
"First, employers believe that the longer the program, the more
value it has; and second, they place relatively high value on
experiential learning."
Specifically…
The most valued type of education abroad experience for
both senior managers and the HR professionals and others
responsible for hiring was a semester internship.
WHAT'S NEXT?
• Check out these Resources!
• Visit our website: studyabroad.illinois.edu and watch our First Steps
Videos!
- Like us on Facebook: 'Illinois Study Abroad'
• Follow us on Twitter: www.twitter.com/ILStudyAbroad
• Visit the Study Abroad Resource Room to talk to a
Peer Advisor!
• 112 International Studies Building
• Attend a First Steps Info Session
• Mon-Thurs, Lincoln Hall 1027, 4pm-5pm
Really, WHAT ARE YOU WAITING FOR???