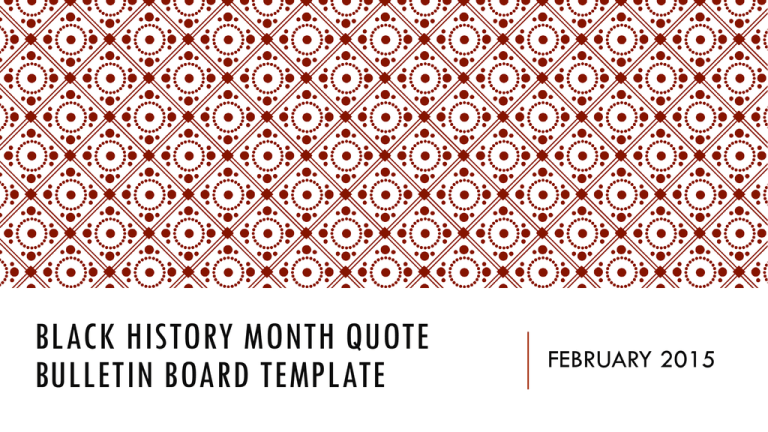 BLACK HISTORY MONTH QUOTE
BULLETIN BOARD TEMPLATE
FEBRUARY 2015
BOOKER T. WASHINGTON- SCHOLAR, INVENTOR
"Success is to be
measured not so much
by the position that one
has reached in life as
by the obstacles which
he has overcome while
trying to succeed."
ARTHUR ASHE-GRAND SLAM TENNIS CHAMPION
"One important
key to success is
self-confidence. An
important key to
self-confidence is
preparation."
COLIN POWELL- FORMER U.S. SECRETARY OF STATE
"Surround yourself
with people who
take their work
seriously, but not
themselves, those
who work hard and
play hard." –
CORETTA SCOTT KING-CIVIL RIGHTS ACTIVIST
"Struggle is a never
ending process.
Freedom is never
really won, you earn
it and win it in every
generation."
FREDERICK DOUGLASS-ABOLITIONIST
"If there is no
struggle, there
is no progress."
JAY-Z – HIP HOP ARTIST, ENTREPRENEUR
" I believe that
everybody in the world
is born with genius
level talent. Apply
yourself to whatever
you're a genius at and
you can do anything in
the world."
LANGSTON HUGHES - POET
Hold fast to
dreams, for if
dreams die, life is
a broken winged
bird that cannot fly.
MALCOLM X – CIVIL RIGHTS ACTIVIST
Education is the
passport to the
future, for tomorrow
belongs to those who
prepare for it today.
DR. MARTIN LUTHER KING, JR. – CIVIL RIGHTS LEADER
"Injustice
anywhere is a
threat to justice
everywhere."
MICHAEL JORDAN – BASKET CHAMPION
"I can accept
failure. Everyone
fails at something.
But I can't accept
not trying."
MUHAMMAD ALI – HEAVYWEIGHT WORLD CHAMPION
He who is not
courageous enough
to take risks will
accomplish nothing
in life.
NELSON MANDELA – SOUTH AFRICAN CIVIL RIGHTS ACTIVIST
For to be free is not
merely to cast off one's
chains, but to live in a
way that respects and
enhances the freedom
of others.
PRESIDENT BARACK OBAMA
Change will not come
if we wait for some
other person or some
other time. We are the
ones we've been
waiting for. We are the
change that we seek."
ROSA PARKS – CIVIL RIGHTS ACTIVIST
"Each person
must live their life
as a model for
others."
THURGOOD MARSHALL – U.S. SUPREME COURT JUSTICE
"In recognizing the
humanity of our
fellow beings, we
pay ourselves the
highest tribute."
VENUS WILLIAMS – TENNIS CHAMPION
You have to believe
in yourself when no
one else does -- that
makes you a winner
right there.