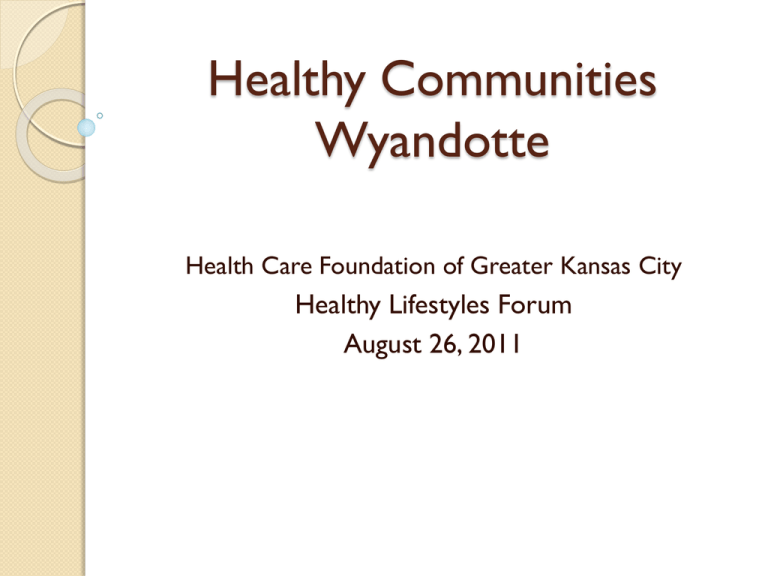 Healthy Communities
Wyandotte
Health Care Foundation of Greater Kansas City
Healthy Lifestyles Forum
August 26, 2011
Establishment of HCW
Basis for the establishment of HCW Kansas Health Institute's 2009 County
Health Ranking Report.
 Community Health challenges in
Wyandotte County are well documented.
 "Action-based" planning approach
necessary.
 Grounded in community input

What HCW Heard

Series of three community meetings were
held to discuss the County Health
Rankings Report.
◦ Facilitated by KHI

Priority areas identified were:
◦
◦
◦
◦
◦
Community Relations/Communications
Education
Infrastructure
Access to Healthy Food
Health Services
HCW Steering Committee
Membership
Mayor Joe Reardon
Bill Epperheimer, CEO
Wyandotte Health Foundation
Dr. Tom Burke, President
KCKCC
Bob Page, President/CEO
University of Kansas Hospital
Pete Zevenbergen, Director
Wyandot, Inc.
Dr. Robert Van Maren,
Superintendent
USD #204
Commissioner John Mendez
Commissioner Mark Holland
Commissioner Pat Pettey
Reverend Tony Carter
Baptist Ministers Union
Mike Dorsey, President/CEO
Providence Medical Center
Dr. Barbara Atkinson,Vice
Chancellor
University of Kansas Medical
Center
Mary Lou Jaramillo, President/CEO
El Centro
Steve Adams, Superintendent
USD #203
Karla Leibham,Assoc.
Superintendent
Archdiocese of Kansas City in
Kansas
Tom Stibal, Exec. Director
KCK Housing Authority
Deb Ayers-Geist, Director of
Special Services
USD #202
Lisa Garcia, Director of Student
Services
USD #500
Brandi Fisher,Vice President
United Way of Wyandotte County
HCW Action Teams
Established at the Steering Committee
Meeting held on January 26, 2011.
 Total of 5 Action Teams
 The Action Teams membership have good
representation of subject matter experts
and community members.
 Community Health Improvement Plan is
slated to be adopted in December, 2011

HCW Accomplishments

Featured community by Robert Wood
Johnson Foundation
◦ http://www.rwjf.org/pr/product.jsp?id=72092


Unified Government adopted a Complete
Streets resolution.
Sidewalk/Trail Master Plan; Expansion of Safe
Routes to School; Walkability Assessment.
◦ Thank You HCF!

Grant submitted to Kansas Health
Foundation – Access to Healthy Food
HCW Emerging Issues

While not final, there are themes
emerging from the work of the action
teams.
◦ Incentive programs to increase high school
graduation and college/vocational training
 3rd Highest Salary ($42,640)
 3rd Lowest Per Capita Income ($27,966)
◦ "Active Living" opportunities
◦ Increased outreach/education/communication
HCW Community Engagement

Community Health Improvement –
planning for the future health of
Wyandotte County.
◦ Understanding that these changes are
generational.
◦ The importance of planning/policy.
◦ Value placed on community health.