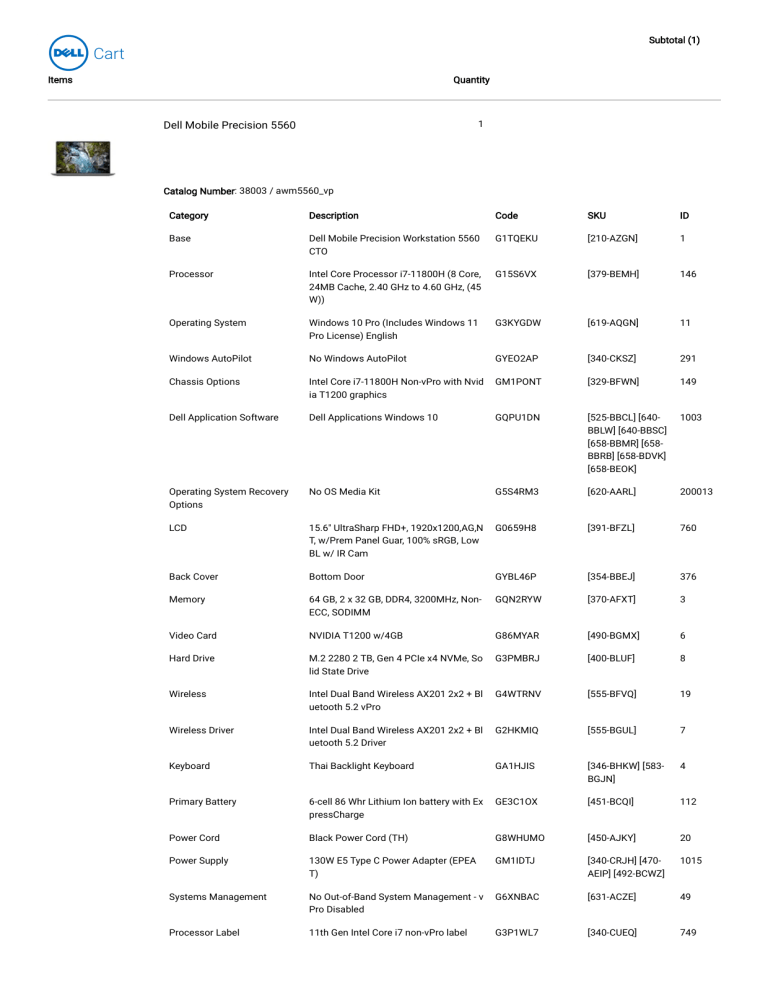 
Subtotal (1)
Cart
Items
Quantity
1
Dell Mobile Precision 5560
Catalog Number: 38003 / awm5560_vp
Category
Description
Code
SKU
ID
Base
Dell Mobile Precision Workstation 5560
CTO
G1TQEKU
[210-AZGN]
1
Processor
Intel Core Processor i7-11800H (8 Core,
24MB Cache, 2.40 GHz to 4.60 GHz, (45
W))
G15S6VX
[379-BEMH]
146
Operating System
Windows 10 Pro (Includes Windows 11
Pro License) English
G3KYGDW
[619-AQGN]
11
Windows AutoPilot
No Windows AutoPilot
GYEO2AP
[340-CKSZ]
291
Chassis Options
Intel Core i7-11800H Non-vPro with Nvid
ia T1200 graphics
GM1PONT
[329-BFWN]
149
Dell Application Software
Dell Applications Windows 10
GQPU1DN
[525-BBCL] [640BBLW] [640-BBSC]
[658-BBMR] [658BBRB] [658-BDVK]
[658-BEOK]
1003
Operating System Recovery
Options
No OS Media Kit
G5S4RM3
[620-AARL]
200013
LCD
15.6" UltraSharp FHD+, 1920x1200,AG,N
T, w/Prem Panel Guar, 100% sRGB, Low
BL w/ IR Cam
G0659H8
[391-BFZL]
760
Back Cover
Bottom Door
GYBL46P
[354-BBEJ]
376
Memory
64 GB, 2 x 32 GB, DDR4, 3200MHz, NonECC, SODIMM
GQN2RYW
[370-AFXT]
3
Video Card
NVIDIA T1200 w/4GB
G86MYAR
[490-BGMX]
6
Hard Drive
M.2 2280 2 TB, Gen 4 PCIe x4 NVMe, So
lid State Drive
G3PMBRJ
[400-BLUF]
8
Wireless
Intel Dual Band Wireless AX201 2x2 + Bl
uetooth 5.2 vPro
G4WTRNV
[555-BFVQ]
19
Wireless Driver
Intel Dual Band Wireless AX201 2x2 + Bl
uetooth 5.2 Driver
G2HKMIQ
[555-BGUL]
7
Keyboard
Thai Backlight Keyboard
GA1HJIS
[346-BHKW] [583BGJN]
4
Primary Battery
6-cell 86 Whr Lithium Ion battery with Ex
pressCharge
GE3C1OX
[451-BCQI]
112
Power Cord
Black Power Cord (TH)
G8WHUMO
[450-AJKY]
20
Power Supply
130W E5 Type C Power Adapter (EPEA
T)
GM1IDTJ
[340-CRJH] [470AEIP] [492-BCWZ]
1015
Systems Management
No Out-of-Band System Management - v
Pro Disabled
G6XNBAC
[631-ACZE]
49
Processor Label
11th Gen Intel Core i7 non-vPro label
G3P1WL7
[340-CUEQ]
749
Category
Description
Code
SKU
ID
Label
Not Selected in this Configuration
G5QFTPY
[379-BBEP]
676
Resource Media
Resource Media not Included
GJMH5WU
[430-XYGV]
50
ENERGY STAR
ENERGY STAR Qualified
GT5U9SM
[387-BBPT]
122
Office Productivity Software
No Microsoft® Office License Included
30 days Trial Offer Only
GH5EN1G
[630-ABBW]
1002
Documentation
Document for MUI (English, Khemer, Ba
hasa Indonesia, Arabic, Spanish)
G2J48WB
[340-ACBS]
21
Setup and Features Guides
Quick Start Guide for Mobile Precision 5
560
G9U80L4
[340-CWND]
60
Packaging
System Shipment Material
GA124O7
[328-BDKI] [340AAPP] [389DQBW]
465
Shipping
Dell Precision Ship Material for WW MW
S 5560
GW0V9KP
[340-CWIU]
1500
Freight Charges
FGA NB-OS-BTO Freight Charges(Thaila
nd)
GN3ACSU
[990-21284]
950
Order Information
Mobile Precision Configuration
GOD8V7M
[340-AGOV]
111
Additional Hard Drive (2nd
HD)
Additional M.2 2280 1 TB, Gen 4 PCIe x
4 NVMe, Solid State Drive
GVDX8MU
[401-ACFK]
637
FGA Module
No FGA
NOFGA
[817-BBBB]
572
Raid Connectivity
NO RAID
G0UXYJZ
[780-BBFE]
1009
EPEAT 2018
EPEAT 2018 Registered (Gold)
GBU8CHM
[379-BDZB]
200331
Dell Services: Hardware
Support
Basic Onsite Service 12 Months, 12 Mo
nth(s)
G1VLKHI
[709-BBUF]
29
Dell Services: Extended
Service
ProSupport and Next Business Day Onsi
te Service, 36 Month(s)
GPOA45F
[199-BCTH] [199BCTI]
30
Dell Services: Extended
Battery Services
Extended Battery Service, 24 Month(s)
GQ5D8RV
[711-BBJN]
1017
Dell Services: Remarks
Battery Carries 1 Year Warranty from Inv
oice Date
G4F9KS0
[883-12343]
1278
Carrying Cases
Dell Pro Slim Briefcase 15 PO1520CS Fi
ts most laptops up to 15"
GTAGKS1
[460-BCNM]
118
Accessories
Dell Mobile Wireless Mouse MS3320W Black
GJMB2HV
[570-ABES]
473
Subtotal (1)
Support
Account
Order Status
Your Profile
Drivers & Downloads
Dell Contacts
Product Support
Address Book
Support by Topic
Warranty Information
Order Support
Your ProductsAbout Dell
Quotes
Dell Technologies
Sales Quotes
Systems
Peripherals
© 2022 Dell
Legal & Regulatory
Terms of Sale
Privacy Statement
Smart Selection: Delivery Conditions - Products ship within the next business day (excl. bank holidays and weekends);
Applies to orders pre-paid in full or payment approved; Limited quantities available; Delivery date NOT guaranteed; Dell is not
liable for any losses, costs, damages, charges or expenses caused by any delay; Software or accessories may be shipped
separately and arrive later, or may delay the order.ALL ORDERS ARE SUBJECT TO APPROVAL AND ACCEPTANCE BY DELL.
Pricing, availability and other terms of offer may be withdrawn or changed without notice. Dell cannot be held responsible
for errors in typography or photography.​
The terms and conditions in local language set out at the respective local language website shall prevail over this English
version.​