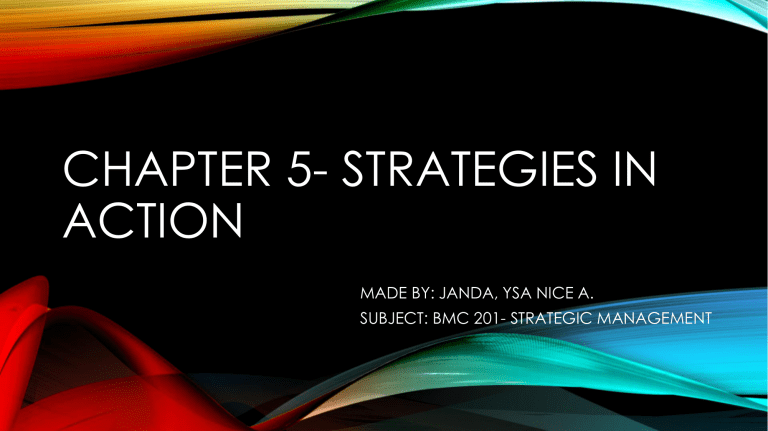 CHAPTER 5- STRATEGIES IN
ACTION
MADE BY: JANDA, YSA NICE A.
SUBJECT: BMC 201- STRATEGIC MANAGEMENT
CHAPTER OUTLINE
Long-Term Objectives
Types of Strategies
Integration Strategies
Intensive Strategies
Diversification Strategies
Defensive Strategies
Michael Porter's Generic
Strategies
• Means for Achieving Strategies
• Merger/ Acquisition
•
•
•
•
•
•
•
• Strategic Management in
Nonprofit and Government
Organizations
• Strategic Management in Small
Firms
LONG-TERM OBJECTIVES
• Long-term objectives represent the results expected from
pursuing certain strategies. Strategies represent the actions
to be taken to accomplish long-term objectives.
NATURE OF LONG-TERM OBJECTIVES
1.
2.
3.
4.
5.
6.
7.
8.
Quantitative
Measurable
Realistic
Understandable
Challenging
Hierarchical
Obtainable
Congruent
TYPE OF STRATEGIES:
INTEGRATION STRATEGIES
• Forward Integration - gaining ownership or increased control over distributors
or retailers
• Backward Integration - seeking ownership or increased control of a firm's
suppliers
• Horizontal Integration - seeking ownership of or increased control over a
firm's competitor.
INTENSIVE STRATEGIES
• Market-Penetration Strategy - seeks to increase market share for present
products or services in present markets through greater marketing efforts.
• Market Development - introducing present products or services into new
geographic areas
• Product Development - seeks increased sales by improving or modifying
present products or services
DIVERSIFICATION STRATEGIES
• Concentric Diversification - adding new, but related product or service.
• Horizontal Diversification - adding new, unrelated products or service for present
customers.
• Conglomerate Diversification - adding new, unrelated products and services.
DEFENSIVE STRATEGIES
• Retrenchment – occurs when an organization regroups through cost and
asset reduction to reverse declining sales and profit.
• Divestiture - re-examine the asset of your business and company.
• Liquidation - is the selling of all of your company's assets.
MICHAEL PORTER'S GENERIC STRATEGIES
• Cost Leadership Strategies - emphasizes producing standardized products at
a very low per-unit cost for consumers who are price-sensitive.
• Differentiation Strategies - aimed at producing products and services
considered unique industrywide and directed at the consumers who are
relatively price-sensitive.
• Focus Strategies - producing products and services that fulfill the needs of
small groups of consumers
MEANS FOR ACHIEVING STRATEGIES
Joint Venture - occurs IF 2 or more companies form a temporary partnership or
consortium for the purpose of capitalizing on some opportunity.
Planning - is the outsourcing, information sharing, joint marketing and joint
research and development.
MERGER & ACQUISITION
• Merger - occurs if 2 organization of about equal size unite to form one
enterprise.
• Acquisition - occurs if large organization purchase a smaller firm or vice
versa.
STRATEGIC MANAGEMENT IN NONPROFIT AND
GOVERNMENT ORGANIZATIONS
• Educational Institutions
• Medical Organizations
• Governmental agencies and Departments.
STRATEGIC MANAGEMENT IN SMALL FIRMS
• Strategic management is both vital for large firms and small companies'
success.
THE END!!!