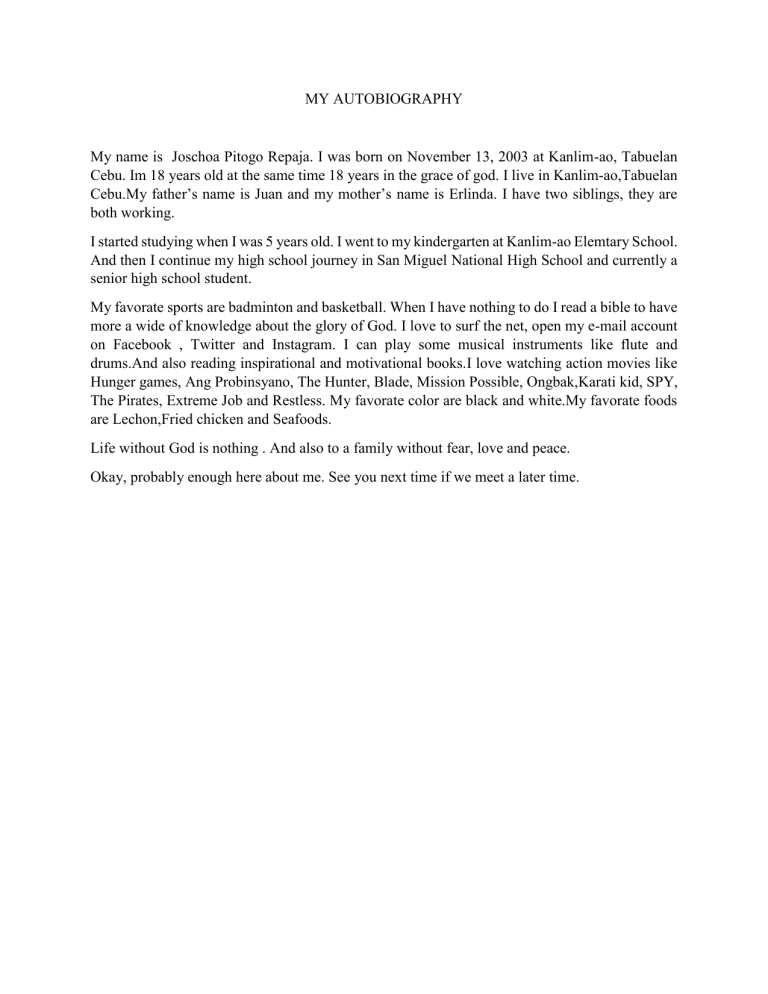 MY AUTOBIOGRAPHY
My name is Joschoa Pitogo Repaja. I was born on November 13, 2003 at Kanlim-ao, Tabuelan
Cebu. Im 18 years old at the same time 18 years in the grace of god. I live in Kanlim-ao,Tabuelan
Cebu.My father's name is Juan and my mother's name is Erlinda. I have two siblings, they are
both working.
I started studying when I was 5 years old. I went to my kindergarten at Kanlim-ao Elemtary School.
And then I continue my high school journey in San Miguel National High School and currently a
senior high school student.
My favorate sports are badminton and basketball. When I have nothing to do I read a bible to have
more a wide of knowledge about the glory of God. I love to surf the net, open my e-mail account
on Facebook , Twitter and Instagram. I can play some musical instruments like flute and
drums.And also reading inspirational and motivational books.I love watching action movies like
Hunger games, Ang Probinsyano, The Hunter, Blade, Mission Possible, Ongbak,Karati kid, SPY,
The Pirates, Extreme Job and Restless. My favorate color are black and white.My favorate foods
are Lechon,Fried chicken and Seafoods.
Life without God is nothing . And also to a family without fear, love and peace.
Okay, probably enough here about me. See you next time if we meet a later time.