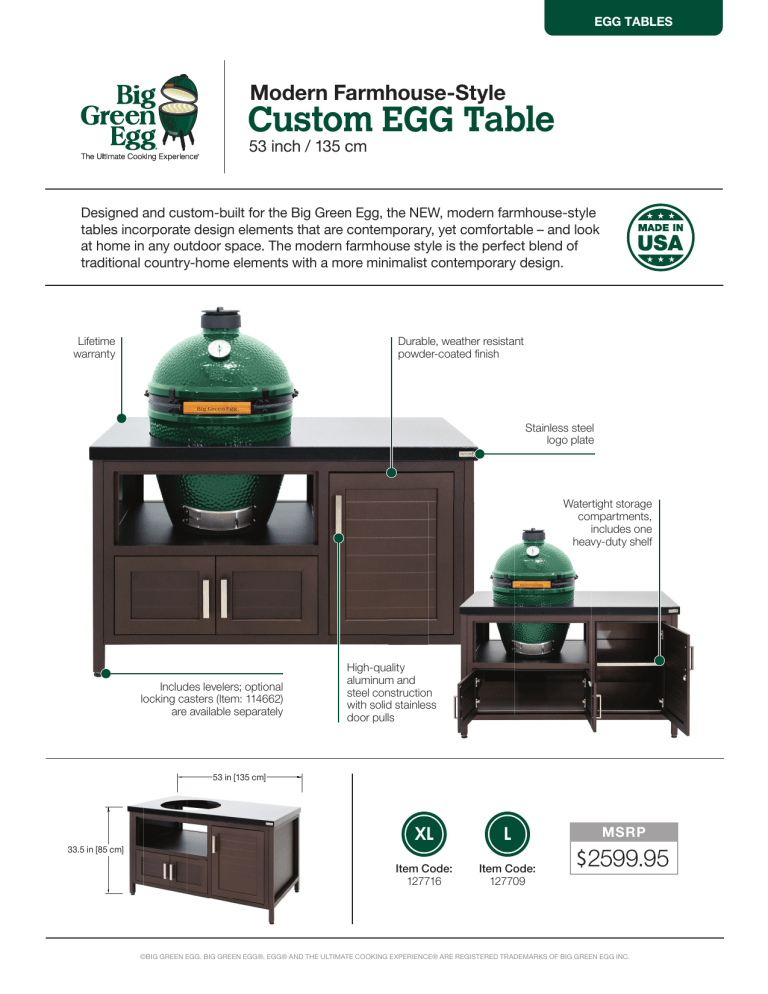 EGG TABLES
Modern Farmhouse-Style
Custom EGG Table
53 inch / 135 cm
Designed and custom-built for the Big Green Egg, the NEW, modern farmhouse-style
tables incorporate design elements that are contemporary, yet comfortable – and look
at home in any outdoor space. The modern farmhouse style is the perfect blend of
traditional country-home elements with a more minimalist contemporary design.
Lifetime
warranty
Durable, weather resistant
powder-coated finish
Stainless steel
logo plate
Watertight storage
compartments,
includes one
heavy-duty shelf
Includes levelers; optional
locking casters (Item: 114662)
are available separately
High-quality
aluminum and
steel construction
with solid stainless
door pulls
53 in [135 cm]
33.5 in [85 cm]
XL
L
Item Code:
127716
Item Code:
127709
MSRP
2599.95
©BIG GREEN EGG. BIG GREEN EGG®, EGG® AND THE ULTIMATE COOKING EXPERIENCE® ARE REGISTERED TRADEMARKS OF BIG GREEN EGG INC.