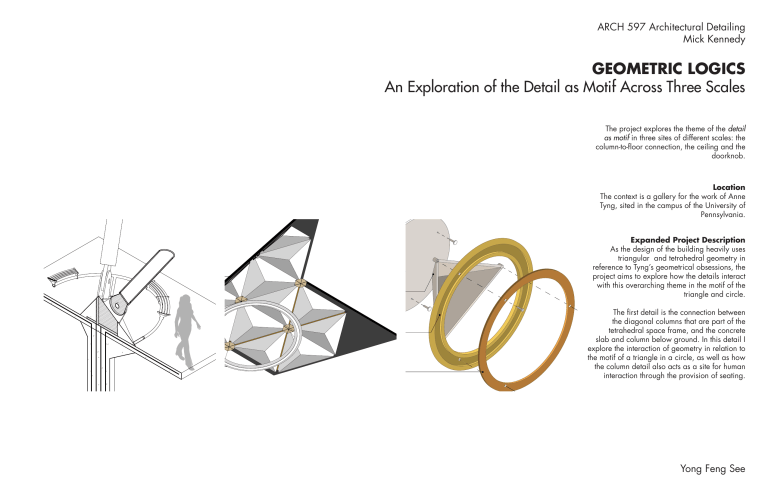 ARCH 597 Architectural Detailing
Mick Kennedy
GEOMETRIC LOGICS
An Exploration of the Detail as Motif Across Three Scales
The project explores
the theme of the detail
7' 2"
as motif in three sites of different scales: the
column-to-floor connection, the ceiling and the
doorknob.
6'
CEILING:
MONUMENTAL LIGHT
ENTRANCE DOORKNOB
CEILING:
SMALL DOWNLIGHT
Location
The STANDARD
context is aOFFICE
galleryDOORKNOB
for the work of Anne
Tyng, sited in the campus of the University of
Pennsylvania.
COLUMN BASE
(1) 1/8" STEEL PLATE
W SCREWS ONTO
WOOD DOOR
6" CONCRETE ON STEEL
DECKING
WHITE GYPSUM TRIANGULAR TILED
CEILING PANEL (6' SIDE),
SUPPORTED BY SECONDARY STRUCTURE
SECONDARY STRUCTURE: BRASS SECTIONS HUNG
FROM CEILING WITH HEXAGONAL CAP AT INTERSECTIONS
9' DIAMETER ALUMINUM LIGHT RING
HUNG FROM MIDDLE OF HEXAGONAL CAP
(2) 1/8" CAST STEEL PLATE
WELDED TO (1)
(3) 9" EXTERIOR DIAMETER BRASS RING
SCREWED ONTO (2)
(4) TEAK WOOD RING INSET AND
SCREWED ONTO (3)
Expanded Project Description
As the design of the building heavily uses
triangular and tetrahedral geometry in
reference to Tyng's geometrical obsessions, the
project aims to explore how the details interact
with this overarching theme in the motif of the
triangle and circle.
The first detail is the connection between
the diagonal columns that are part of the
tetrahedral
space
frame,
(1) PYRAMIDAL CAST
BRASS
BASE and the concrete
SCREWED
ONTO
DOOR
slab and column below ground. In this detail I
explore the interaction of geometry in relation to
the motif of a triangle in a circle, as well as how
the column detail also acts as a site for human
BRASS HANDLE
interaction through the provision of(2)seating.
Yong Feng See
COLUMN BASE
GEOMETRIC LOGICS
ARCH 597 Architectural Detailing
Mick Kennedy
"The motific detail obviously falls prey to the
same problems as the formally consistent detail:
the inability to respond to scale, the blurring of
material differences between elements, and just
plain styling." - Ford 29
The renewed interest in form and geometry today
in the form of parametric and algorithmic design
and digital fabrication raises similar questions
and the necessity of confronting this issue. This
project suggests how motific details can still play
a viable role in contemporary architecture by not
simply repeating variations of a geometric idea,
but modulating them in different ways through
scales and materials in response to their specific
functions and how they interact or accomodate
the body. The issues that Ford points out are
addressed by using the motif at different scales,
and treating the materials for the circle and
triangle parts seperately. Through this, material
difference is empahsized, not blurred, and the
detail changes to respond to the scales of the
structural column, ceiling, and door handle.
Once inside, we slowly pause and reorient ourselves, as
the walls and columns seem to slip and slide in all directions but
the vertical axis – even looking upward through the atrium gives
no reassurance of orthogonal stability. The diagonal steel tube
sections are brought together at the ground at a massive concrete
pyramid, their lines of action intersecting somewhere within its volume. At this point we understand how the building stands despite
its unusual nature through the physicality of the masses coming
together, almost as if the weight of the floors above pressured and
formed the concrete into a single metamorphic crystal. Again,
the geometry here repeats what we have already seen at a small
scale, but here there is a counterpoint in the form of the seating
that seems to hover around it, offering a space for the weary visitor
to rest their feet as they look above and contemplate the forces
running in the steel just behind them. Where the triangle provokes
with its angularity, the circle soothes and invites, a dynamic opposition just in balance with each other...
Yong Feng See
2
COLUMN BASE
10" DIAMETER STEEL HOLLOW TUBE
W INTUMESCENT COATING
TETRAHEDRAL CONNECTION HUB
WELDED FROM 2" STEEL PLATES
STEEL CLEVIS JOINT WELDED
TO HOLLOW TUBE
BENCH: 1 1/2" X 1/2" TEAK SLATS SPACED 1/2"
APART, ON BRUSHED ALUMINUM SUPPORTS
2" DIAMETER HOLLOW SECTION
STEEL CIRCULAR RING
1' 7"
PRECAST TETRAHEDRAL CONCRETE BASE,
SANDBLASTED TO EXPOSE AGGREGATE
2" STEEL PLATE WELDED TO REBAR
6" CAST IN PLACE CONCRETE SLAB
24" DIAMETER CAST IN PLACE CONCRETE
COLUMN WITH TETRAHEDRAL CAP
1' 8"
SCALE
1" = 1'
4'
8'
16'
32'
3
COLUMN BASE
STEEL CONNECTION HUB
05 10 00 STRUCTURAL METAL FRAMING
05 12 00 STRUCUTRAL STEEL FRAMING
05 12 13 ARCHITECTURALLY-EXPOSED STRUCTURAL STEEL FRAMING
PART 1 GENERAL
An STL file of the geometry will be provided in addition to drawings to ensure accuracy for the connection with the
steel hub. Steel manufacturer should work with precast concrete manufacturer to set tolerances and build a mockup that will be reviewed by architect.
PART 2 PRODUCTS
Hub shall be fabricated from 2" thick flat plate steel per AISI 1008/1010 or equivalent. Pieces to be cut with a CNC
waterjet cutter using the given CAD file, and welded into place according to the 3D model. Hub's ultimate load under
tension shall be at least 120% of the nominal yield strength of the structural steel tubes being joined as demonstrated by tests and analysis.
Coating to be applied to exposed surfaces as specified in Section 07 81 23 "Intumescent Mastic Fireproofing"
PART 3 EXECUTION
Erection of the steel structural system shall be in complete accordance with the manufacturer's installation instructions and following recommendations of manufacturer's qualified site consultant. Adequate temporary bracing and
supports shall be provided to insure the space truss' stability during erection.
COLUMN BASE
03 40 00 PRECAST CONCRETE
03 41 00 PRECAST STRUCTURAL CONCRETE
PART 1 GENERAL
An STL file of the geometry will be provided in addition to drawings to ensure
accuracy for the connection with the steel hub. Precast concrete manufacturer
should work with steel manufacturer to set tolerances and build a mock-up that will be
reviewed by architect in relation to overall pyramidal form. Samples of surface treatement as
described in "Finishes" section to be submitted for approval, with minimum size 300 x 300 x 25mm.
PART 2 PRODUCTS
Cement, aggregates, water and admixture: to CSA-A23.4 and CSA-A23.1. Aggregate shall be clean and free
of foreign material and will conform to the provisions of Section 90-2.02 of the Standard Specifications. Coarse
aggregate of 3/8" x #8 pea gravel should be used.
Fabricate architectural precast concrete units to CSA - A23.4.
Anchors, lifting hooks, shear bars, spacers and other inserts or fittings required shall be as recommended and/or
designed by manufacturer in collaboration with steel manufacturer for a complete and rigid installation.
Chemical retardant should be evenly applied to inside faces of forms in preperation for light sandblasting to expose the
edges of the coarse aggregate, to a depth of 3mm.
PART 3 EXECUTION
Erect precast work in accordance with CSA-A23.4.
Set precast concrete units, straight, level and square. Units will be lowered into place after steel connection hub has
been installed, and welded to the steel base. Remove shims and spacers from joints between non-load bearing panels
after fastening but before sealant is applied. Provide and install sufficient temporary bracing to brace precast units adequately, at all stages of construction, so that units will safely withstand loads to which they may be subjected. Sealant to
be applied to joints in accordance with Section 07 90 00.
Tolerances: Joint dimension to be 15mm +/- 6mm.
Clean exposed face work by washing and brushing only, as precast is erected, if required. Use approved masonry cleaner
if washing and brushing fails to achieve required finish. Remove immediately materials that set up or harden.
Yong Feng See
4
GEOMETRIC LOGICS
ARCH 597 Architectural Detailing
Mick Kennedy
CEILING
"At Hanna, there are many places where one sees
the 30/60° geometry with no hexagon in sight. It
has ceased to be a motif or figure and has become
simply a controlling geometry; the results descend
all too easily into styling." - Ford 108
Though the triangle does serve as a controlling
geometry for the building, the inclusion of the
circle as an element of counterpoint balances its
regularity of styling and prevents it from being
monotonous or overwhelming. The triangle and
circle are used to delineate the structural (triangular)
from the non-structural seating (circular) in the
first detail. In the ceiling design, the geometrical
opposition is repeated where the circular pendant
lamp, sprinkler or downlight contrast with the
regularity of the pyramidal acoustic ceiling tiles
that, while technically non-structural, serve to
reinforce the idea of the tetrahedral structural
lattice beneath. Again, the metallic finishes of
the lights contrast with the rougher texture of the
acoustic panels, and the brass sections that
hold the panels evoke the warmer touch and
color of the wooden seats. Lastly, at the door pull
and doorknob, steel in the form of the triangle
makes the main structural connection to the door,
while the circular handle receives the hand as
the ring seating receives the body. The warmer
materials of brass and teak again refer back
to the bench, drawing an intricate web of
connections across materials, components and
their roles in accomodating to human needs as
well as the structural performance of the building.
Yong Feng See
5
CEILING
GEOMETRIC LOGICS
ARCH 597 Architectural Detailing
Mick Kennedy
6" CONCRETE ON STEEL DECKING
SUPPORTED BY TETRAHEDRAL SPACE TRUSS
AIR SUPPLY DUCT
ARMSTRONG SOUNDSCAPES SHAPES
CUSTOM PYRAMIDAL ACOUSTIC PANEL, 2" THICK AT
BASE, ATTACHED TO GALVANIZED STEEL FRAME
LINEAR DIFFUSER
POP-DOWN FIRE SPRINKLER CONCEALED
BY HEXAGONAL BRASS HUB
9' DIAMETER CIRCULAR ALUMINUM LIGHT
DIFFUSER WITH LED RING LIGHTING
COLUMN BASE
03 40 00 PRECAST CONCRETE
03 41 00 PRECAST STRUCTURAL CONCRETE
PART 1 GENERAL
Related Selections
1. Section 09 51 00 - Acoustical Ceilings
2. Section 09 51 13 - Acoustical Fabric-Faced Panel Ceilings
3. Section 09 53 00 - Acoustical Ceiling Suspension Assemblies
4. Section 09 20 00 - Plaster and Gypsum Board
5. Section 02 42 00 - Removal and Salvage of Construction Materials
6. Divisions 23 - HVAC Air Distribution
7. Division 26 - Electrical
PART 2 PRODUCTS
A. Acoustical Panels Type AP
1. Surface Texture: Fine
2. Composition: Fiberglass
3. Color: White
4. Size: 48IN x 48IN
5. Edge Profile: Square
6. Noise Reduction Coefficient(NRC):
7. Ceiling Attenuation Class (CAC) :
8. Sabin: 1.49
9. Articulation Class (AC):
10. Flame Spread: ASTM E 1264; Class A (UL)
11. Light Reflectance White Panel: ASTM E 1477; 0.90
12. Dimensional Stability: Standard
13. Recycle Content: Post-Consumer - 12% Pre-Consumer Waste - 59%
14. Acceptable Product: SoundScapes Shapes, 5440 as manufactured by Armstrong World Industries
PART 3 EXECUTION
3.3 INSTALLATION
A. Follow manufacturer installation instructions.
B. Install suspension system and panels in accordance with the manufacturer's instructions, and in
compliance with ASTM C 636 and with the authorities having jurisdiction.
C. Suspend main beam from overhead construction with hanger wires spaced 4-0 on center along
the length of the main runner. Install hanger wires plumb and straight.
D. Install wall moldings at intersection of suspended ceiling and vertical surfaces. Miter corners
where wall moldings intersect or install corner caps.
E. For reveal edge panels: Cut and reveal or rabbet edges of ceiling panels at border areas and
vertical surfaces.
F. Install acoustical panels in coordination with suspended system, with edges resting on flanges of
main runner and cross tees. Cut and fit panels neatly against abutting surfaces. Support edges by
wall moldings.
Yong Feng See
6
CEILING
Looking up we see the ceiling, the pyramidal acoustic panels softly
repeating the motif in yet another guise, with the aluminum lamp hanging
below. A realization occurs: that this repetition is not a tedious, mechanical
one. Each detail is uniquely tailored to its site and context, solving different
problems with different materials, while the circular and triangle geometries
serve as ties that bind them strongly into a coherent yet differentiated and
complex whole.
7
DOOR HANDLE
GEOMETRIC LOGICS
ARCH 597 Architectural Detailing
Mick Kennedy
"The motific detail at its best is a counterdetail,
going against the grain of the formal strategy of
the totality of the building. The more the detail is
used, the less powerful it becomes. And herein
lies the problem. If it is no more than a leitmotif
in the building rather than the primary controlling
device, it loses most of its philosophical underpinnings." - Ford 126
(1) 1/8" STEEL PLATE
W SCREWS ONTO
WOOD DOOR
The use of the motific detail at different scales
and materials allows it to maintain its power of
expression and remain the primary controlling
logic of the building. In the structural base and
seating, ceiling and door handle, the generating
idea is expressed not only through the geometry
of the circle and triangle, but also through how
they explain different usages and functions that
relate to both the building's inhabitants and its
structure.
(2) 1/8" CAST PYRAMIDAL
STEEL PLATE WELDED TO
(1)
(3) 9" EXTERIOR DIAMETER CIRCULAR
BRASS RING SCREWED ONTO (2)
(4) TEAK WOOD RING INSET AND
SCREWED ONTO (3)
DOOR HANDLE
08 70 00 HARDWARE
08 71 00 DOOR HARDWARE
PART 1 GENERAL
Related Sections:
Relationship between triangle and circle to be studied in the column and ceiling details, in how the use of material at different geometries relate to the motif:
COLUMN: Triangle (Concrete and Steel), Circle (Aluminum and Teak)
CEILING: Triangle (Acoustic Panels on Steel frame), Circle (Aluminum light)
DOOR HANDLE: Triangle (Steel), Circle (Teak and Brass)
7' 2"
Studying the three details should give the worker an appreciation of how the details uniquely tackle the problem of the joint at different scales and maintain the
motif of the triangle and circle in different ways. What at first seems like a simple, repetitive design and the result of an applied style is understood as a complex
relationship between style, material and geometry.
6'
Yong Feng See
8
DOOR KNOB
GEOMETRIC LOGICS
ARCH 597 Architectural Detailing
Mick Kennedy
A UNIQUE STEERING WHEEL DOOR KNOB DESIGN MAINTAINS THE GEOMETRY
OF THE DOOR HANDLE WHILE ALLOWING IT TO BE EASILY TURNED WITH
TWO HANDS FOR A LATCHED DOOR.
(1) LATCH ASSEMBLY
(2) 1/8" CAST PYRAMIDAL STEEL PLATE
WELDED TO CIRCULAR PLATE
(3) 9" EXTERIOR DIAMETER CIRCULAR
BRASS RING SCREWED ONTO (2)
(4) TEAK WOOD RING INSET SCREWED
ONTO (3)
Yong Feng See
9
DOOR HANDLE AND KNOB
The gallery's plan is a perfect equilateral triangle at its base, which slowly evolves
upwards at every level according to the geometry of the tetrahedral steel grid. It seems a highly
regular and stylized design, where a controlling geometry determines all aspects of the design.
But our exploration of the building's internal dimensions takes place later. First, we enter. The handle on the wood door is warm to the touch, a simple clean strip of oxidized brass bent into the
shape of a triangle, with the tip inserted into a circular fitting. Though both handle and plan have
a similar shape, they rest on different planes – one horizontal and the other vertical, one resting
solid and still while the other accommodates the entrance of the visitors...