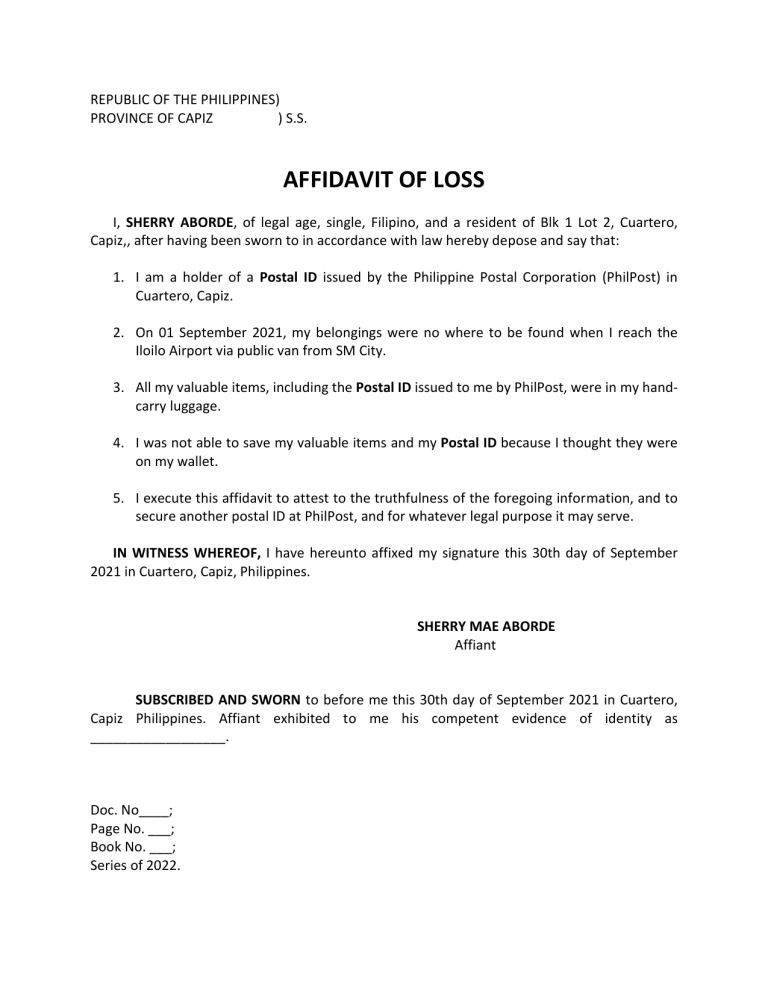 REPUBLIC OF THE PHILIPPINES)
PROVINCE OF CAPIZ
) S.S.
AFFIDAVIT OF LOSS
I, SHERRY ABORDE, of legal age, single, Filipino, and a resident of Blk 1 Lot 2, Cuartero,
Capiz,, after having been sworn to in accordance with law hereby depose and say that:
1. I am a holder of a Postal ID issued by the Philippine Postal Corporation (PhilPost) in
Cuartero, Capiz.
2. On 01 September 2021, my belongings were no where to be found when I reach the
Iloilo Airport via public van from SM City.
3. All my valuable items, including the Postal ID issued to me by PhilPost, were in my handcarry luggage.
4. I was not able to save my valuable items and my Postal ID because I thought they were
on my wallet.
5. I execute this affidavit to attest to the truthfulness of the foregoing information, and to
secure another postal ID at PhilPost, and for whatever legal purpose it may serve.
IN WITNESS WHEREOF, I have hereunto affixed my signature this 30th day of September
2021 in Cuartero, Capiz, Philippines.
SHERRY MAE ABORDE
Affiant
SUBSCRIBED AND SWORN to before me this 30th day of September 2021 in Cuartero,
Capiz Philippines. Affiant exhibited to me his competent evidence of identity as
__________________.
Doc. No____;
Page No. ___;
Book No. ___;
Series of 2022.