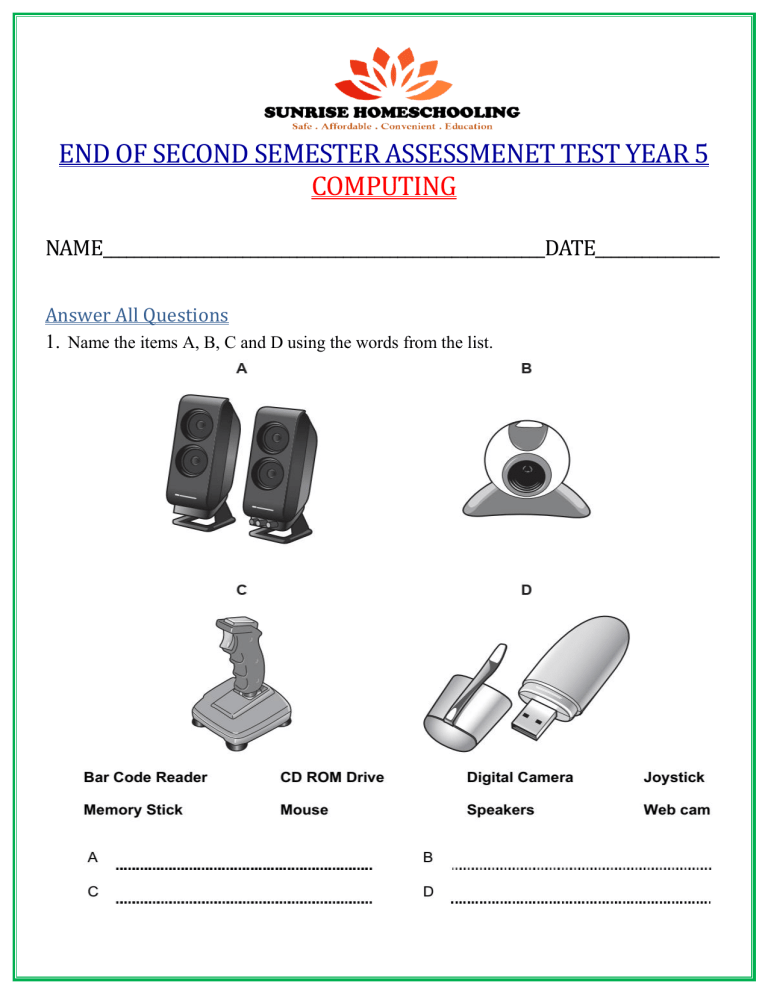 END OF SECOND SEMESTER ASSESSMENET TEST YEAR 5
COMPUTING
NAME_________________________________________________________DATE________________
Answer All Questions
1. Name the items A, B, C and D using the words from the list.
2. Ring two network devices.
3. Draw five lines on the diagram to match the input device to its most appropriate use.
4. This diagram shows a desktop computer.
(a) Name two input devices shown in the diagram above.
(b) Name two output devices shown in the diagram above.
(c) Name two storage devices shown in the diagram above.
5. LAN and WAN are both types of computer networks.
a What does LAN stand for?_
ii What does WAN stand for?_
6. The diagram below shows network topologies.
-Name
them:
7. What is internet?
b).Mention five uses of internet:
8. What is an internet browser?
b). Name four examples of internet browsers you know:
9. State five precautions one should take while using the internet.
10. What is scratch?
b). What do we use scratch for?
11. Name the parts of a scratch screen:
12. There are two types of loop used in scratch , Name them:
13. The diagram shows a simple program created on scratch .describe what happens
when the sprite is clicked
14. What is photo shoot?
b: Name two devices you would need in your photo shoot.
c : Why do we edit photos?