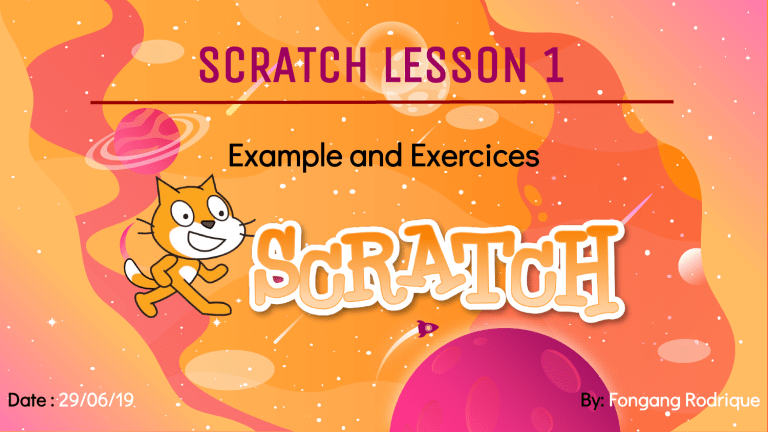 SCRATCH LESSON 1
Example and Exercices
Date : 29/06/19
By: Fongang Rodrique
ABOUT ME
Fongang Rodrique
Computer Eng. Student
COT | University of Buea
01
02
Introduction
Functionalities
03
04
Example
Assignment
Introduction
Scratch is a visual programming
language.
● Game Development
● Animation
Looks
are used to control sprite
apearance.
Motion
are used to control sprite
movement.
Events
describes or specify when
something happens.
Control
are used to control scripts.
Sensing
are used to detect different
factors of a project
Operators
are used to script math equations
and string handling
Sounds
item which one hears that can be
played in a Scratch project.
Variables
a variable is a placeholder for
some value.
Putting Pieces Together
+
=
Questions
Does anyone have any questions?
Personal Examples
THINK
VISUALIZE
WRITE
about an idea
how possible it can be
down the main points.
Problem to solution
Problem
solution
Process
step 3
step 2
step 1
step 4
step 5
Thanks!