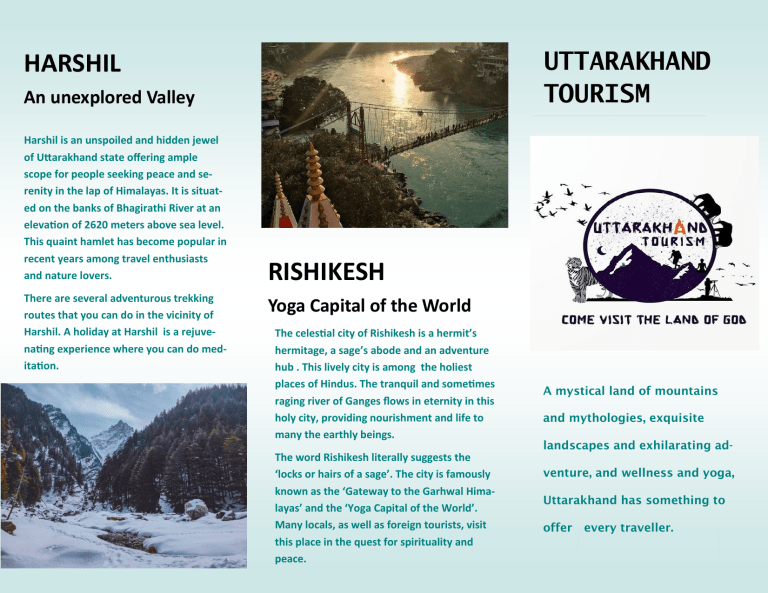 HARSHIL
UTTARAKHAND
TOURISM
An unexplored Valley
Harshil is an unspoiled and hidden jewel
of Uttarakhand state offering ample
scope for people seeking peace and serenity in the lap of Himalayas. It is situated on the banks of Bhagirathi River at an
elevation of 2620 meters above sea level.
This quaint hamlet has become popular in
recent years among travel enthusiasts
and nature lovers.
There are several adventurous trekking
routes that you can do in the vicinity of
Harshil. A holiday at Harshil is a rejuvenating experience where you can do meditation.
RISHIKESH
Yoga Capital of the World
The celestial city of Rishikesh is a hermit's
hermitage, a sage's abode and an adventure
hub . This lively city is among the holiest
places of Hindus. The tranquil and sometimes
raging river of Ganges flows in eternity in this
holy city, providing nourishment and life to
many the earthly beings.
The word Rishikesh literally suggests the
'locks or hairs of a sage'. The city is famously
known as the 'Gateway to the Garhwal Himalayas' and the 'Yoga Capital of the World'.
Many locals, as well as foreign tourists, visit
this place in the quest for spirituality and
peace.
A mystical land of mountains
and mythologies, exquisite
landscapes and exhilarating adventure, and wellness and yoga,
Uttarakhand has something to
offer
every traveller.
HARIDWAR
Gateway to Land of Gods
As you step into the city of Haridwar you'll be
welcomed with the chimes of the temple bells
and the religious chanting of the priests.
MUSSOORIE
The Queen of Hills
The muse of a romantic, a loner's wonderland and a nature lover's paradise, the glittering hill station of Mussoorie has always been
the favourite of many. Once you visit here
you cannot wipe off the memories from your
heart as the kaleidoscopic hills will always
remind you of your betrothal.
The colonial hill station features some of the
prestigious educational institution s of India,
stately hotels, cozy cafes, old taverns, estates,
churches, buildings, offices, bustling markets
and tourist spots to lure the visitor.
The Haridwar city has a religious significance
as the holy river Ganga enters the IndoGangetic Plains of North India for the first
time in Haridwar. Thereby making its former
name 'Gangadwara' perfect in every sense.
NAINITAL
The Lake City of India
Enveloped in a thick foil of nature, accentuated by the scent of the flowering blossoms
blending miraculously in the crisp fresh air ,
Nainital is truly the treasure trove of Kumaon. It is among the most visited hill stations of North India since British period.
Perched at an elevation of 2,084 meters
above sea level, the glittering city of Nainital
is hailed for being a parent to the ravishing
Naini Lake from which it has earned the epithet of being the lake city.