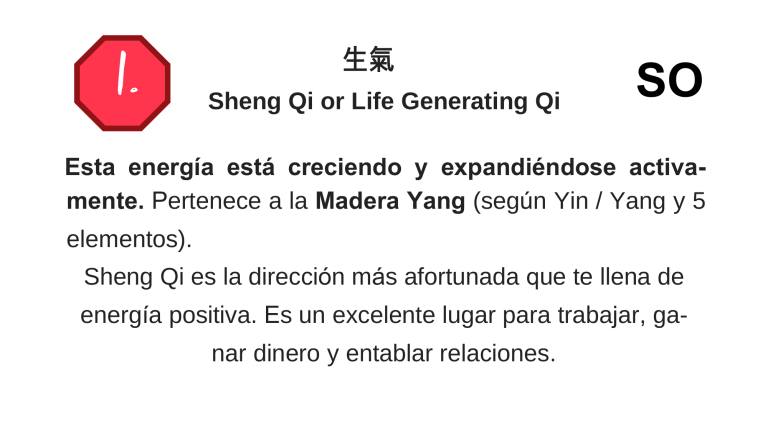 1.
⽣氣
Sheng Qi or Life Generating Qi
SO
Esta energía está creciendo y expandiéndose activamente. Pertenece a la Madera Yang (según Yin / Yang y 5
elementos).
Sheng Qi es la dirección más afortunada que te llena de
energía positiva. Es un excelente lugar para trabajar, ganar dinero y entablar relaciones.
2.
伏位
Fu Wei or Stability
NE
Esta energía se expande lentamente y pertenece a
Madera Yin.
Fu Wei / Stability es una energía calmante que te hace
feliz con la vida hogareña actual. La desventaja es que
eres menos ambicioso y menos activo.
3.
天醫
Tian Yi or Heavenly Doctor
NO
Esta energía es constructiva y circulante. Pertenece a
la Tierra Yang.
Tian Yi / Heavenly Doctor es una excelente ubicación o
dirección para mejorar su salud. También es un gran
sector para activar la suerte de la gente útil (Gui Ren o
Nobleman).
4.
延年
Yan Nian or Longevity
O
Esta energía se está combinando y solidificando
hacia adentro. Pertenece a Metal Yang.
Yan Nian o Longevidad es una energía estable y calmante. Aumenta su intuición, sensibilidad, relación y
popularidad.
5.
绝命
Jue Ming or Life Threatening
This energy is chaotic and inward congealing. It
belongs to Yang Metal.
Jue Ming is the depressing energy that might cause
psychological disease or life-threatening disease such as
cancer.
6.
五⿁
Wu Gui or Five Ghost
This energy is violent and upward rising. It belongs to
the Fire element.
Wu Gui or Five Ghost is a rapid and chaotic energy that can
increase irritability, anger, or money loss.
7.
禍害
Huo Hai or Mishap/ Misfortune
This energy is eroding and circulating. It belongs to the
Yin Earth.
Huo Hai is a scattering energy that can make you focus on
little things and miss the big picture. That might cause
money loss and mishaps.
8.
六煞
Liu Sha or Six Killing
This energy is damaging and falling downward. It
belongs to the Water element.
Liu Sha or Six Killing is a downward falling energy. It can
make people overindulgent in alcohol, gambling or other
negative hobbies.