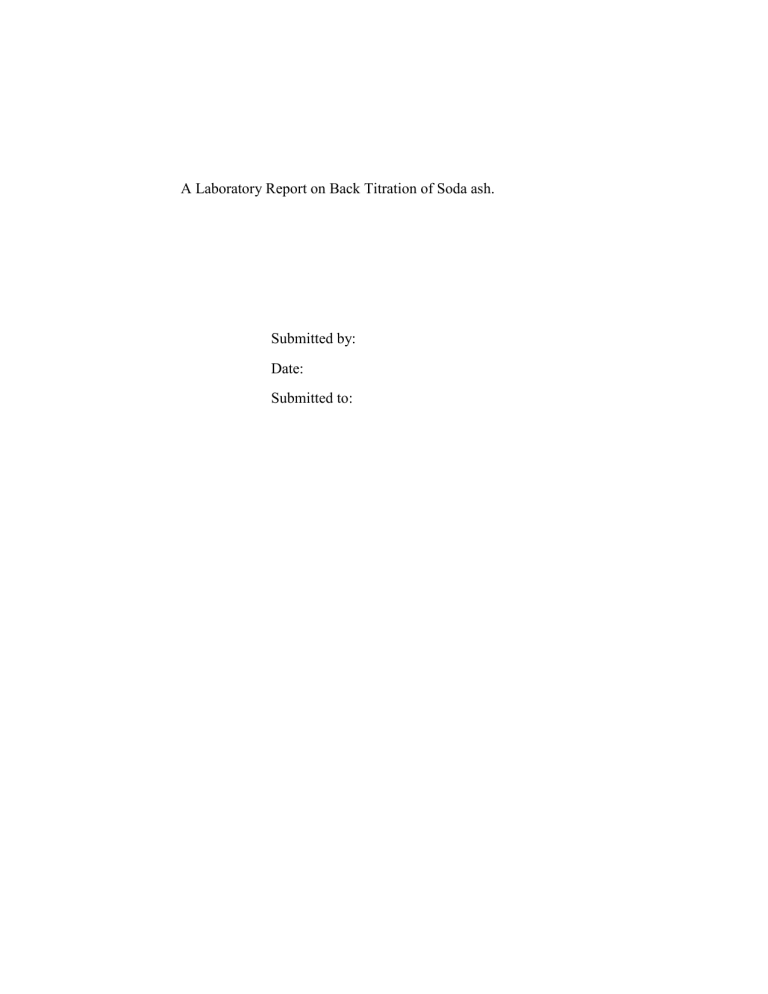 A Laboratory Report on Back Titration of Soda ash.
Submitted by:
Date:
Submitted to:
Introduction
Titration is a common quantitative analysis technique used to determine the concentration of a
sample. During titration a volume of a titrant reacts with a sample solution, also known as a titrand,
and results obtained used to determine the concentration of the sample.
A back titration or an indirect titration is a two-step technique of analysis. In the first step a reactant
of unknown concentration is used as a titrand. It is reacted with an excess of another reagent of
known concentration.
This is followed by a direct titration to determine the amount of the reagent in excess. Results of
the second titration tells how much of the excess reagent was used in the first step of titration. This
allows the concentration of the original analyte to be calculated.
Soda ash is impure sodium carbonate that is a white, water-soluble salt that gives a moderately
alkaline solution in water. Soda ash has a variety of uses such as removal of water hardness, as a
component in cleansing agents, in glass making and many more.
In this experiment impure soda ash solution is titrated with standardized hydrochloric acid in the
first stage and the excess HCl reacted is first boiled and left to cool. It is then titrated with
standardized sodium hydroxide solution. Phenolphthalein was used as endpoint indicator.
Aims of the Experiment
1. To back-titrate soda ash with standardized sodium hydroxide solution using
phenolphthalein as indicator.
2. To calculate the percentage Na2CO3 present in the soda ash sample.
Procedure
1. An unknown sample of impure soda ash was dried for 1.5hrs to a constant weight using a
drying oven at 1200C.
2. A zeroed weigh boat was used to accurately measure two 0.4141g samples of the unknown
sample.
3. The samples were then transferred into two separate clean, dry and labelled 250ml
Erlenmeyer flasks.
4. 50ml of distilled water was added to the samples in the flasks and swirled to dissolve the
sample.
5. Three drops of phenolphthalein indicator was added into each sample solution turning it
pink.
6. 0.1M HCl solution was put in a biuret and titrated against soda ash sample solution until
the pink color disappeared.
7. An extra 10ml of 0.1M HCl was added to the solution.
8. The solution was then boiled for 5minutes and allowed to cool to room temperature.
9. The biuret was rinsed and filled with standardized NaOH solution.
10. The cooled sample solution was back titrated with standardized NaOH solution until a faint
pink color appeared.
11. The experiment was repeated using 0.4365g of the sample.
Data and Calculations
The reaction between soda ash and HCl:
Na2CO3 (aq) + 2HCl (aq)
2NaCl (aq) + CO2(g) + H2O(l)
Concentration of HCl=0.1M, thus;
0.1mole
1000ml
But the Volume of HCL reacted in 1st run was 30.35ml and 32.10ml in 2nd run
Hence
30.35𝑚𝑙×0.1𝑚𝑜𝑙𝑒𝑠
1000𝑚𝑙
= 0.003035moles and
32.1𝑚𝑙×0.1𝑚𝑜𝑙𝑒𝑠
1000𝑚𝑙
= 0.00321moles for 2nd run
From the equation, the mole ratio between Na2CO3 and HCl is 1:2
Thus, moles of Na2CO3 in sample that reacted =
0.00321𝑚𝑜𝑙𝑒𝑠
2
0.003035𝑚𝑜𝑙𝑒𝑠
2
= 0.001517moles
and
= 0.00166𝑚𝑜𝑙𝑒𝑠
0.4141g of sample soda ash was dissolved to make a 50ml solution and 0.4365g dissolved in 50ml
for the 2nd run.
𝑀𝑎𝑠𝑠
0.4141𝑔
Moles of Na2CO3 in the sample= 𝑅𝑀𝑀 = 106𝑔/𝑚𝑜𝑙 = 0.003906𝑚𝑜𝑙𝑒𝑠
And
0.4365𝑔
106𝑔/𝑚𝑜𝑙
= 0.00411𝑚𝑜𝑙𝑒𝑠
0.003906moles
Thus conc. Of Na2CO3 in 1000ml
1000𝑚𝑙×0.003906𝑚𝑜𝑙𝑒𝑠
50𝑚𝑙
50ml
= 0.07812 𝑀
and,
1000𝑚𝑙×0.00411𝑚𝑜𝑙𝑒𝑠
50𝑚𝑙
= 0.08235 𝑀
𝑁𝑜 𝑜𝑓 𝑚𝑜𝑙𝑒𝑠 × 𝑅𝑀𝑀 =
Calculated mass of Na2CO3 in soda ash sample. Mass =
0.001517moles ×
106g
mol
= 0.1608g and 0.00166𝑚𝑜𝑙𝑒𝑠 ×
106g
mol
= 0.17596g
In the second stage of titration,
NaOH (aq) + HCl (aq)
NaCl(aq) + H2O(l)
Conc. of NaOH = 0.1M
Thus, number of moles of NaOH that reacted with HCl in 10.2ml and 10.6ml
10.2𝑚𝑙 × 0.1𝑚𝑜𝑙𝑒𝑠
= 0.00102𝑚𝑜𝑙𝑒𝑠 𝑎𝑛𝑑,
1000𝑚𝑙
10.6𝑚𝑙 × 0.1𝑚𝑜𝑙𝑒𝑠
= 0.00106𝑚𝑜𝑙𝑒𝑠
1000𝑚𝑙
Average No. of moles of NaOH that reacted with HCl =
0.00102+0.00106
2
= 0.00104moles
Thus moles of NaOH = 0.00102 moles and 0.00106moles that were in 10.2ml and 10.6ml titre
volumes respectively.
conc. of NaOH in 10.2ml=
1000𝑚𝑙×0.00102𝑚𝑜𝑙𝑒𝑠
10.2𝑚𝑙
= 0.1 𝑀 𝑎𝑛𝑑
1000𝑚𝑙×0.00106𝑚𝑜𝑙𝑒𝑠
10.6𝑚𝑙
Summary of calculations
Sample weight
Final biuret reading HCl
Initial biuret reading
Volume HCl added
Average Volume HCl
mmol HCl added
Final biuret reading NaOH
Initial biuret reading NaOH
Volume NaOH added
1 run
0.4141g
30.80ml
0.45ml
30.35ml
31.225ml
0.1000M
10.50ml
0.30ml
10.20ml
Average volume NaOH
mmol NaOH added
Net mmol HCl to titrate soda ash
10.4ml
0.1000M
0.1M
2nd run
0.4365g
32.60ml
0.05ml
32.10ml
0.10000M
21.10ml
10.50ml
10.60ml
0.1000M
= 0.1𝑀
mmol Na2CO3 titrated
Calc g Na2CO3
Calc % Na2CO3 in sample
Average % Na2CO3 in sample
0.07812M
0.1608g
40.20%
42.0875%
0.08235M
0.17596g
43.97%
Discussion
In this titration experiment, sample soda ash provided was analyzed for the quantity of Na2CO3
present. In the two masses of soda ash sample provided; 0.4141g and 0.4365g, the percentage
composition of the chemical of interest, Na2CO3, was found to be 40.20% and 43.97% respectively.
This indicates that soda ash is indeed an impure form of sodium carbonate although the impurities
do not interfere with reaction between Na2CO3 and HCl.
Using the relationship between relative molar mass, mass and number of moles, the calculated
mass of Na2CO3 was found to be 0.608g and 0.1759g for the two measured masses of soda ash.
Sources of errors that may affect these results include improper standardization of solutions, errors
during weighing and calculation errors. These might have caused deviation of calculated results
from the expected results.
The solution containing acid-soda ash mixture was boiled to expel CO2 generated when the soda
ash reacted with HCl as shown by the equation below;
Na2CO3 (aq) + 2HCl (aq)
2NaCl (aq) + CO2(g) + H2O(l)
Conclusion
Back titration can be applied in analysis of substances that are insoluble in water or partially
soluble, especially in cases where the sample reacts slowly with the acid used. Since the
components are reacted with excess acid, the reaction becomes fairly fast. In this experiment, the
percentage composition of sodium carbonate was determined accordingly.