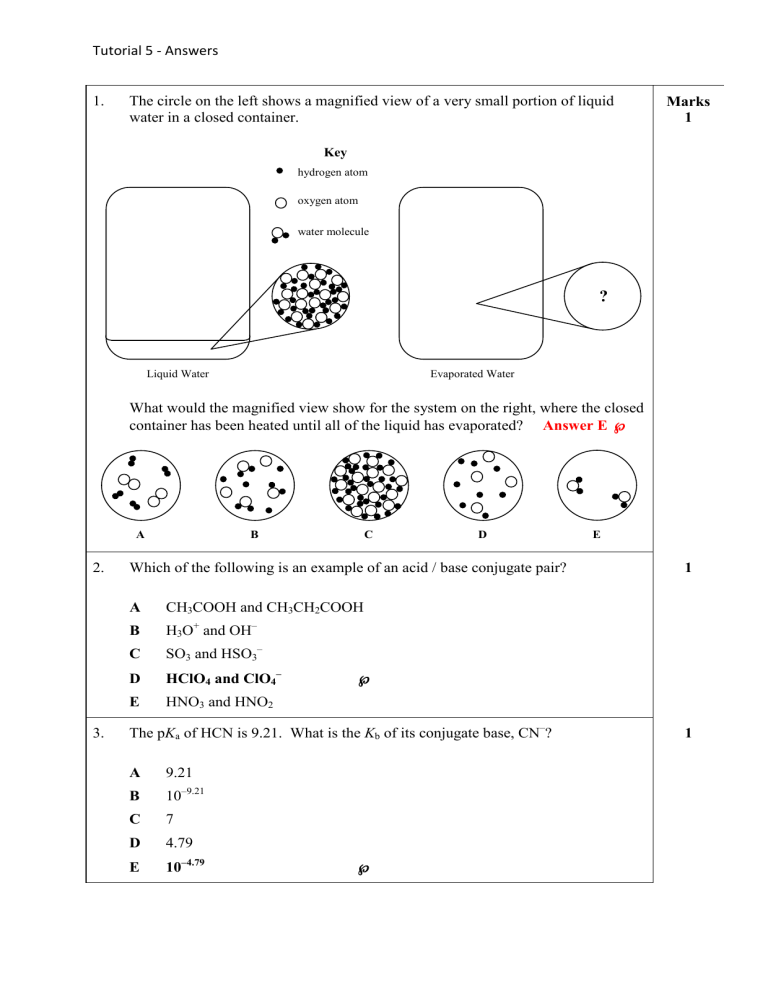 Tutorial 5 - Answers
1.
The circle on the left shows a magnified view of a very small portion of liquid
water in a closed container.
Marks
1
Key
hydrogen atom
oxygen atom
water molecule
?
Liquid Water
Evaporated Water
What would the magnified view show for the system on the right, where the closed
container has been heated until all of the liquid has evaporated? Answer E √
A
2.
3.
B
C
D
Which of the following is an example of an acid / base conjugate pair?
A
CH3COOH and CH3CH2COOH
B
H3O+ and OH–
C
SO3 and HSO3–
D
HClO4 and ClO4–
E
HNO3 and HNO2
9.21
B
10–9.21
C
7
D
4.79
E
10–4.79
1
√
The pKa of HCN is 9.21. What is the Kb of its conjugate base, CN–?
A
E
√
1
Tutorial 5 - Answers
Marks
• The molecular structure of nicotine, the addictive
component of tobacco, is shown right.
8
List the types of intermolecular interactions that each of the
following sites on nicotine would be involved in when it is
dissolved in water.
A
Dispersion forces, dipole-dipole, H-bond acceptor
B
Dispersion forces, dipole-dipole, H-bond acceptor
Provide the requested information for each of the indicated atoms in nicotine.
Atom
Arrangement (shape) of the
electron pairs around the atom
Hybridisation
of the atom
Geometry around the atom
N-1
Trigonal planar
sp2
Angular/bent/V-shaped
N-2
Tetrahedron
sp3
Trigonal pyramidal
C-3
Trigonal planar
sp2
Trigonal planar
C-4
Tetrahedron
sp3
Tetrahedron
The pKa of (the conjugate acid form at) N-1 is 3.12 and the pKa of (the conjugate acid
form at) N-2 is 8.02. Draw the structure of the predominant form of nicotine that exists
in the human body at pH 7.4.
The pH is on the base side of 3.12 and so the conjugate
base will predominate and the pH is on the acid side of
8.02 and hence the conjugate acid at N-2 will
predominate.
• Consider the following equation.
HBrO(aq)
+
NH3(aq)
3
–
BrO (aq)
+
+
NH4 (aq)
Complete the following table by giving the correct pKa or pKb value where it can be
calculated.
HBrO / BrO–
NH4+ / NH3
pKa of acid
8.64
9.24
pKb of base
5.36
4.76
Conjugate pair
Determine on which side (left or right hand side) the equilibrium for the reaction
above will lie. Provide a brief rationale for your answer.
HBrO is more acidic (lower pKa) than NH4+, so will be the one dissociated. The
equilibrium will lie on the right hand side.