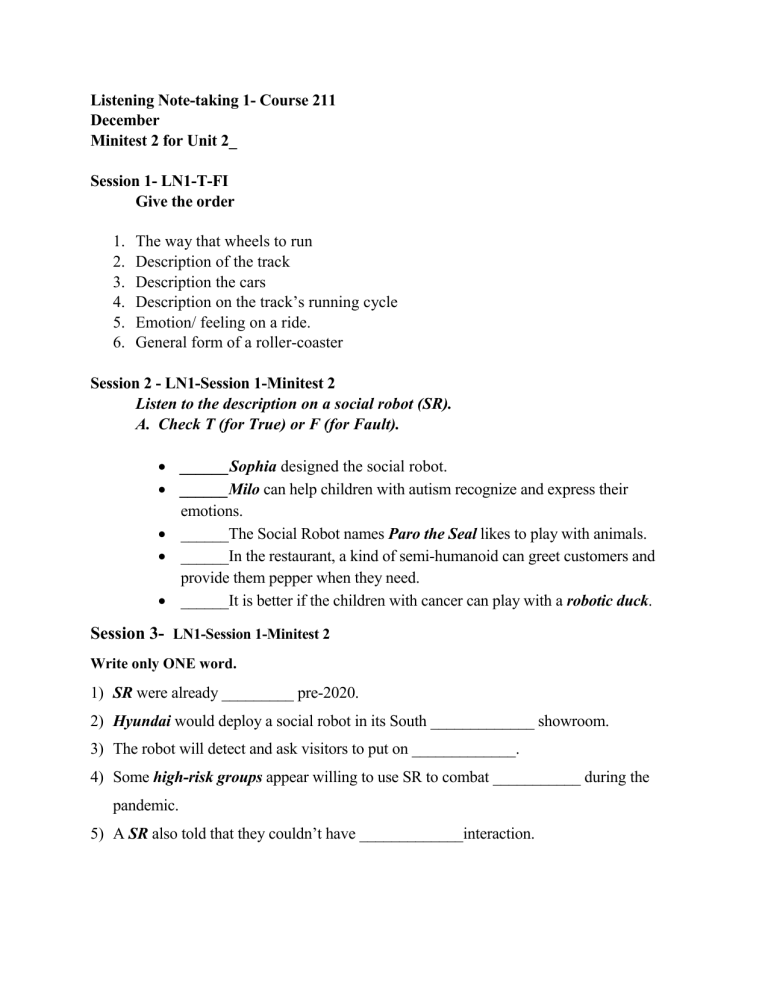 Listening Note-taking 1- Course 211
December
Minitest 2 for Unit 2_
Session 1- LN1-T-FI
Give the order
1.
2.
3.
4.
5.
6.
The way that wheels to run
Description of the track
Description the cars
Description on the track's running cycle
Emotion/ feeling on a ride.
General form of a roller-coaster
Session 2 - LN1-Session 1-Minitest 2
Listen to the description on a social robot (SR).
A. Check T (for True) or F (for Fault).
 ______Sophia designed the social robot.
 ______Milo can help children with autism recognize and express their
emotions.
 ______The Social Robot names Paro the Seal likes to play with animals.
 ______In the restaurant, a kind of semi-humanoid can greet customers and
provide them pepper when they need.
 ______It is better if the children with cancer can play with a robotic duck.
Session 3- LN1-Session 1-Minitest 2
Write only ONE word.
1) SR were already _________ pre-2020.
2) Hyundai would deploy a social robot in its South _____________ showroom.
3) The robot will detect and ask visitors to put on _____________.
4) Some high-risk groups appear willing to use SR to combat ___________ during the
pandemic.
5) A SR also told that they couldn't have _____________interaction.