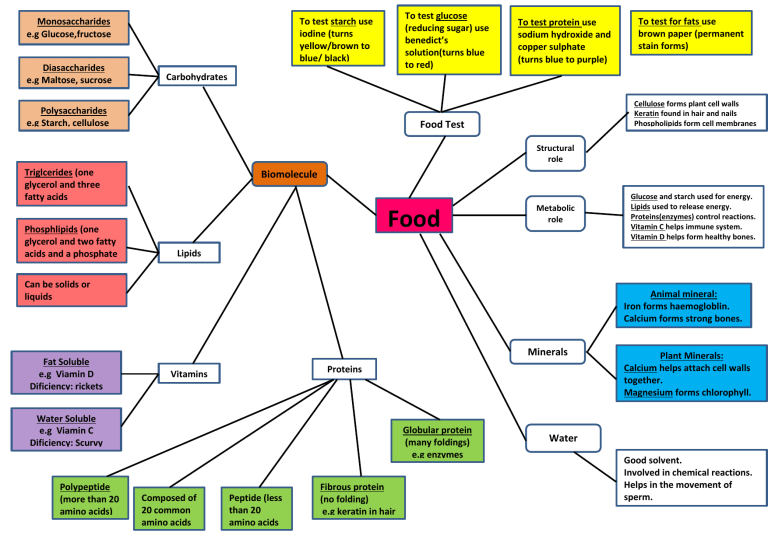 Diasaccharides
e.g Maltose, sucrose
To test glucose
(reducing sugar) use
benedict's
solution(turns blue
to red)
To test starch use
iodine (turns
yellow/brown to
blue/ black)
Monosaccharides
e.g Glucose,fructose
To test protein use
sodium hydroxide and
copper sulphate
(turns blue to purple)
To test for fats use
brown paper (permanent
stain forms)
Carbohydrates
Polysaccharides
e.g Starch, cellulose
Cellulose forms plant cell walls
Keratin found in hair and nails
Phospholipids form cell membranes
Food Test
Structural
role
Triglcerides (one
glycerol and three
fatty acids
Phosphlipids (one
glycerol and two fatty
acids and a phosphate
Biomolecule
s
Food
Metabolic
role
Glucose and starch used for energy.
Lipids used to release energy.
Proteins(enzymes) control reactions.
Vitamin C helps immune system.
Vitamin D helps form healthy bones.
Lipids
Can be solids or
liquids
Animal mineral:
Iron forms haemogloblin.
Calcium forms strong bones.
Lipids
Lipids
Fat Soluble
e.g Viamin D
Dificiency: rickets
Minerals
Proteins
Vitamins
Water Soluble
e.g Viamin C
Dificiency: Scurvy
Polypeptide
(more than 20
amino acids)
Globular protein
(many foldings)
e.g enzymes
Composed of
20 common
amino acids
Peptide (less
than 20
amino acids
Fibrous protein
(no folding)
e.g keratin in hair
Plant Minerals:
Calcium helps attach cell walls
together.
Magnesium forms chlorophyll.
Water
Good solvent.
Involved in chemical reactions.
Helps in the movement of
sperm.