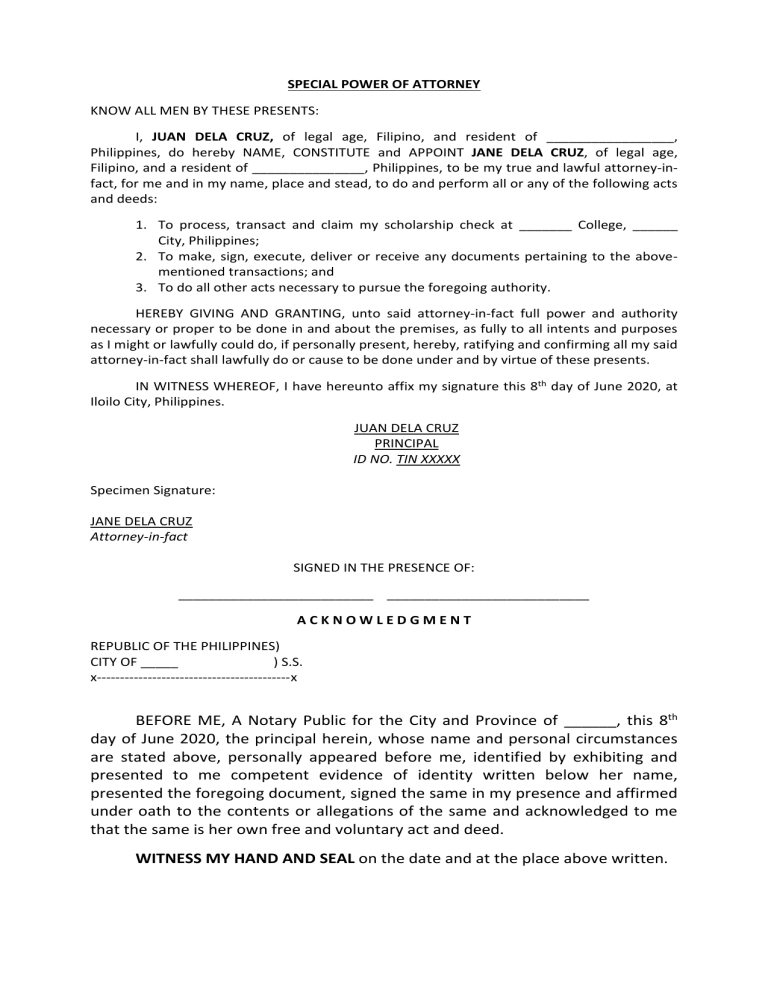 SPECIAL POWER OF ATTORNEY
KNOW ALL MEN BY THESE PRESENTS:
I, JUAN DELA CRUZ, of legal age, Filipino, and resident of _________________,
Philippines, do hereby NAME, CONSTITUTE and APPOINT JANE DELA CRUZ, of legal age,
Filipino, and a resident of _______________, Philippines, to be my true and lawful attorney-infact, for me and in my name, place and stead, to do and perform all or any of the following acts
and deeds:
1. To process, transact and claim my scholarship check at _______ College, ______
City, Philippines;
2. To make, sign, execute, deliver or receive any documents pertaining to the abovementioned transactions; and
3. To do all other acts necessary to pursue the foregoing authority.
HEREBY GIVING AND GRANTING, unto said attorney-in-fact full power and authority
necessary or proper to be done in and about the premises, as fully to all intents and purposes
as I might or lawfully could do, if personally present, hereby, ratifying and confirming all my said
attorney-in-fact shall lawfully do or cause to be done under and by virtue of these presents.
IN WITNESS WHEREOF, I have hereunto affix my signature this 8th day of June 2020, at
Iloilo City, Philippines.
JUAN DELA CRUZ
PRINCIPAL
ID NO. TIN XXXXX
Specimen Signature:
JANE DELA CRUZ
Attorney-in-fact
SIGNED IN THE PRESENCE OF:
__________________________ ___________________________
ACKNOWLEDGMENT
REPUBLIC OF THE PHILIPPINES)
CITY OF _____
) S.S.
x------------------------------------------x
BEFORE ME, A Notary Public for the City and Province of ______, this 8th
day of June 2020, the principal herein, whose name and personal circumstances
are stated above, personally appeared before me, identified by exhibiting and
presented to me competent evidence of identity written below her name,
presented the foregoing document, signed the same in my presence and affirmed
under oath to the contents or allegations of the same and acknowledged to me
that the same is her own free and voluntary act and deed.
WITNESS MY HAND AND SEAL on the date and at the place above written.