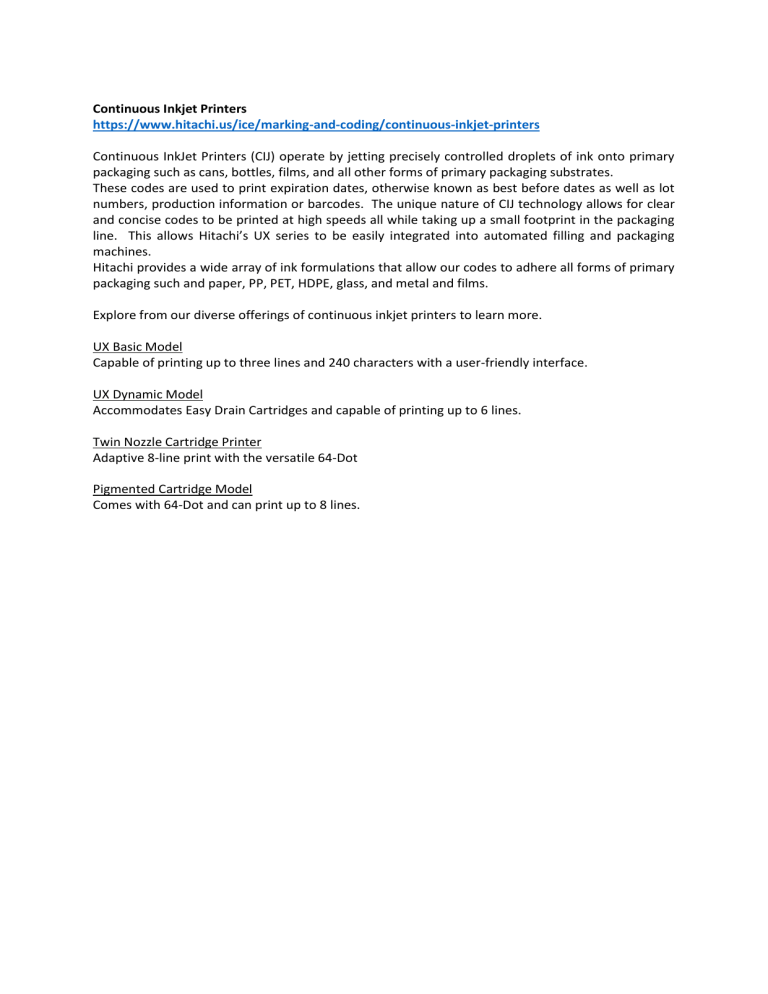 Continuous Inkjet Printers
https://www.hitachi.us/ice/marking-and-coding/continuous-inkjet-printers
Continuous InkJet Printers (CIJ) operate by jetting precisely controlled droplets of ink onto primary
packaging such as cans, bottles, films, and all other forms of primary packaging substrates.
These codes are used to print expiration dates, otherwise known as best before dates as well as lot
numbers, production information or barcodes. The unique nature of CIJ technology allows for clear
and concise codes to be printed at high speeds all while taking up a small footprint in the packaging
line. This allows Hitachi's UX series to be easily integrated into automated filling and packaging
machines.
Hitachi provides a wide array of ink formulations that allow our codes to adhere all forms of primary
packaging such and paper, PP, PET, HDPE, glass, and metal and films.
Explore from our diverse offerings of continuous inkjet printers to learn more.
UX Basic Model
Capable of printing up to three lines and 240 characters with a user-friendly interface.
UX Dynamic Model
Accommodates Easy Drain Cartridges and capable of printing up to 6 lines.
Twin Nozzle Cartridge Printer
Adaptive 8-line print with the versatile 64-Dot
Pigmented Cartridge Model
Comes with 64-Dot and can print up to 8 lines.