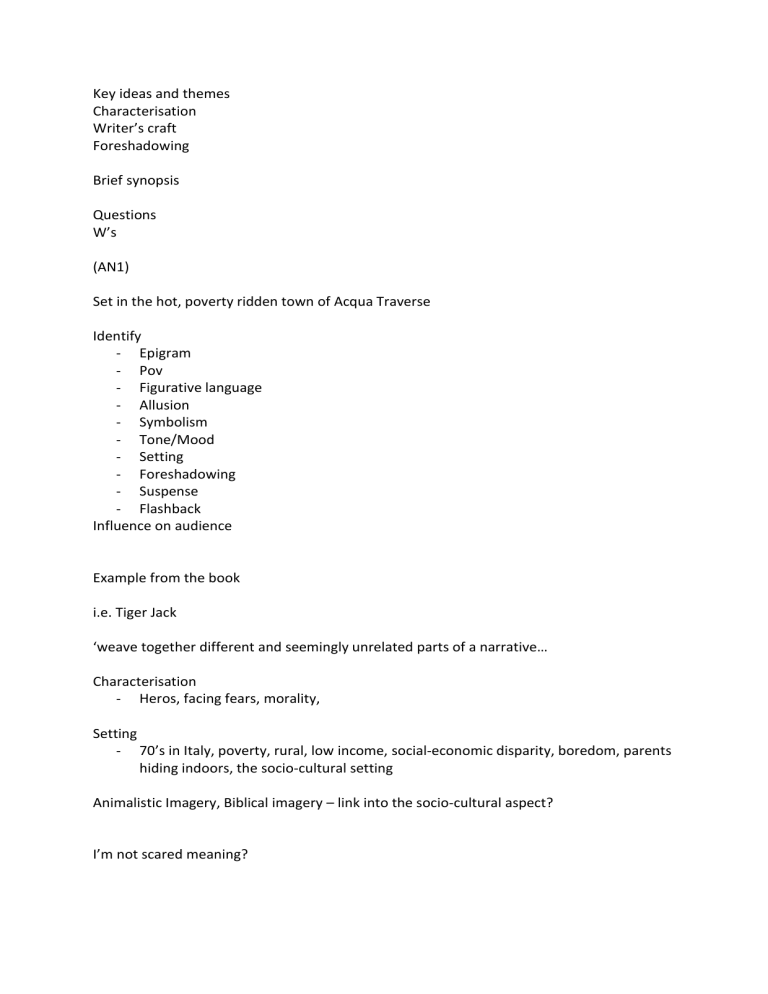 Key ideas and themes
Characterisation
Writer's craft
Foreshadowing
Brief synopsis
Questions
W's
(AN1)
Set in the hot, poverty ridden town of Acqua Traverse
Identify
- Epigram
- Pov
- Figurative language
- Allusion
- Symbolism
- Tone/Mood
- Setting
- Foreshadowing
- Suspense
- Flashback
Influence on audience
Example from the book
i.e. Tiger Jack
'weave together different and seemingly unrelated parts of a narrative…
Characterisation
- Heros, facing fears, morality,
Setting
- 70's in Italy, poverty, rural, low income, social-economic disparity, boredom, parents
hiding indoors, the socio-cultural setting
Animalistic Imagery, Biblical imagery – link into the socio-cultural aspect?
I'm not scared meaning?
Epigram – light and darkness… falling into darkness, darkness imagery, in trying to lift his
family out of the dark into the light, by pulling or putting others into it, they unintentionally
fall further into the dark as they aspire towards the light
The new and old.