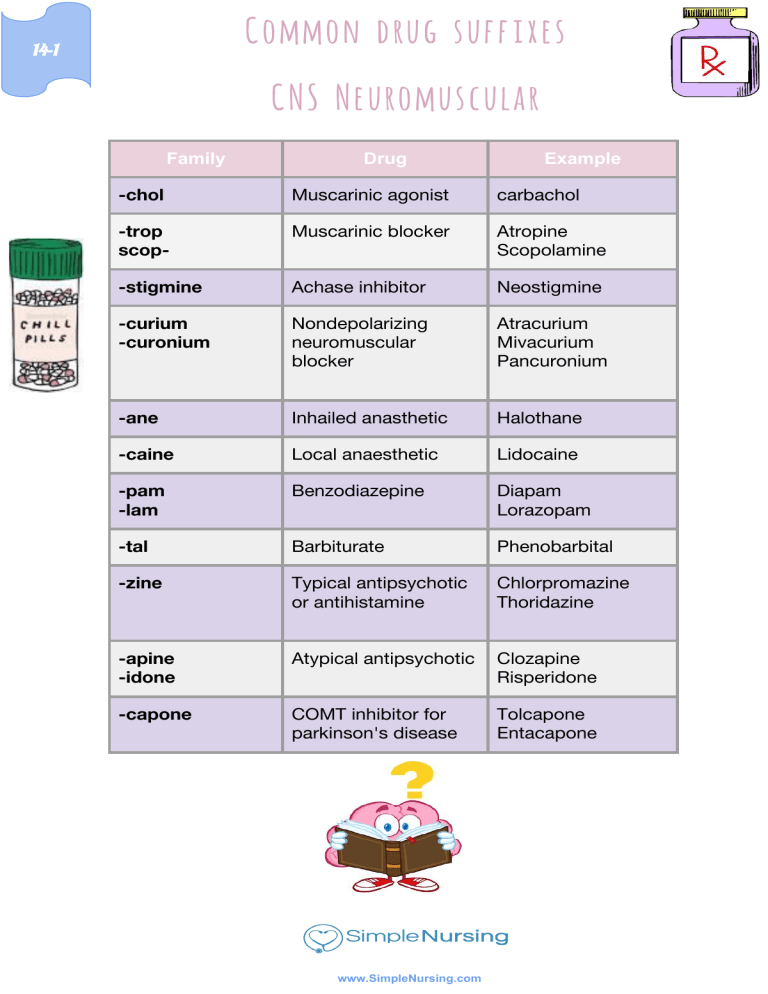 Common drug suffixes
14-1
CNS Neuromuscular
Family
Drug
Example
-chol
Muscarinic agonist
carbachol
-trop
scop-
Muscarinic blocker
Atropine
Scopolamine
-stigmine
Achase inhibitor
Neostigmine
-curium
-curonium
Nondepolarizing
neuromuscular
blocker
Atracurium
Mivacurium
Pancuronium
-ane
Inhailed anasthetic
Halothane
-caine
Local anaesthetic
Lidocaine
-pam
-lam
Benzodiazepine
Diapam
Lorazopam
-tal
Barbiturate
Phenobarbital
-zine
Typical antipsychotic
or antihistamine
Chlorpromazine
Thoridazine
-apine
-idone
Atypical antipsychotic
Clozapine
Risperidone
-capone
COMT inhibitor for
parkinson's disease
Tolcapone
Entacapone
www.SimpleNursing.com
Common drug suffixes
14-2
Infectious disease
Family
Drug
Example
-penam
Cell wall inhibitor "Broad
spectrum"
Imipenem
Meropenem
-floxacin
Fluoroquinolone
Ciprofloxacin
Levofloxacin
-conazole
"Azole"
Antifungal
Ketoconazole
Fluconazole
-quine
Antimalarial
Chloroquine
Primaquine
-ovir
Antiviral " DNA polymerase
inhibitors" treats herpes
Acyclovir
Ganciclovir
Valacyclovir
-ivir
Neuraminidase inhibitor "
treats influenza"
Zanamivir
-avir
Antiviral protease inhibitor "
treats HIV/AIDS"
Indinavir
Ritonavir
www.SimpleNursing.com
Common drug suffixes
14-3
Cardiovascular
Family
Drug
Example
-olol
Beta blocker
metoprolol
-alol
-ilol
Alpha-Beta blockers
Sotalol
cardviolol
-dipine
Vascular Calcium channel
blocker
Nifidipine
-zosin
Alpha -1 blocker
Terazosin
Doxazosin
-pril
Ace inhibitor
Lisinopril
-sartan
ARB
Losartan
-darone
Antiarrhythmic
Amiodarone
-statin
Anti hyperlipidemic
Hmg coa reductase inhibitor
Rosuvastatin
-zolamide
Carbonic anhydrase
inhibitor
Acetazolamide
-semide
Loop diuretic
Furosemide
-parin
Low molecular weight
heparin
Enoxaparin
-rudin
Direct thrombin inhibitor
Lepirudin
www.SimpleNursing.com
Common drug suffixes
14-4
GI
Family
Drug
Example
-tidine
H2 blocker
Cimetidine
-prazole
PPI
Pantoprazole
-setron
5HT3 blocker "Anti
Emetic"
Ondansetron
www.SimpleNursing.com
Common drug suffixes
14-5
Oncology
Family
Drug
Example
vin-
Microtubule
inhibitor
Vincristine
Vinblastine
-rubicin
Cancer drug
Doxorubicin
-mab
Monoclonal
antibody drug
Rituximab
-tinib
Tyrosine kinase
inhibitor
Imatinib
www.SimpleNursing.com
Common drug antidotes
14-6
Drug
Antidote
Opioid Analgesics
Nalaxone
Heparin
Protamine sulfate
Coumadin
Vitamin K
Benzodiazepines
Fluzmazenil
Acetominophen
Acetylcysteine
Magnesium sulfate
Calcium gluconate
Cholinergics
Atropine
Digoxin
Digiband
Beta blockers
Glucagon
Aspirin
Sodium bicarbonate
Cyanide
Sodium thiosulfate
www.SimpleNursing.com
Therapeutic ranges
14-7
Drug
Therapeutic range
Digoxin
0.5-2.0 mg/ml
lithium
0.8-1.5 mEq/ L
Dilantin
10-20 mcg/ dL
theophylline
10-20 mcg/dL
Gentamycin
5—10 mcg/ml (peak), <2.0 mcg/ml
(valley)
Vancomycin
20—40 mcg/ml (peak), 5 to 15 mcg/ml
(trough)
Carbamazepine
4—10 mcg/ml
Phenobarbital
15—40 mcg/mL
Phenytoin
10—20 mcg/dL
Tobramycin
5—10 mcg/mL (peak), 0.5—2.0 mcg/mL (valley)
Valproic Acid
50—100 mcg/ml
www.SimpleNursing.com
Pharm quick glance
14-8
Pregnancy Categories
Medication Classifications
❖
❖
❖
❖
❖
❖
❖
❖
❖
❖
❖
❖
❖
❖
❖
❖
❖
Antacids—reduces hydrochloric acid in
the stomach.
Antianemics—increases blood cell
production.
Anticholinergics—decreases oral
secretions.
Anticoagulants—prevents clot formation,
Anticonvulsants—used for management
of seizures and/or bipolar disorders.
Antidiarrheals—decreases gastric
motility and reduce water in bowel.
Antihistamines—block the release of
histamine.
Antihypertensives—lower blood pressure
and increases blood flow.
Anti-infectives—used for the treatment of
infections,
Bronchodilators—dilates large air
passages in asthma or lung diseases (e.g.,
COPD).
Diuretics—decreases water/sodium from
the Loop of Henle.
Laxatives—promotes the passage of
stool.
Miotics—constricts the pupils.
Mydriatics—dilates the pupils.
Narcotics/analgesics—relieves moderate
to severe pain.
❖
❖
❖
❖
Category A—No risk in controlled human studies
Category B—No risk in other studies. Examples: Amoxicillin,
Cefotaxime.
Category C—Risk not ruled out. Examples: Rifampicin (Rifampin),
Theophylline (Theolair).
Category D—Positive evidence of risk. Examples: Phenytoin,
Tetracycline.
Category X—Contraindicated in Pregnancy. Examples:
Isotretinoin (Accutane), Thalidomide (Immunoprin), etc.
Pregnancy Category N—Not yet classified
Drug Schedules
Nursing considerations
❖
❖
❖
❖
❖
❖
❖
❖
❖
❖
❖
❖
❖
Digoxin (Lanoxin)—Assess pulses for a full
minute, if less than 60 bpm hold dose. Check
digitalis and potassium levels.
Aluminum Hydroxide (Amphojel)—Treatment
of GERD and kidney stones. Monitor
constipation.
Hydroxyzine (Vistaril)—Treatment of anxiety
and itching. WOF dry mouth.
Midazolam (Versed)—given for conscious
sedation. Watch out for respiratory
depression and hypotension.
Amiodarone (Cordarone)— diaphoresis,
dyspnea, lethargy. Take missed dose any time
in the day or to skip it entirely. Do not take
double dose.
Warfarin (Coumadin)—Watch for signs of
bleeding, diarrhea, fever, or rash. Stress
importance of complying with prescribed
dosage and follow-up appointments.
Methylphenidate (Ritalin)—Treatment of
ADHD. Assess for heart related side-effects
and reported immediately. Child may need a
drug holiday because the drug stunts growth.
Dopamine—Treatment of hypotension, shock,
and low cardiac output. Monitor ECG for
arrhythmias and blood pressure.
Rifampicin—causes red-orange tears and
urine.
Ethambutol—causes problems with vision,
liver problem.
Isoniazid—can cause peripheral neuritis, take
vitamin B6 to counter.
❖
❖
❖
www.SimpleNursing.com
Schedule I—no currently accepted medical use
and for research use only (e.g., heroin, LSD,
MDMA).
Schedule II—drugs with high potential for abuse
and requires written prescription (e.g., Ritalin,
hydromorphone (Dilaudid), meperidine (Demerol),
and fentanyl).
Schedule III—requires new prescription after six
months or five refills (e.g., codeine, testosterone,
ketamine).
Schedule IV—requires new prescription after six
months (e.g., Darvon, Xanax, Soma, and Valium).
Schedule V—dispensed as any other prescription
or without prescription (e.g., cough preparations,
Lomotil, Motofen).