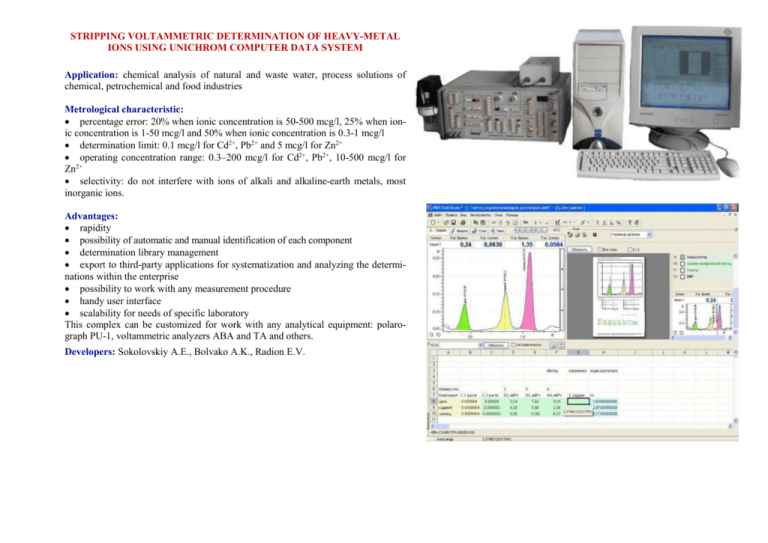 STRIPPING VOLTAMMETRIC DETERMINATION OF HEAVY-METAL
IONS USING UNICHROM COMPUTER DATA SYSTEM
Application: chemical analysis of natural and waste water, process solutions of
chemical, petrochemical and food industries
Metrological characteristic:
 percentage error: 20% when ionic concentration is 50-500 mcg/l, 25% when ionic concentration is 1-50 mcg/l and 50% when ionic concentration is 0.3-1 mcg/l
 determination limit: 0.1 mcg/l for Cd2+, Pb2+ and 5 mcg/l for Zn2+
 operating concentration range: 0.3–200 mcg/l for Cd2+, Pb2+, 10-500 mcg/l for
Zn2+
 selectivity: do not interfere with ions of alkali and alkaline-earth metals, most
inorganic ions.
Advantages:
 rapidity
 possibility of automatic and manual identification of each component
 determination library management
 export to third-party applications for systematization and analyzing the determinations within the enterprise
 possibility to work with any measurement procedure
 handy user interface
 scalability for needs of specific laboratory
This complex can be customized for work with any analytical equipment: polarograph PU-1, voltammetric analyzers АВА and ТА and others.
Developers: Sokolovskiy A.E., Bolvako A.K., Radion E.V.