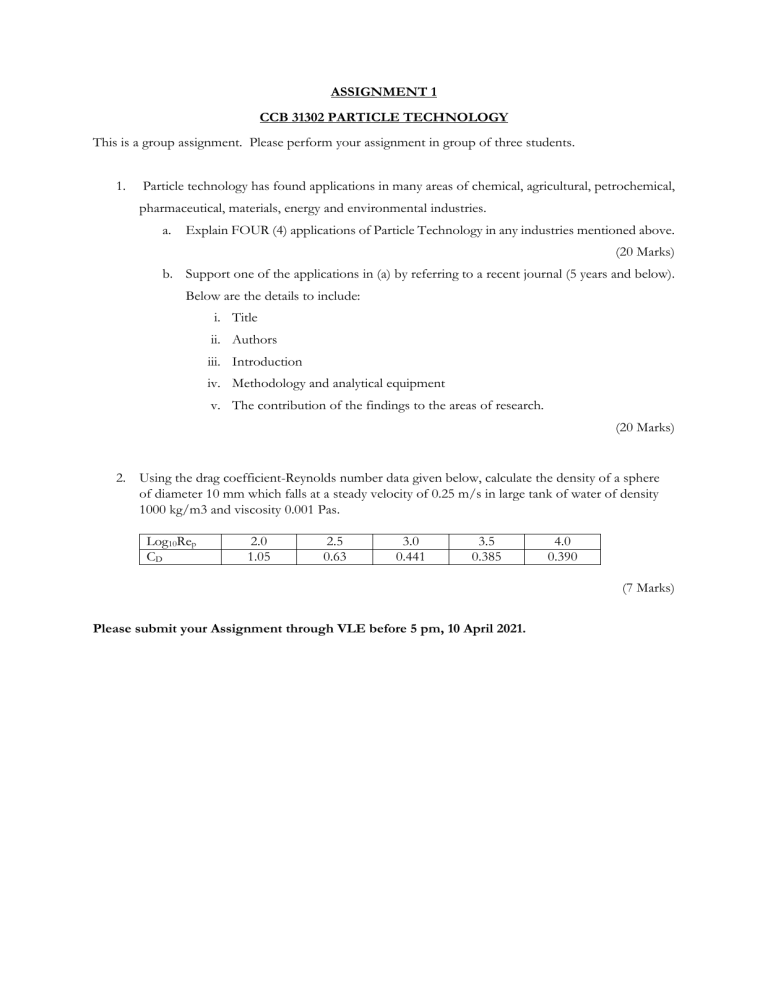 ASSIGNMENT 1
CCB 31302 PARTICLE TECHNOLOGY
This is a group assignment. Please perform your assignment in group of three students.
1.
Particle technology has found applications in many areas of chemical, agricultural, petrochemical,
pharmaceutical, materials, energy and environmental industries.
a.
Explain FOUR (4) applications of Particle Technology in any industries mentioned above.
(20 Marks)
b. Support one of the applications in (a) by referring to a recent journal (5 years and below).
Below are the details to include:
i. Title
ii. Authors
iii. Introduction
iv. Methodology and analytical equipment
v. The contribution of the findings to the areas of research.
(20 Marks)
2. Using the drag coefficient-Reynolds number data given below, calculate the density of a sphere
of diameter 10 mm which falls at a steady velocity of 0.25 m/s in large tank of water of density
1000 kg/m3 and viscosity 0.001 Pas.
Log10Rep
CD
2.0
1.05
2.5
0.63
3.0
0.441
3.5
0.385
4.0
0.390
(7 Marks)
Please submit your Assignment through VLE before 5 pm, 10 April 2021.