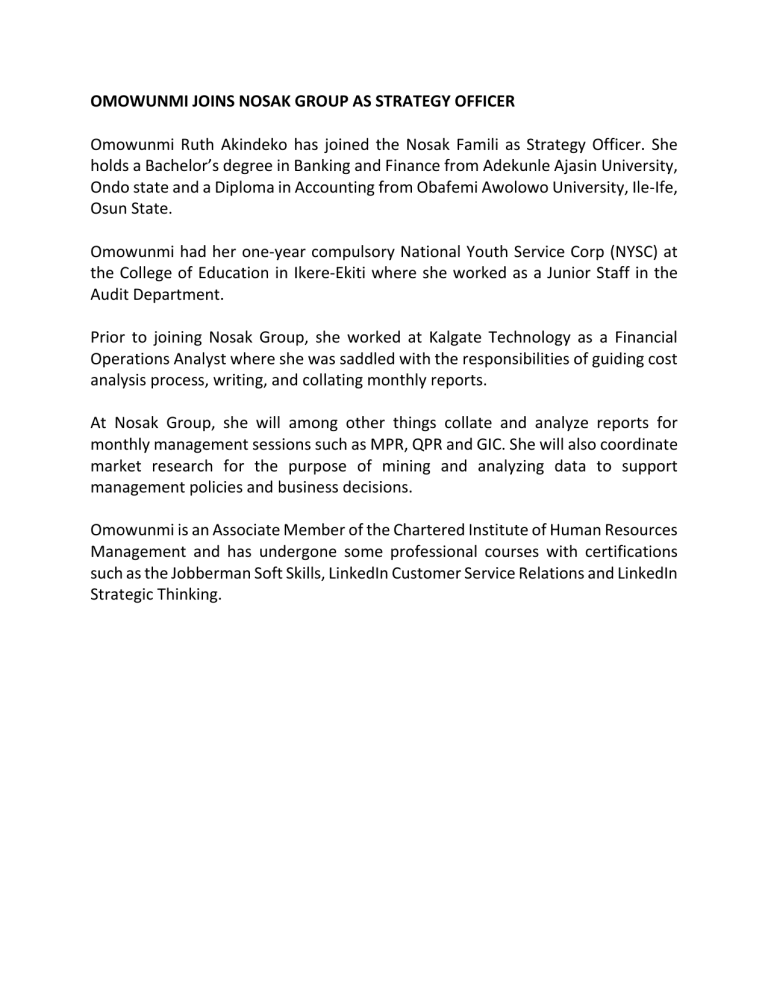 OMOWUNMI JOINS NOSAK GROUP AS STRATEGY OFFICER
Omowunmi Ruth Akindeko has joined the Nosak Famili as Strategy Officer. She
holds a Bachelor's degree in Banking and Finance from Adekunle Ajasin University,
Ondo state and a Diploma in Accounting from Obafemi Awolowo University, Ile-Ife,
Osun State.
Omowunmi had her one-year compulsory National Youth Service Corp (NYSC) at
the College of Education in Ikere-Ekiti where she worked as a Junior Staff in the
Audit Department.
Prior to joining Nosak Group, she worked at Kalgate Technology as a Financial
Operations Analyst where she was saddled with the responsibilities of guiding cost
analysis process, writing, and collating monthly reports.
At Nosak Group, she will among other things collate and analyze reports for
monthly management sessions such as MPR, QPR and GIC. She will also coordinate
market research for the purpose of mining and analyzing data to support
management policies and business decisions.
Omowunmi is an Associate Member of the Chartered Institute of Human Resources
Management and has undergone some professional courses with certifications
such as the Jobberman Soft Skills, LinkedIn Customer Service Relations and LinkedIn
Strategic Thinking.