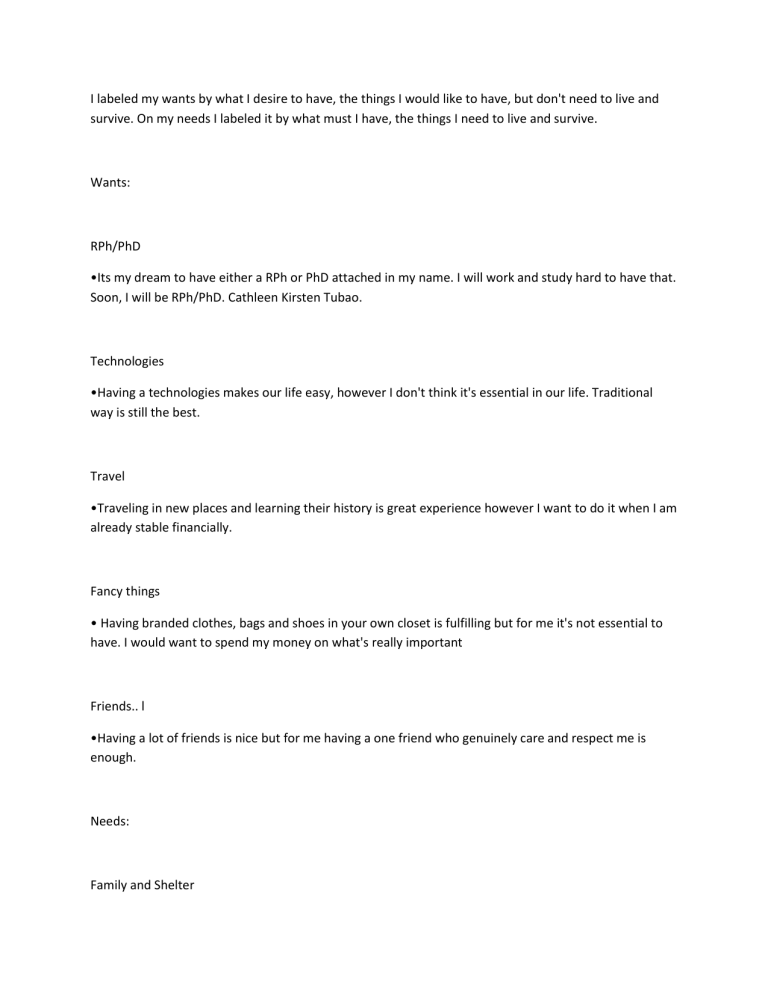 I labeled my wants by what I desire to have, the things I would like to have, but don't need to live and
survive. On my needs I labeled it by what must I have, the things I need to live and survive.
Wants:
RPh/PhD
•Its my dream to have either a RPh or PhD attached in my name. I will work and study hard to have that.
Soon, I will be RPh/PhD. Cathleen Kirsten Tubao.
Technologies
•Having a technologies makes our life easy, however I don't think it's essential in our life. Traditional
way is still the best.
Travel
•Traveling in new places and learning their history is great experience however I want to do it when I am
already stable financially.
Fancy things
• Having branded clothes, bags and shoes in your own closet is fulfilling but for me it's not essential to
have. I would want to spend my money on what's really important
Friends.. l
•Having a lot of friends is nice but for me having a one friend who genuinely care and respect me is
enough.
Needs:
Family and Shelter
•Family is one of the greatest gift that has given to me by God. The family who loved my unconditionally
and the on who give me shelter.
Education
•A goof education is a foundation for a better future. And the beautiful thing about learning is that no
one can take it away from you
Food
•Food is something that provides nutrients and energy to develop and grow, be active and be healthy.
Insurance
•the unforeseen tragedies can leave us and our family facing tremendous emotional and financial stress,
and even grief. With insurance the stress will be lessen and we can focus on the recovery and rebuilding
our lives.
Self Love
• The people who knows self love ate less likely to suffer from anxiety, depression or other mental
health issues. Also, with self love it paves the way to a positive mindset. Which is essential for our life
and well-being.