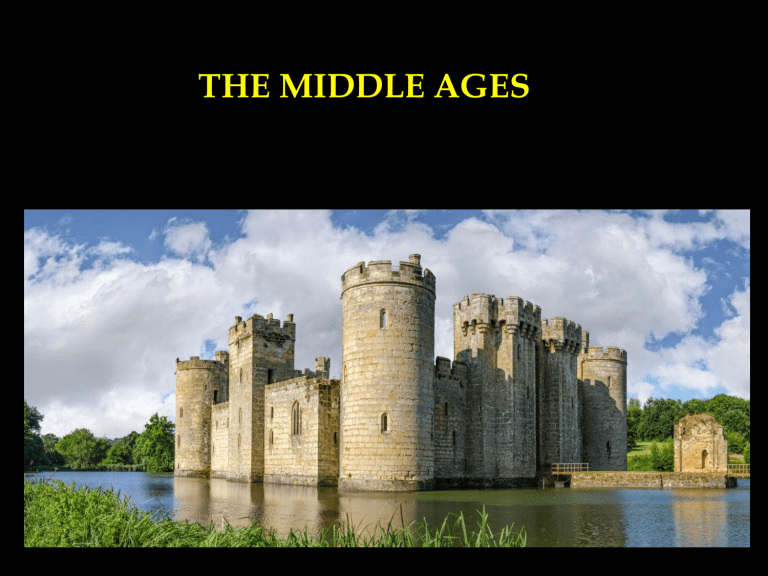 THE MIDDLE AGES
THE MIDDLE AGES
• 400 – 1500 AD
• Period from fall of Roman
Empire to Early Modern
Period (Renaissance)
Middle Ages: Divided into 3 stages
1. Early Middle Ages
('The Dark Ages')
-Breakup of Roman Empire
- Invasion by non-Christians
2. The High Middle Ages
- the time of feudalism / castles
warfare /growth of towns
3. The Late Middle Ages
- growing power of kings /
queens
- bubonic plague
- decline of feudal system
TIMELINE
Classical
Romans
M.Ages
Low M. High M. Late M.
Ages
Ages
Ages
500 - 900
1000 - 1200 1300 - 1500
Early Modern
Renaissance
 The Feudal System
 Castles
 Knights
 The Manor
The Feudal
System
The King
Lords / Bishops
Knights
Peasants
Special ceremony
The Lord kneels before the King
Takes an oath of loyalty.
Becomes a vassal
The land that is granted - Fief
Loyalty
Tax (money/
crops)
Accomadation
The King
received:
Military service!
Protection!
Land to rent
The Vassal
received:
Motte and Bailey Castles – The First Castles
An Dún
An Sráidbhaile
D'úsáid na
Normanaigh daoine
áitiúla le caisleáin a
thógaint
Díog
Droichead
Árdú nó dó in am
ionsaí
Stone Castles
Tampere, Finland
Carcassonne, France
Neuschwantstein, Germany
Bardi, Italy
Stone Castle - Features
The Keep
Thick Walls
The Murder Hole
The Moat
Drawbridge
The Gate House
 Curtain Walls – the
outer protective walls
 Battlements – on top
of these walls
 Towers – at various
points along the
curtain wall
 Portcullis – iron grid
at entrance / for
defence
The Keep
 In the centre of the castle
 Cold, damp / windy
 Protection:
- Entrance – above the
level of the ground
- Spiral Staircases – twisting
to the right as you go up
/ advantage to the
defenders
- the Murder Hole
Attacking a Castle
o Extremely difficult
 To lay a Siege – sorounding
the castle
 Weapons of attack ->
•
'trebuchet'/ siege
ladders /..
Other Tactics




To fill the moat with earth
Ladders / Siege towers
Battering Rams
Mining under the walls
 Disadvantage of Siege ->
could last for months!