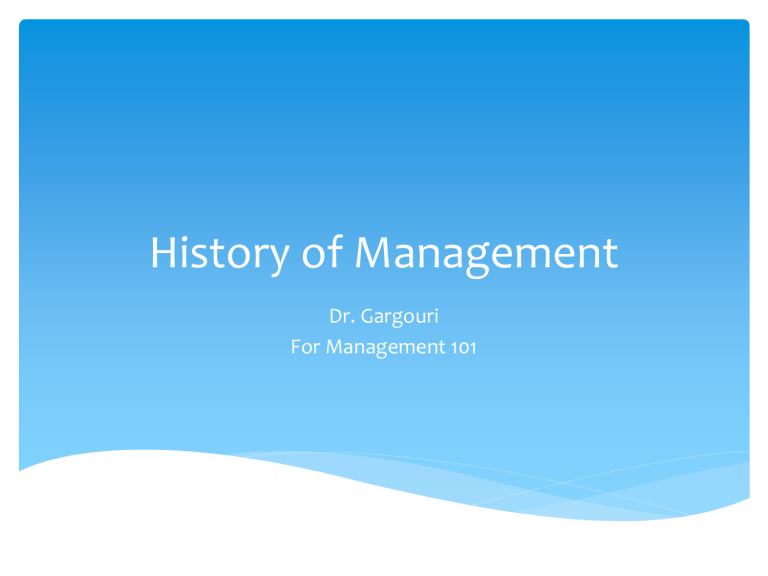 History of Management
Dr. Gargouri
For Management 101
Where did the word Management
Come from?
manus
mesnagement (later ménagement)
maneggiare (to handle, especially tools)
Management in the 17th and 18th centuries.
How was it defined?
organization
coordination
activities
To achieve clearly defined
objectives
In accordance to
What's the problem with the
definition?
Management was often included as a factor
of production along with machines,
materials, and money.
Then what? …. in the early twentieth
century
Not a factor of production
anymore?
Mary Parker Follett (1868–1933)
defined management as "the art of getting
things done through people". She also
described management as philosophy.
Administrative Theorist (s)
jobs + people is what makes an efficient
organization
Frenchman Henri Fayol
considers management
to consist of seven
functions: • 1. planning
• 2. organizing • 3.
leading • 4.
coordinating • 5.
controlling • 6. staffing
• 7. motivating
CLASSICAL MANAGEMENT THEORY
the best way is
to combine
jobs and
people
Administrative View
one of the first economists to
develop the ideas of rational
choice theory
Rational Economic view
people are
motivated by
economic
gains
Eliminating
managerial
inconsistencie
s
one best way
of production
division of labor and specialization
NEO CLASSICAL THEORY
The HUMAN RELATIONS APPROACH
1920s to 1950s
 Focused on HUMAN RELATIONS
 Employees are also guided by social needs, drives,
and attitude.
Early phases of the industrial revolution
Late stages of the Industrial Revolution
MODERN MANAGEMENT
The 20th Century
sees modern organizations as complex
systems and underlies contingency
approach and use of modern techniques
to solve organizational and human
problems.
there is no best way to organize a
corporation
Comprehensive theories of management
appeared around 1920
Some of the more recent developments include the
Theory of Constraints, management by objectives,
reengineering, Six Sigma and various informationtechnology-driven theories such as agile software
development, as well as group management theories
such as Cog's Ladder.
In the 1940s, Patrick Blackett
combined these statistical
theories with microeconomic
theory and gave birth to the
science of operations research.
Ronald Fisher (1890 - 1962), and
Thornton C. Fry introduced
statistical techniques into
management-studies.