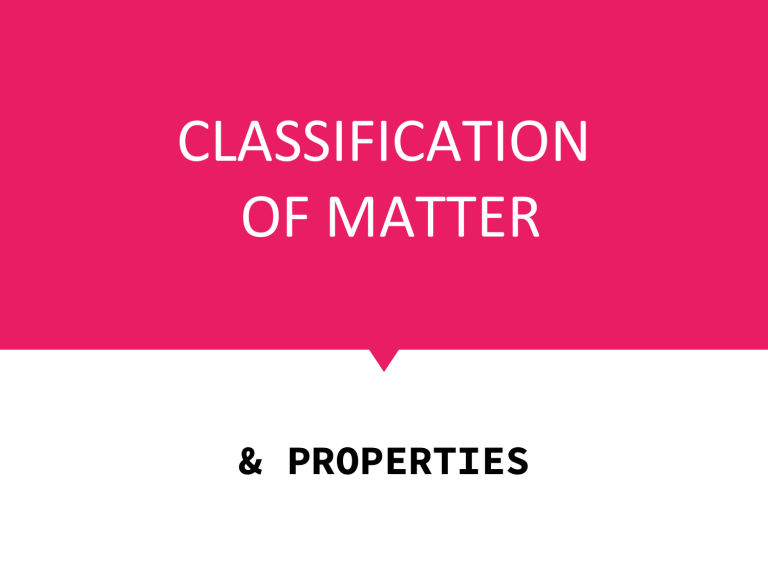 CLASSIFICATION
OF MATTER
& PROPERTIES
MATTER
●Matter: everything that
occupies a space in the
universe
●Every kind of matter is made
of one or more elements
• What is an atom?
Atoms are the smallest particle of
matter, and of an element.
• What is an element?
An element is a substance consisting of
atoms which all have the same number of
protons.
• What is a molecule?
Two or more atoms chemically combined.
How can matter be classified?
• Matter is made up of basic "ingredients" known as
atoms.
• An atom is the smallest unit of an element that
maintains the properties of that element.
• Substances are classified as elements, compounds,
and mixtures.
Basic
ingredients of all
"stuff"
Substances are
classified as:
Matter
Elements
Compounds
Mixtures
How can matter be classified?
• An atom is a building block of
matter
• An element is made of only one
kind of atom.
• A compound is made up of different kinds of
atoms that are chemically combined.
• A mixture contains a variety of elements and
compounds that are not chemically combined.
Classification of Matter
https://chemistrygod.com/classification-of-matter
Pure Substances
●
Always have the same composition
and
are formed by chemical
processes.
● Either elements or compounds.
● Examples:
▪ Pure water (H2O), carbon dioxide
(CO2), hydrogen (H2), gold (Au)
Copyright © Cengage Learning. All rights reserved
Element
● A substance that cannot be broken
down into other substances by
chemical methods.
● Examples:
▪ Iron (Fe), aluminum (Al), oxygen
(O2), and hydrogen (H2)
● All of the matter in the world
around us contains elements.
Elements
• Elements are classified as metals, nonmetals, or metalloids.
• Metals: shiny, conduct
electricity, malleable, ductile
• Nonmetals: not shiny, do
not conduct electricity or
heat.
• Metalloids: have properties
of both
• The periodic table is a tool used to classify and identify elements
that have similar properties.
Compound
● A substance composed of a given
combination of elements that can be
broken down into those elements by
chemical methods.
● Examples:
▪ Water (H2O), carbon dioxide (CO2),
table sugar (C12H22O11)
● A compound contains atoms of different
elements.
● A compound always has the same
composition (same combination of
atoms).
Copyright © Cengage Learning. All rights reserved
Compounds
• Compounds can be classified as acidic, basic, or neutral by
measuring pH.
• Pure water (Neutral) has a pH of 7
• Acids have a pH below 7
• Bases have a pH above 7
Compounds
• Compounds can also be organic or inorganic based on their
composition.
• Organic compounds are those that contain only carbon,
oxygen and hydrogen.
• Organic compounds made by living things are called
biochemical molecules or bio-molecules.
• Carbohydrates, lipids, proteins, and nucleic acids are biomolecules
Mixtures
• A mixture is a combination of two or
more substances that are combined
physically but not chemically.
• Mixtures are not pure substances and
do not have definite properties.
• Substances within a mixture keep
their identities and individual
properties.
• Mixtures can be separated by physical
changes, although some mixtures are
difficult to separate.
Mixtures
● Have variable composition.
● Examples
▪ Wood, wine, coffee,
granite
● Can be separated into pure
substances: elements
and/or compounds using
physical processes.
Homogeneous Mixture
● Same throughout.
● Having visibly indistinguishable
parts.
● Does not vary in composition from
one region to another.
Apple Juice
Cranberry Juice
Orange Juice
with ice
Homogeneous Mixture – Examples
● Air
● Brass
● Table salt stirred into water
● Coffee
Heterogeneous Mixture
● Having visibly distinguishable
parts.
● Contains regions that have
different properties from those of
other regions.
Heterogeneous Mixture – Examples
● Oil and vinegar dressing
● Sand
● Soup
Copyright © Cengage Learning. All rights reserved
●
Mixtures can be separated based on different physical
●
Magnets, centrifuges, filters, and other materials can be used to separate
mixtures.
properties of the components.
Different Physical Property
Technique
Boiling point
Distillation
State of matter
(solid/liquid/gas)
Adherence to a surface
Chromatography
Volatility
Evaporation
Filtration
Copyright © Cengage Learning. All rights reserved
Distillation of a Solution Consisting of Salt Dissolved in Water
Copyright © Cengage Learning. All rights reserved
● No chemical change occurs when salt
water is distilled.
Copyright © Cengage Learning. All rights reserved
Solution - Homogeneous Mixture
●A physical mixture of two or more substances
●Composed of solutes and solvents
the substance in the larger
amount that dissolves the
solute
the substance in the smallest
amount and the one that
dissolves in the solvent
Iced Tea Mix
(solute)
Salt water is
considered a
solution. How
can it be
physically
separated?
Iced Tea
(solution)
Water
(solvent)
○ A solution is a homogeneous mixture of ions or molecules
of two or more substances.
○ Two parts
■ Solvent is the component that is in the largest
quantity
■ Solute is the component that is dissolved in the
solvent.
○ If one of the components of a solution is a liquid it is
usually the solvent.
○ If the solvent is water then the solution is identified as
an aqueous solution.
Solutes Change Solvents
●The amount of solute in a solution determines how
much the physical properties of the solvent are
changed
●Examples:
Lowering the Freezing Point
The freezing point of a liquid
solvent
decreases when a solute is
dissolved in it.
Ex. Pure water freezes at (00C), but
when salt is
dissolved in it, the freezing point is
lowered.
This is why people use salt to melt ice.
Raising the Boiling Point
The boiling point of a solution is higher
than the boiling point of the solvent.
Therefore, a solution can remain a liquid
at
a higher temperature than its pure
solvent.
Ex. The boiling point of pure water is (1000C),
but when salt is dissolved in it, the boiling
point is higher. This is why it takes salt water
longer to boil than fresh water.
Concentration
● The amount of solute dissolved in a solvent at a given temperature
• described as dilute if it has a low
concentration of solute.
• described as concentrated if it
has a high concentration of solute.
When the solution reaches the
maximum concentration of solute
that can be diluted by the solute it
is described as saturated.
• described as supersaturated if
contains more solute than the
amout the solute can disolve.
INFORMATION THAT SHOULD BE
INCLUDED IN YOUR NOTEBOOKS
1.
Definition of matter, atom, element and
molecule
2.
What makes one element different from other
element?
3.
A graphic organizer with the classification of
matter
4.
Define element, pure substance, compound and
give 4 examples of each one.
5. Define homogeneous mixture and give 4 examples
6. Define heterogeneous mixture and give 4 examples
7. A graphic organizer with the classification of
solutions that includes 2 examples or each one.
HOMEWORK
We are working on a lab that will be developed on your
kitchen, please make sure you have a grown up to help you
with the cooking procedure.
Each student should bring:
● 2 plastic/ glasses
● 2 cups of sugar
● 1/2 cups of water
● 2 wood sticks
● 4 clothes peg/gripper
● food coloring
● essences or sweet flavors
● 1 old newspaper
● 1 small pot
● 1 plastic or wooden spoon
PROPERTIES OF MATTER
PROPERTIES OF MATTER
Matter has different qualities
that characterize it.
We can distinguish two types of
properties:
●Physical
●Chemical
PHYSICAL PROPERTIES
The physical properties are those that can
be observed with our senses, without
changing the structure of matter, and are
used to identify, describe and classify
matter. For example:
●Mass
●Weight
●Volume
●Porosity, Shape, Texture, Color, Shape
●State
Mass
●A measure of how much
matter is in an object.
Weight
●A measure of the force of
gravity on an object.
Volume
●The amount of space that
matter occupies.
Porosity, texture, size, color and
shape
States of Matter
●There are different "states" of matter. Elements
and compounds can move from one phase to
another when special physical forces are present.
●Solid
●Liquid
●Gas
The striking blue walls in this photo are actually the sheer ice walls of a massive glacier. The
glacier in the picture is in Argentina, and the bluish water in the foreground is Lake
Argentina. The photo represents an important concept in physical science.
Can you guess what it is?
●The photo represents water in three states of
matter at the same time.
●There are actually four well-known states of
matter: solid, liquid, gas, and plasma.
Plasma isn't represented in the iceberg
photo, but the other three states of matter
are. The iceberg itself consists of water in
the solid state, and the lake consists of
water in the liquid state.
●Q: Where is water in the gaseous state in the
above photo?
●A: You can't see the gaseous water, but it's
there. It exists as water vapor in the air.
Solids
●A solid has its
own shape.
●A solid does not
change unless you
cut, bend, or
break it.
●Solids have a
define volume
defined shape and
have a defined
mass.
● Particles are very close
together
Liquids
●Liquids do not
have their own
shape.
●Liquids take the
shape of their
container.
●Liquids have an
undefined shape,
defined volume
and defined mass.
●Particles are not very
close
Gases
●Gases have no
defined size or
shape.
●Gases take the
shape of its
container.
●A gas will fill
all the space
inside a
container.
●Gases have
undefined shape,
undefined volume
and defined mass
● Particles are far away
and move freely
Review:
1. Define state of matter.
2. Which states of matter are most common on Earth?
3. Make a table comparing and contrasting solids,
liquids, and gases.
CHEMICAL PROPERTIES
The chemical properties are those that
tell us how matter change when combined
with other substances , for example:
●Conductivity
●Dissolved oxygen
●Hardness
●pH
pH
What does it mean for a solution to be
acidic or basic (alkaline)?
An acid is a substance that donates hydrogen
ions.
A base is a substance that accepts hydrogen
ions.
Acidity and alkalinity are measured with a
logarithmic scale called pH.
●
A strongly acidic solution can have one hundred million million
(100,000,000,000,000) times more hydrogen ions than a strongly basic
solution! The flip side, of course, is that a strongly basic solution can
have 100,000,000,000,000 times more hydroxide ions than a strongly acidic
solution.