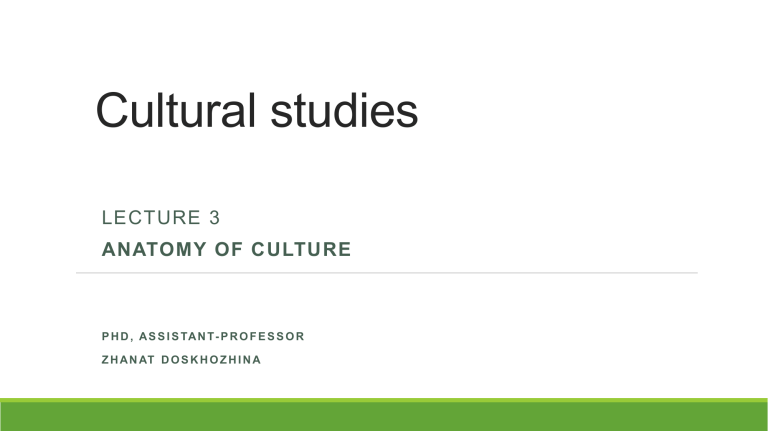 Cultural studies
LECTURE 3
ANATOMY OF CULTURE
P H D , A S S I S TA N T- P R O F E S S O R
Z H A N AT D O S K H O Z H I N A
Presentation outline

Main forms of culture

Three-dimensional model of culture

Categories of culture

Three faces of culture

Cultural scenarios

Axiology principles

Axiological typology of person

Axiology of daily life

Social types of human character

Deviant Behavior as a fatal culture component

Class discussion
Main forms of culture
Cultural forms - ways in which the conditions necessary for the satisfaction and development of human
needs materialized.
 Myth
 Art
 Religion
 Morals
 Law
 Politics
 Science
 Technics
Three-dimensional model of culture
Cultural space is a space formed by many cultural phenomena interacting with each other
Three mutually intersecting "coordinate axes":
X – "cognitive" axis
Y – "axiological" axis
Z – "regulative" axis
Categories of culture
Five logic structures based on the text analysis
Continued…
INDIVIDUALISTIC CULTURES
COLLECTIVISTIC CULTURES
INDUCTION
DEDUCTION
Three faces of culture
1. Spiritual culture – religion, art,
philosophy (creative activity);
2. Social culture – morality, law and
politics (social ideals, norms and values);
3. Technological culture – science,
technics (development and processing
any material)
Libido
Cultural scenarios
desire for
creation (love,
generosity,
joyful work,
art, progeny)
Mortido
desire for
destruction
(enmity, hate,
blind anger
and terrible
pleasures)
Axiology principles
Final values (human life, freedom,
justice, beauty, happiness, love,
friendship, honor and dignity of
the person, legality, humanism)
Instrumental values (books, sport,
art, job)
Derivative Values (effects or
expressions of other values)
Axiological typology of person
"Theoretical" person
• The highest value is True. Rational and critical worldview. Highly developed intellect and
devotes himself to scientific activity.
"Economic" person
• The highest value is benefit. Don`t accept abstract knowledge.
"Aesthetic" person
• The highest value are beauty, harmony. Love to art.
"Social" person
• The highest value is love of society. Altruism and self-sacrifice.
"Political" person
• The highest value is power. The desire to rule and control people.
"Religious" person
• Comprehending the unity to the world and search for the meaning of existence
Axiology of daily life
• Consumerism
• Sensory
hunger
• Repression
of person
Emotional
discharge
and thirsty of
thrill
"To have"
does not
mean "to be"
Make money
for spend
money
Culture gives
to human ability
to create
meaning of life
– existential
questions
• Life
meaning
problem
Social types of human character
Receptive type
Exploitative type
Accumulative type
Market type
Productive type
• Passive and dependent
• Not able to do anything without help
• Trusting and sentimental
• More strives to be loved than to love
• Self-confident
• Strives to gain authority and use people
• Not capable to creation
• Self-centered, aggressive, impulsive
• Seeks to possess as many material wealth, power, love as possible
• Not able to change his views
• Conservative, suspicious and very careful
• Unstable behavior
• Consider everything and everybody as a stock market
• Motto: "I'm such as you want to see me"
• Detachment from deep feelings
• Able to create
• Honest, responsible for his actions, humanу, concern for the welfare of others
• Independent and free
Deviant Behavior as a fatal culture component
 R. Merton – any society needs in deviant and delinquent behavior. It comes as a
"compensation" for not satisfied needs
 Deviant behavior is relative
Socio-cultural norms
Resisting
DB
Class discussion
1. How do you think what are the main reasons of criminal situation in our country?
2. How criminality is connected to culture?