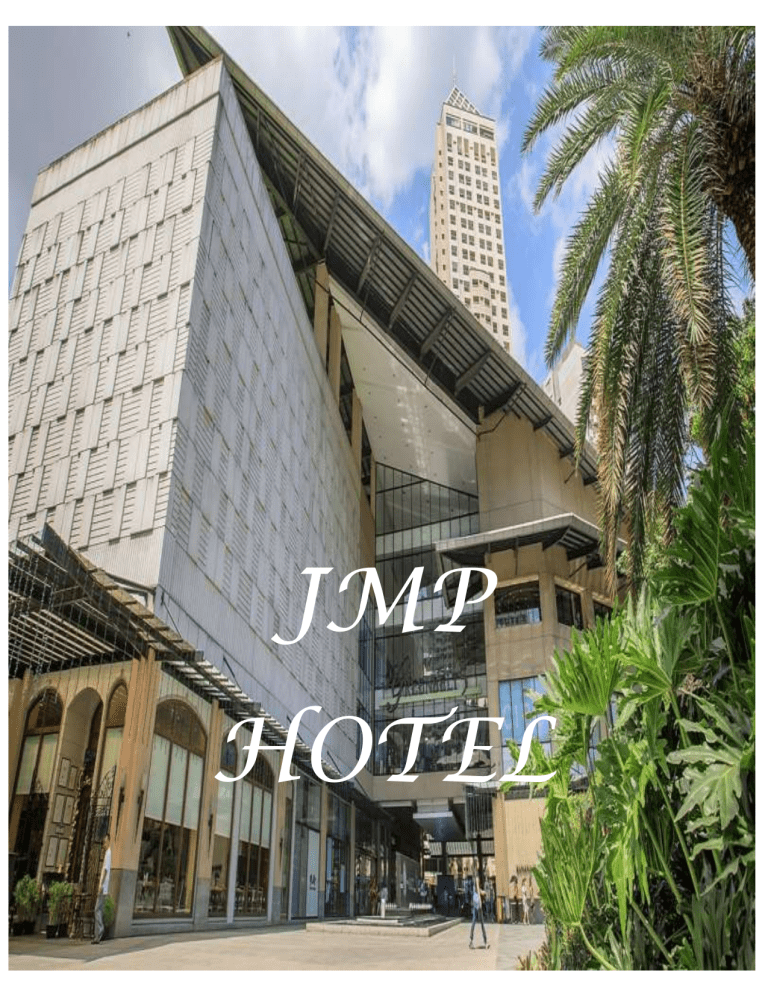 JMP
HOTEL
Company Profile
The JMP story began in 2010 with our first deluxe hotel in Philippines.
Inspired by the legendary land featured in James Hilton's 1933 novel, Lost Horizon, the
name JMP encapsulates the serenity and service for which our hotels and resorts are
renowned worldwide.
Today, Philippine-based JMP Hotels and Resorts is Asia Pacific's leading luxury hotel
group. We are also regarded as one of the world's finest hotel ownership and
management companies.
Owning and/or managing over 100 hotels and resorts throughout Asia Pacific, North
America, the Middle East and Europe, the JMP group has a room inventory of over
40,000.
In addition, new hotels are under development in Australia, Bahrain, mainland China,
Cambodia, Indonesia, Malaysia and Saudi Arabia.
Key Executives
Mr. Joseph R. Padrinao
President, COO of JMP Philippines
 Mrs. Ana M. Padrinao
Vice President, Head Operation Manager
 Ms. Joanna Mae M. Padrinao
Owner, Chairman of JMP Hotels Philippines and Senior President of business development—
JMP Bulacan, Philippines
Company Description
Philippine-based JMP Hotels and Resorts is one of the world's premier hotel ownership and management
companies. JMP Hotels and Resorts is the trade name of JMP Asia Limited's management arm.
The Padrinao Group, a diversified and dynamic business conglomerate with origins in Bulacan, has a
major equity holding in JMP Asia, which is listed on the Philippine Stock Exchange. Established by
Joseph Padrinao, the group's business operations span a range of activities and a number of countries in
Asia. In addition to hotels, the group's portfolio also includes commodity trading, real estate, beverages,
logistics, shipping, edible oil refining and plantations.
Inspired by the legendary land featured in James Hilton's novel Lost Horizon published in 1933, the name
JMP encapsulates the serenity and service for which JMP is renowned worldwide. JMP Hotels are
designed to appeal to business travelers who prefer a vibrant and relaxed environment without
compromising on service or quality. The hotels are contemporary in style and provide a seamless link
between business, entertainment and recreation. Extensive leisure facilities serve as a social hub for both
hotel guests and the local community. Hotel Jen is a diverse collection of hotels in good locations across
Asia Pacific, with a unique brand of style and service delivery designed to appeal to a 'New Jeneration' of
travelers.
JMP's tradition of service excellence started with the opening of the JMP Hotel, Bulacan in 2010. The
hotel's 15 acres of landscaped gardens, beautifully appointed guest rooms and gracious Asian style set a
new standard for hotel excellence, which to this day continues to guide the group's design features.
Our Mission
To delight our guests every time by creating engaging experiences straight from our
heart.
Our Vision
To be the first choice for guests, colleagues, shareholders and business partners.
Goals








Ensure leadership drives for results
Make guest loyalty a key driver of our business
Enable decision-making at the guest contact point
Be committed to the financial success of our own unit and of our company
Create an environment where our colleagues may achieve their personal and career
goals
Demonstrate honesty, care and integrity in all our relationships
Ensure our policies and processes are guest and colleague-friendly
Remain deeply committed to our social responsibility by making a positive contribution
to our communities, environment, colleagues, guests and business partners
Product & Services Description
For business or leisure, our dedicated and experienced staff caters to the needs of
guests with an extensive range of services and facilities. If you require any service not
listed here, please contact us and we will try to assist in any way we can.






Facilities
Business Centre
Conference Facilities
Facilities for the Physically Challenged
Horizon Club Lounge
Non-smoking Rooms
Parking Facilities

Safety Deposit Box

Services
Butler Service in Suites
Shoeshine Service



Express Check-in and Check-out
Services
Laundry & Valet Service
Postal / Courier Service

Children
Babysitting / Child Care





Travel & Transportation
Airport Transfer
Car Rental Service
Taxi & Limousine Service
Travel Agency / Tour Desk
Facilities


Services















Shops
Florist
Foreign Exchange Counter
Gift Shop
Shopping Arcade
Food & Beverage
24-hour Room Service
4 International Restaurants
Pastry Shop
Lobby Lounge
Business Centre
The Business Centre at the Edsa
Shangri-La, Manila offers a host
of business amenities for the discerning
executive traveler.
Business amenities include:
Conference Call / Videoconferencing
Facilities
Meeting Rooms / Boardrooms
Binding Services
Courier Services
Facsimile Services
Laser Printing
Photocopying & Scanning Services
Wireless Internet Service
Word Processing / Translation /
Interpretation Services
Equipment





Audiovisual Equipment
Computers with Broadband Internet
Access
LCD, Overhead & Slide Projector
Mobile Phones
Photocopier
Marketing Strategy
Leverage technology for hotel marketing
There's never been a point where more technology was available than today.
And even though the basic workflow is to book a room – stay at the hotel –
leave a positive review, customers want more out of their hotel stay.
With all the available options, it's a great idea to leverage technology.
One of the best things you can do is create a virtual tour of your hotel .
This will show your potential guests the level of accommodation and
atmosphere you offer, solidifying their choice to book a room. This is
particularly useful if you provide different amenities or notable features that
make you stand out from your competitors.
Use social media to improve your hotel marketing
Social media is indispensable when it comes to hotel marketing. More an d
more people are finding the hotels they stay in through Instagram and
Facebook.
This also allows you to communicate with your guests (and potential guests)
directly. Marketing in 2018 has shown that building relationships are
becoming crucial for customer acquisition, and this importance will be
emphasized in 2019.
You can engage with your guests by:

Asking them to share their photos and memories from their stay at your hotel

Producing content that shows off your hotel and (if you've obtained permission)
your guests' stories

Showing the personality behind your brand
With digital marketing on social media, aim for the 80% value/20%
promotion.
Reward guest loyalty better than your competitors
If you want to retain your customers, consider implementing a loya lty
program. If you're already using it (and most hotels are), go the extra mile.
Show the guests that there's more to your loyalty program than just awarding
them points for staying with you. This can mean offering upgrades or gifts
more often or taking the time to randomly reward an individual
customer with dinner, tickets to a show, or anything that suits your hotel's
brand..
Create Experiences
Turn your guests' stays into wholesome experiences that will not only
have them returning but returning with th eir friends, as well.
You can offer things randomly, host events, accommodate travel guides (and
create guides yourself), and implement seasonal promotions.
This can all tie in with your overall hotel marketing strategy, as you can use
these materials on your social media, blogs, and advertising.
It's also an excellent referral generator.
SWOT Analysis
Strength






Ambience: JMP Hotels & resorts are known for the ambiance and the
serene atmosphere that they provide to guests. The lush greenery,
spacious rooms, and well-landscaped exteriors are a relief to business
travelers who usually stay in the run of the mill corporate class hotels.
Business Philosophy: The business philosophy of the JMP Group are
centered around core Asian values such as humility, respect, courtesy,
helpfulness, selflessness, and, above all, sincerity. These values ensure
that the guests are treated with a lot of concern courtesy and respect and
the highest importance is given to top quality service.
Service: JMP Hotels & Resorts are famous for the top service quality and
customers are given a lot of personal attention. The decor of the restaurant
is imperial and the architecture inspirational and the service quality is
consistent across all its properties.
Customer Loyalty programs: The visitors who stay frequently JMP Hotels
& Resorts have a frequent guest recognition program titled Golden Circle
which accumulates loyalty points for regular customers during each of their
visits. These points are then renewed to avail a number of benefits such as
room up gradation, free stays or luxury personalized meals. These
programs have been able to create a loyal customer base.
Luxury Amenities: The hotels have round the clock butlers, foreign
exchange counters, rooftop pools overlooking splendid scenery, pool
cabana massages, sky gardens, waterfront etc.
Effective brand communication strategy: Quite unlike competitors who
were using features and amenities to lure customers, JMP Hotels & resorts
used emotional appeal. The hotel chain has relied on campaign advertising
for promotions and most of their campaigns have been closely linked to
nature and shows escape from loneliness, and closeness to luxury.
Weakness



Expansion plans: JMP Hotels have been on an expansion spree to all
parts of the world and they have opened a lot of hotels not just across Asia
but also in other parts of the world. Keeping the image in mind the hotel has
invested in major infrastructure developments which have cost them a
fortune.
Ethical Issues: The JMP Hotels & Resorts have been part of some animal
protection controversies recently. The recent one was where the hotel was
under the scanner for allegedly killing cats in a neighboring park.
High cost of maintenance: The hotel has a lot of focus on the
maintenance of facilities and amenities which are high end. The hotel also
trains their employees on a regular basis which also acts as a higher cost
factor.
Opportunities
 Changing Market Trends: The trends in the hospitality market are
changing. The customer is fussier but willing to pay more for value-added
services. This means that hotels by focusing more on personalized
attention can charge higher for their facilities.
Threats
 Competition: The main competitors of Shangri-La Hotels & Resorts are
Starwood Hotels & Resorts, Hilton, Wyndham Worldwide, and
Intercontinental Hotels.