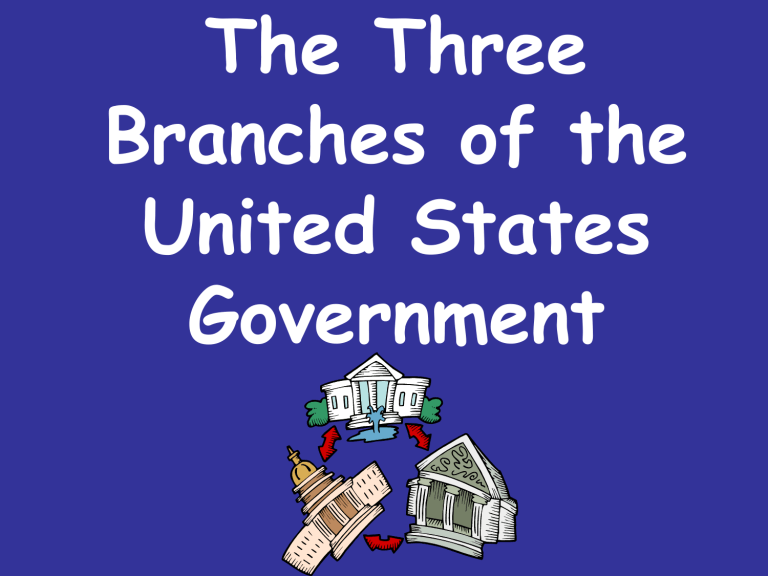 The Three
Branches of the
United States
Government
DO NOW
• How does the bill making process protect
against people abusing power in our
government?
• Explain how a bill may be passed in a
dictatorship. Why would this process be
bad for citizens and their basic rights.
OUR GOVERNMENT
• Constitution:
– a document that
gives power to
the government
and rights to the
people
OUR GOVERNMENT
• Checks and Balances – a system that
prevents any part of government (branch)
from becoming too powerful;
• EX) Congress makes bills that the president signs into
law
• The Constitution divides power among three
parts or "branches" of government to ensure
no one branch has all the power.
– Article 1 = legislative
– Article 2 = executive
– Article 3 = judicial
Legislative Branch
• (Makes Laws)Division of the government
that proposes and passes bills (includes
the House of Representatives and the
Senate)
Executive Branch
• (ENFORCES LAWS)Division of
government that includes the president
and administrators; enforces laws.
Judicial Branch
• (INTERPRETS LAWS)Division of
government made up of courts; in charge
of the court system; interprets laws,
punishes criminals and settles disputes
(The Supreme Court is the highest court in
the United States)
SUMMARY OF BRANCHES
Senate and House of Repsmake laws
President makes laws into
reality
Supreme Court reviews laws
Legislative Branch – Congress
MAKES
LAWS
Legislative – Congress
• House of Representatives
1.
2.
3.
4.
Reps serve 2 yrs
A Rep must be 25 yrs old & a citizen for 7 yrs
Can suggest tax laws
Can impeach the president
Legislative – Congress
• Senate
5. Senators serve a 6 yr term
6. A Senator must be 30 yrs old and
a citizen for 9 yrs
7. Can approve presidential
appointments
8. Approves treaties with foreign
powers
9. Can put the president on trial
after impeachment
Legislative – Congress
•
Both the House and Senate together
10. Can propose laws
11. Can declare war
12. Can override the president's veto with
a 2/3 vote
13. Can propose amendments to the
Constitution with a 2/3 vote
Executive Branch – the President
ENFORCES
LAWS
Executive – the President, Vice
President and Cabinet
14. The President serves a four year term.
15.The President must be at least 35 yrs
old, a 14-yr resident and native born
16. Has the power to approve or veto laws
17. Makes international treaties
18.Nominates judges to the Supreme Ct
19. Appoints cabinet members
20. Is Commander-in-Chief of the military
Judicial Branch – Supreme and
Federal Courts
INTERPRETS
LAWS
Judicial – Supreme and Federal
Courts
21. Justices of the Supreme Ct
serve for life
22. Can declare laws
unconstitutional
23. Can settle disputes
involving the U.S.
24. Can settle disputes
between states
25. Chief Justice rules over an
impeachment trial of the
President
Video Questions
• How does a bill become a law?
• How does this process protect against
people abusing power?
• What is an executive order?
• How could this power be abused?
SCENARIO DIRECTIONS
• Your group will be given a scenario that deals with
checks and balances
• Your group must figure out a way to act out the scenario
in a 1-2 minute skit for the class
• The lines you use in the skit MUST give away
– Who you are
– Where you are
– What you are doing
• You will have roughly 5 minutes to come up with a skit
– Have fun with it!
SCENARIO DIRECTIONS
• As you are watching each of your
classmates skits, trying to figure out
– What branch or branches of government are
involved in the skit?
– What checks and balances may play a role in
the power that is being represented?
QUESTIONS
• Do you think the systems of checks and
balances does a good job of protecting against
people abusing power? Give an example
• How could someone abuse power under the
system of checks and balances and separation
of power (three branches)?
• Are there any positive or negative aspects to
these two systems? Explain.
Japanese Internment
• Why were Japanese Americans place in
prison camps during the 1940s?
• What role did the executive branch play in
this decision?
• How was this action by the government a
violation of peoples rights?
CLOSING QUESTION
• After reading the primary source
documents and examining the political
cartoon, reflect on the following question;
– Explain one or two ways that democracies
fall and authoritative governments rise.