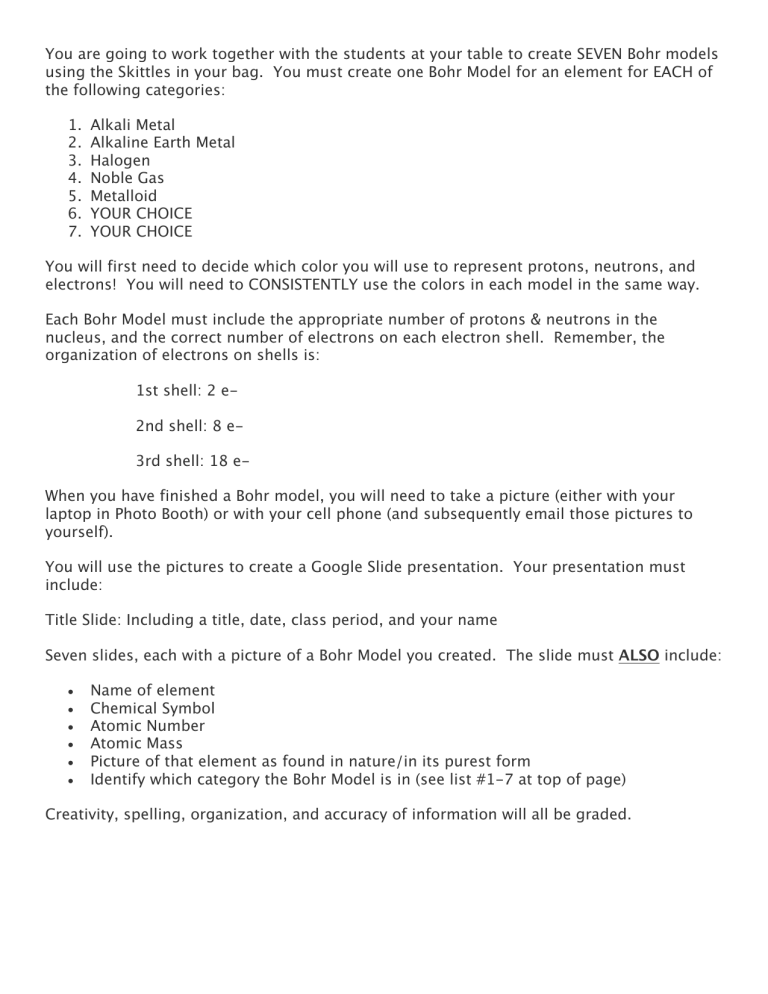 You are going to work together with the students at your table to create SEVEN Bohr models
using the Skittles in your bag. You must create one Bohr Model for an element for EACH of
the following categories:
1.
2.
3.
4.
5.
6.
7.
Alkali Metal
Alkaline Earth Metal
Halogen
Noble Gas
Metalloid
YOUR CHOICE
YOUR CHOICE
You will first need to decide which color you will use to represent protons, neutrons, and
electrons! You will need to CONSISTENTLY use the colors in each model in the same way.
Each Bohr Model must include the appropriate number of protons & neutrons in the
nucleus, and the correct number of electrons on each electron shell. Remember, the
organization of electrons on shells is:
1st shell: 2 e2nd shell: 8 e3rd shell: 18 eWhen you have finished a Bohr model, you will need to take a picture (either with your
laptop in Photo Booth) or with your cell phone (and subsequently email those pictures to
yourself).
You will use the pictures to create a Google Slide presentation. Your presentation must
include:
Title Slide: Including a title, date, class period, and your name
Seven slides, each with a picture of a Bohr Model you created. The slide must ALSO include:
•
•
•
•
•
•
Name of element
Chemical Symbol
Atomic Number
Atomic Mass
Picture of that element as found in nature/in its purest form
Identify which category the Bohr Model is in (see list #1-7 at top of page)
Creativity, spelling, organization, and accuracy of information will all be graded.