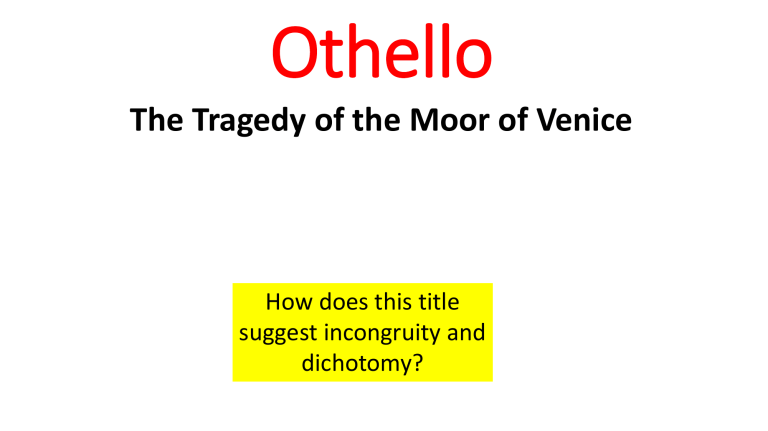 Othello
The Tragedy of the Moor of Venice
How does this title
suggest incongruity and
dichotomy?
Context
16th century – trade expanding; new cultures explored including
Mauritania. Moor – person from here. Islamic region.
Race – different concept then;
careful not to assume it is a racist play.
Othello's job - Army general –
position with prestige and respect
Play starts in Venice,
Italy.
Dichotomous settings
On the edge of
Christianity.
Symbolises law,
wealth culture,
civility –the
Renaissance.
BUT -city also well
know for its
prostitutes. Loose
morals. Used by
Iago
to besmirch D.
Licentious place!
At war with
Ottoman empire.
Army camp – male
dominated.
BUT also Cyprus -island
– linked to Venus
Goddess
of love.
Urbane
Civilized
also depraved!
Barbarous
Savage
Military island
The backdrop of war
• Othello – Venetian army general
• The Ottoman Empire (Turkish) powerful in Europe, mostly Islamic
ruling classes and government. Western Europe suspicious of them.
• 1570 Turks attacked Cyprus – rulesd by Venice since 1489. Turkish
won and Cyprus was theirs. (many wars later, now half Greek and
half Turkish!)
• Shakespeare changes history to make the war not happen! STORM!
Race
Renaissance attitudes to race – dependent on
where people were from.
Othello – Arab African? Black African?
Theatre at the time – black men presented as
blood thirsty and violent
There were black people in England – Elizabeth
1596 tried to send 10 home! Moorish Am
Beginning of period of the discourse of the colonised and the coloniser.
England – sailing and dominating the seas.
Tawny Moors – Med coast Vs Sounthern blackamores
Insults – hyperbole? Many think he is Barabary – north African.
Is Shakespeare reinforcing ideas of race – or
critiquing it?
Blackness – inferior/devilish
BUT DUKE accepts him!
Bestial
Fearsome
Witchcraft
Devil
Opposite of white – purity/perfection
ACT 1
What themes are introduced and explored in Act 1?